Today we going to explain why paper shredding services are more important than ever before.
We'll outline all the reasons why paper shredding services can benefit your business as well as the environment.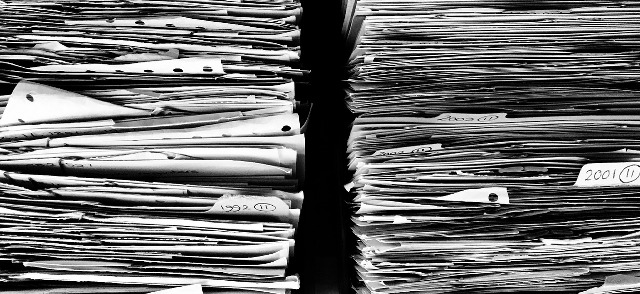 Make sure your sensitive documents are securely shredded
Reasons Why Paper Shredding Services Are So Important
1. They Protect Your Customers
Any personally identifiable information that your customers give you should be shredded properly – not thrown out or put in the recycle bin. This includes any paper that contains information such as:
Names
Addresses
Dates of Birth
Phone numbers
PIN numbers
Email addresses
Banking information
Credit history
Identity thieves use this data to make new identities that allow them to apply for loans, credit cards, etc. Personal information is also sold to marketing companies to be used in specialized spamming campaigns. Even if you have an office shredder, it may not shred your documents well enough. If the pieces can still be put back together, then it still poses a threat to your customers.
See how Blue-Pencil's Office Shredding program works
Companies like Blue-Pencil can provide you with secure paper shredding services that will ensure your shredded documents don't end up in the wrong hands. You and your staff deposit documents to be shredded into a locked security console to be picked up by one of our highly trained staff on your scheduled day.
The documents will be taken to our mobile shredding unit, parked on your property, and will be securely shredded on-site. They will never leave your premises until they are destroyed, which means that they will not fall into the wrong hands.
2. They Protect Your Employees
Paper shredding services also protect your employees' personal information. Your company will have collected personal information for each of your staff when they were first hired and throughout their time of employment with you. Sensitive information like the following needs to be destroyed properly:
Names, addresses, phone numbers
Birth dates
SIN numbers
Salary
Work history
Human resources documents
Tax information, T-4's, etc.
RRSP and Pension information
Like your customer's personal information, Blue-Pencil's paper shredding services will also ensure that your employees' private information is securely destroyed too.
3. They Protect Your Company's Intellectual Property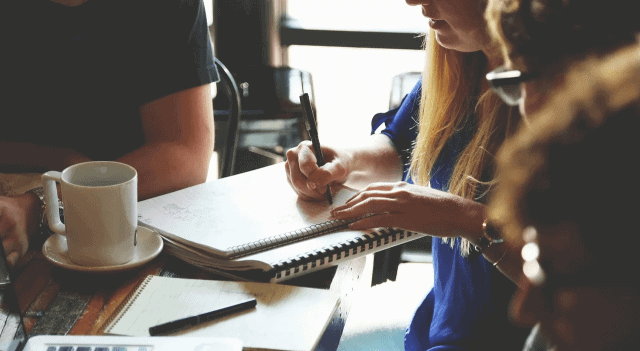 Keep your intellectual documents safe with proper shredding
Your company will probably also have information that could pose a risk if it was found by a competitor or the public. You need to protect your company's intellectual property found on documents or other media by making sure that it is properly disposed of by shredding or destroying it. This includes:
Internal correspondence
Proposals
Financial records
Meeting notes
Acquisition plans
Supplier and customer information
Trade secrets
All of these types of sensitive documents should be securely disposed of by a paper shredding company you can trust.
4. They Protect Your Company's Reputation
Properly destroying your sensitive information will also help you protect your company's reputation. If your customers' or employees' personal data gets leaked, then it could ruin your business's reputation and people will not trust you. This can have a negative impact on your business, as it is very difficult to regain peoples' trust once you have lost it.
5. They Help You Remain Compliant with Privacy Laws
In Canada, the disposal of sensitive information is regulated by the Personal Information Protection and Electronic Documents Act (PIPEDA).
PIPEDA has strict guidelines surrounding the data given to companies by customers and employees that need to be precisely followed. Hiring a shredding company that knows and follows these guidelines will give you peace of mind that you are compliant with these rules.
Blue-Pencil understands and fully complies with government guidelines. We will even present you with a certificate of destruction once your documents have been destroyed to give you the assurance that you need that your sensitive materials have been properly disposed of.
6. They Will Help You Save on Wage Costs
If your business shreds your own documents, you could be spending a lot of money in time and wages to shred your sensitive information.  For example, if your business employs 15 people and you pay them an average hourly rate of $20 and they spend an average of 2 minutes per day shredding personal information, then over the course of one month (20 business days), you will have spent about $200 on shredding.
Shredding with Blue-Pencil can help you cut down on wage costs
That equals up to 10 times the amount that a third party shredding company such a Blue-Pencil will cost you. So hiring a shredding company like Blue-Pencil to do your shredding for you will actually save you on the cost of paying your staff to do it.
7. They Will Help You Save on the Cost to Purchase and Maintain Your Own Shredder
If you choose to shred your documents yourself, then you will need to purchase an office shredder. Hiring a shredding company to take care of your shredding for you means that you will save money on that initial investment as you will not have to purchase your own shredding machine or replace it down the road when it eventually wears out.
In addition, if your office shredder breaks down or gets damaged due to improper use, such as trying to shred too many documents at once or feeding a staple or paperclip into the machine by mistake, you will need to pay to have it fixed or repaired.
On the other hand, if you hire a shredding company such as Blue-Pencil to look after your shredding needs, you won't have any ongoing or unexpected maintenance costs to worry about. Our industrial shredders can handle staples and paper clips so you also don't have to worry about removing them prior to shredding.
8. They Reduce the Risk of Employee Injury
Shredding machines can be dangerous if not used properly. Shredders are extremely sharp and if you get distracted while using one, you could very easily get a cut or more serious laceration. Also, if overused, they could be a potential fire hazard.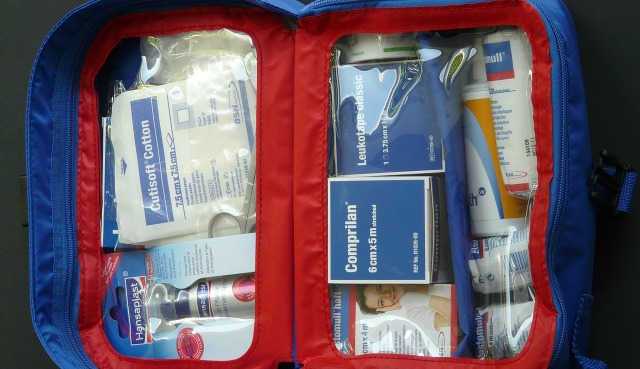 Prevent serious injuries from paper shredders by hiring a professional company to do it for you
Hiring a shredding company to do this task for you means that you can feel good about not putting your employees at risk of getting injured while shredding their documents. Reliable shredding companies have highly trained staff who know what they are doing and are able to dispose of your materials safely and efficiently.
9. They Are Good for the Environment
By being a part of Blue-Pencil's environmental program, you can feel good about the fact that you are not only keeping your company's information safer, but you are also playing a vital role in helping protect our environment.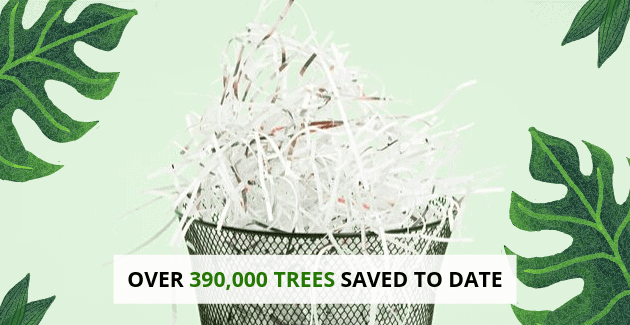 Shredding with Blue-Pencil saves trees
If you choose Blue-Pencil as your paper shredding service, you can rest assured that all of your shredded documents will be recycled into paper products . In fact, for every 200 pounds of paper that is shredded and recycled, you save one tree!
For the Best Paper Shredding Services in Ontario: Choose Blue-Pencil
If you are looking for the best paper shredding services in Ontario, contact Blue-Pencil. You can trust Blue-Pencil to provide your business with safe, secure, and professional shredding services. We are NAID AAA certified and we offer you a choice of shredding services to suit your company's particular needs. These include::
We offer secure storage, file shredding services, document storage, scanning, consulting and audits, and more. We have helped over 15,000 organizations take better control of their company's information.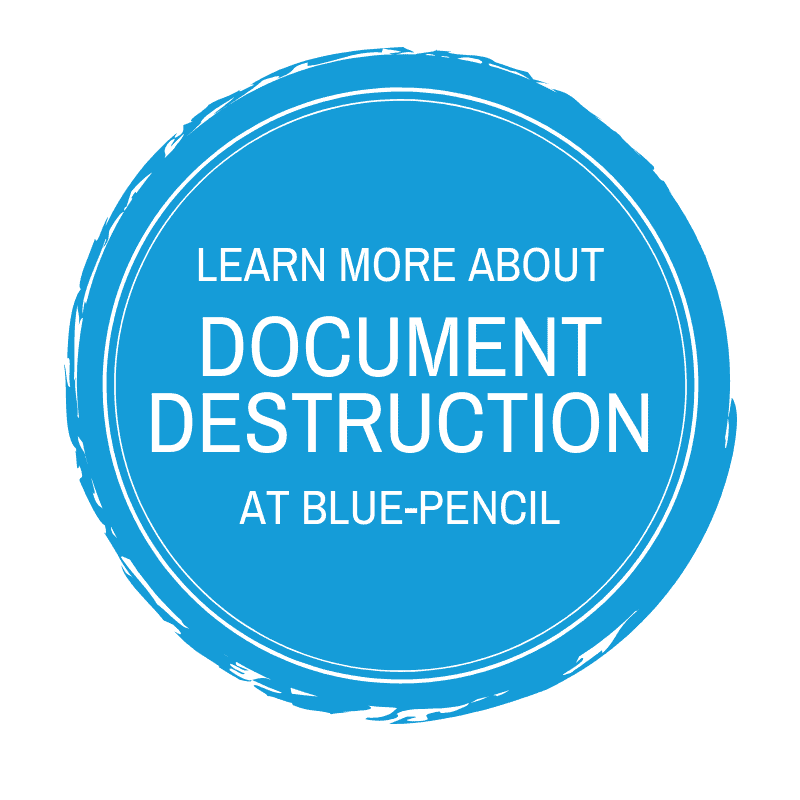 "Blue-Pencil is reliable and efficient. Their customer service is the best in the industry!" – Carrie Postma
– Judy Davies
Read More Google Reviews!
At Blue-Pencil, we serve business and residential needs across the province of Ontario, including Toronto and the GTA, Hamilton, Kitchener, Waterloo, Ajax, Pickering, Aurora, Newmarket, and more. As your local business partner, we offer value, consistency, and efficiency in our services. Contact us today for a free quote.