Document and information security are important in the workplace and in your personal life. There are many different paper shredding methods. As cross cut shredding becomes more popular many want to know, is cross cut shredding enough? This article looks at the top three shredding methods and compares each one. We also provide a rating based on PIPEDA and the level of security each shredding method provides. If you're looking for a local shredding service provider in the Greater Toronto and South Western Ontario area, click here to contact Blue-Pencil today!
"I have been dealing with Blue-Pencil for our shredding service for the past 3 years since I joined our company and I must say, it has been a pleasure working with them. Our service tech(s) Adam H. & Lenny are very friendly, helpful and easy to work with. I would recommend Blue-Pencil for sure in the future to any company."
– Amanda Anderson, a Blue-Pencil Customer – Click here for more reviews!
Is Cross Cut Shredding Enough – Methods Comparison
The top three shredding methods we will look at today include strip cut shredding, cross cut shredding (diamond cut and confetti cut), and professional shredding. Understanding which shredding method is best for your organization will help ensure information reamins safe and secure.
Method #1: Strip Cut Shredding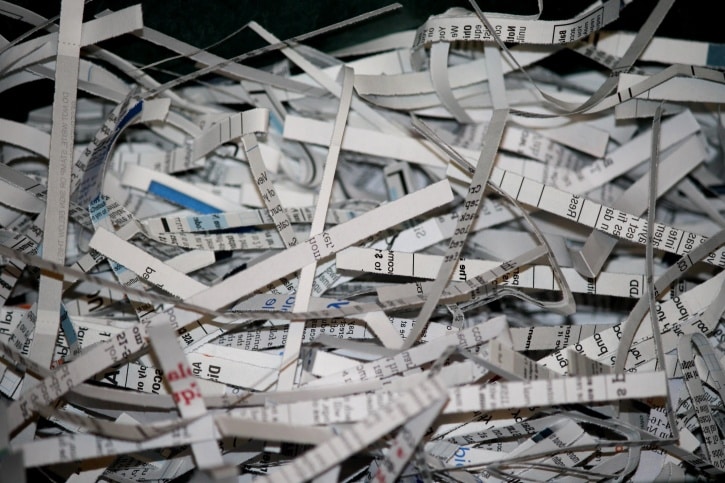 Information Security Rating: ★
Strip cut shredders are common in both homes and offices. Strip cut shredders use a single blade to destroy paper, leaving the user with many long, vertical strips of paper. The remains are the same length as the original piece of paper. Strip cut shredders are so common you have likely come across one in a home or office. Why are they so popular? There are many benefits to strip cut shredders.
Pros of Strip Cut Shredding: Because strip cut shredders are so popular, it is generally easy to access one. They are sold in stores or online for both personal and commercial use. Because they require fewer blades to run, they are easier to maintain than other shredders. They do not experience as many breakdowns as other shredders and often come equipped with safety features such as automatic shut-off.
Strip cut shredders tend to be more affordable than other shredding methods, although this is not always the case as prices fluctuate due to competition. Because the shredded remains are clean cut, uniform strips, they can be easily repurposed as packing material, animal bedding, or added to compost bins. (source)
Cons of Strip Cut Shredding: Strip cut shredding can be a good cost-effective solution when you need to shred certain documents. However, it does not compare to other methods when looking at security. Unfortunately, strip cut shredding does not provide the same level of information security as cross cut shredding or professional shredding. Depending on the level of information security you require, strip cut shredding may not be the right option for you. (source)
Method #2: Cross Cut Shredding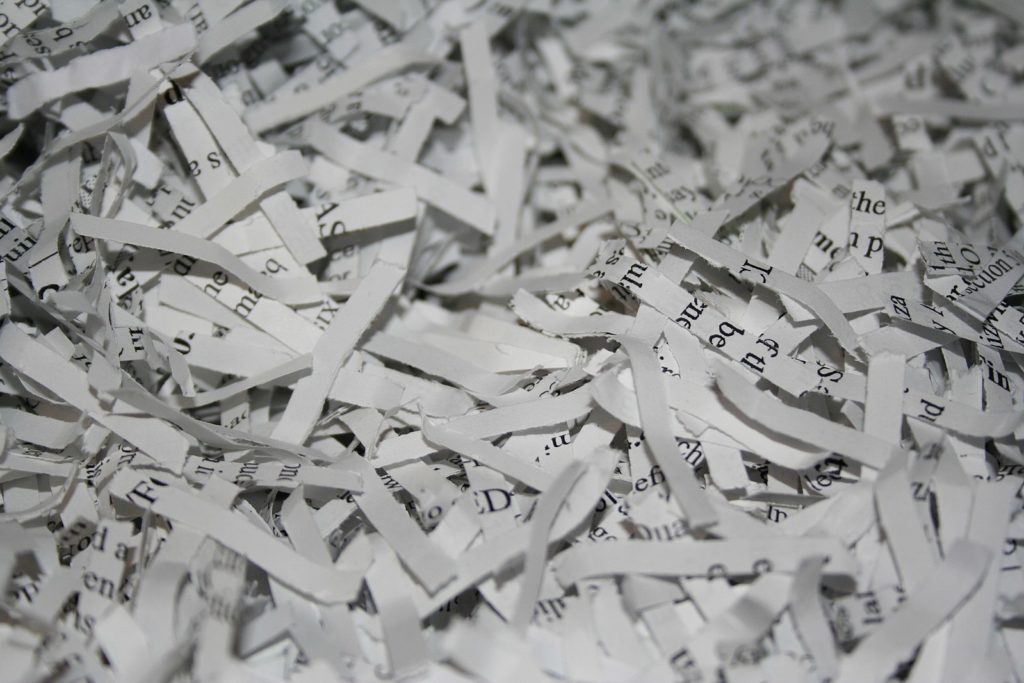 Information Security Rating: ★★
Cross cut shredding is gaining in popularity due to its ability to increase information security. Cross cut shredders cut both vertically and horizontally, making it nearly impossible to put the "puzzle" back together. Cross cut shredding offers 7.5 times more security than strip cut shredding. Check out this quick video below to learn more about cross cut shredders!
Image source: Mike Haw from Wikimedia Commons
Pros of Cross Cut Shredding: As mentioned above, cross cut shredding offers a higher level of security when shredding corporate documents. This provides increased security and also helps with peace of mind! This is a great option for more sensitive information both at home or the workplace.
Two common types of cross cut shredders are diamond cut and confetti cut. Diamond cut, a type of cross cut shredding, offers even more security. Diamond cut shredders cut paper at an angle, creating diamond shaped pieces. These pieces are very hard to recover. Confetti cut, another type of cross cut shredding, creates small pieces similar in size and shape to confetti. They are also very difficult to reconstruct. (source)
Cons of Cross Cut Shredding: Though Cross Cut Shredding provides much more security than other methods like strip cut shredding, it is not without some potential drawbacks. Because cross cut shredders are more mechanically complex, there is a greater risk of breakdowns. Cross cut shredders require a more powerful motor to cut the way they do. This means that cross cut shredders typically have a lower sheet capacity. (source)
Method #3: Professional Shredding Services
Information Security Rating: ★★★
Shredding in the office or at home can only offer so much information security. An experienced, professional shredding company will have all the know-how and insights into the level of security needed to safely and securely shred your documents. A professional shredding service can also help you learn how long to keep important documents, such as tax records – and help you learn when it's time to shred them.
Pros of Professional Shredding Services: A secure shredding facility offers their clients convenient and flexible services that address tangible needs. If there is a mistake or you feel uncomfortable or confused about any aspect of the process, you can talk to someone about it. If you are unsure about something during the do-it-yourself shredding process, there may not be many resources to help you along the way.
With a professional shredding service, all information security professionals are regularly checked for security and any criminal activity before being allowed to service clients. This will also help with peace of mind, knowing your documents are always in good hands. A professional shredding company can also provide you with a certificate of disposal, so you know with certainty that your documents have been destroyed and you no longer need to wonder or worry.
Cons of Professional Shredding Services: If you only have a few documents that do not require secure disposal, you may not need to call on a professional shredding service. There may also be limitations such as the location of the shredding facility, or the hours of availability may conflict with your schedule. Most offices contain one or more shredders, and it may be more convenient to use a shredder at work. However, at Blue-Pencil, we can come to you with our mobile on-site shredding services. Click here to see if mobile shredding is right for you!
Office Shredding Programs
Is cross cut shredding enough? There is no simple answer. It depends on the level of security you require and your own preferences. If you are looking for the most secure way to manage your documents, professional shredding services can help.
At Blue-Pencil, our office shredding programs offer clients the opportunity to contract their documentation destruction management and ensure that everything will be handled securely and properly destroyed and recycled.
We fully assess your current policies and procedures to ensure that they meet standards for security, legal compliance, and cost efficiency. Once the assessment is complete it will be followed by a report that contains recommended actions and our custom program proposal. Our office shredding program consists of the following steps:
Depositing your confidential documents into security consoles provided by Blue-Pencil.
Having our Document Security Representative(s) collect the material from security consoles on your scheduled service date.
Ensuring your confidential information is securely transported to our mobile shredding unit where it's destroyed right in the truck by an industrial size shredder.
Providing you with a Certificate of Destruction which will be issued immediately after each service.
Transporting all of the shredded material so that it can be recycled at the end of each day into reusable household goods.
Securely Shred With Blue-Pencil!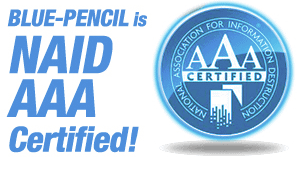 Blue-Pencil helps empower Canadian organizations to reach new heights with friendly and efficient document management services. Customer service is not only a slogan but something we practice by investing in our strategic partners.
Located in Oakville, we have grown our document security business over the past 10 years, serving more than 6,000 organizations including small and medium-sized companies as well as Fortune 500 businesses.
We have recently launched two new divisions; Documents Storage and Records Managementdivision and Document Imaging and Scanning Solutions division. This allows us to offer full circle, comprehensive solutions for information security management. We service the GTA and surrounding cities –  click here for a full list of our service areas. If you'd like to learn more about us and what we can do for you contact us today!