Using your own office paper shredder to destroy old documents and records? There may be more risk of using an office shredder than you think. Check out the infographic below and continue reading to learn more – or contact us at Blue-Pencil to find out how you can dispose of your documents in the safest way possible.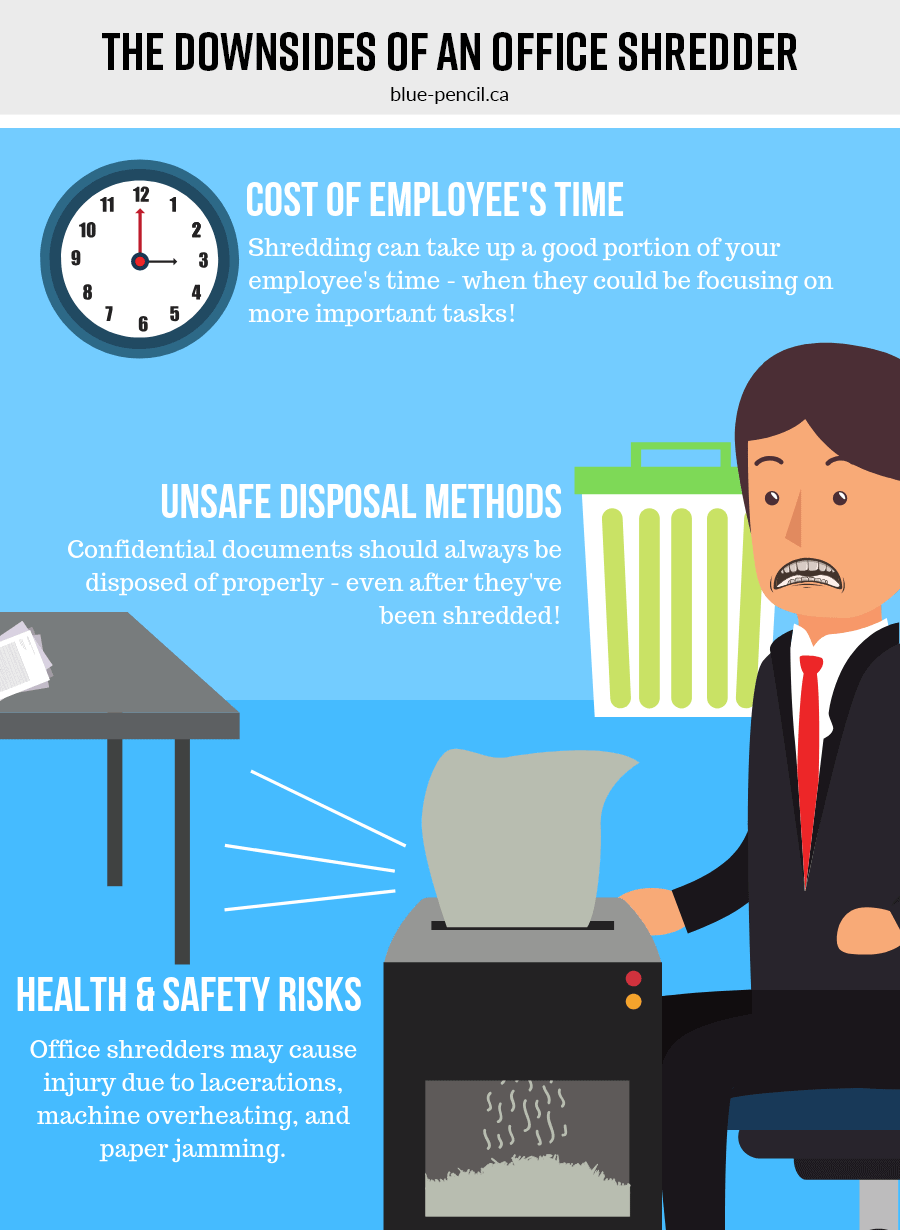 Shredding at your own office presents more risks than you may think
Why You Shouldn't Rely on Your Own Office Paper Shredder
If you've worked in any office environment, it's likely you've at least seen an office shredding machine. They are common in workplaces both big and small, and can help keep companies safer by preventing information leaks.
However, office shredders are not perfect – there are limitations and downsides when using them. In most cases, employees will be the ones to shred all documents and records, and with this comes both safety and security risks.
The High Cost Of Office Shredders
Office shredders may not seem like an overly-expensive purchase, especially if your office has a large budget. A couple thousand dollars for a high-end machine is not a bad investment – but it's actually not the initial costs that you should be looking into.
With most machinery comes unexpected costs. Just think about your own car! After a few years, you'll likely become familiar with your local mechanic. Just like a car, a shredding machine requires regular maintenance.
Without regular maintenance, your machine can end up requiring even more expensive full repairs. This not only means the cost to fix it, but also the cost of shredding confidential documents another way while your machine is down.
It's also important to think about the cost of your employees' time. Shredding documents can take up a large portion of your employees' valuable time. A large company can produce a significant amount of documents in just a short period. It can take hours to properly shred hundreds or even thousands of documents per week.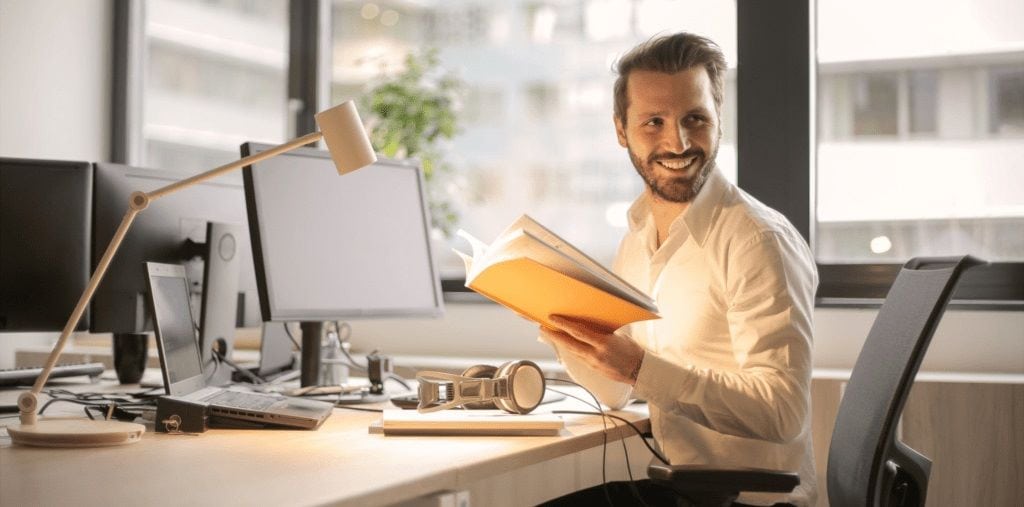 It's important to consider the cost of your employees' time
Not only that, but shredding machines can pose a health and safety risk to workers who use them (you can read more about that below). That's why it's also important to take into account the cost of training.
All employees who will be using your office shredding should be thoroughly trained on safety and best practices – and refresher training throughout the year should be conducted to reinforce good safety practices.
When considering the cost of a shredding machine, it's important to think about the initial costs as well as the cost of regular training, maintenance and repairs, and your employees' time.
Health and Safety Risks
Because paper shredders are such a common sight to see in offices and even in homes, we often take for granted the health and safety risks they pose. Remember, though, familiarity with a machine doesn't make it safer.
Unfortunately, office shredders are large pieces of machinery that have the ability to cause serious bodily harm when not used correctly. The most common form of injury from paper shredders is finger injury – injuries can range from mild cuts and lacerations to full amputations.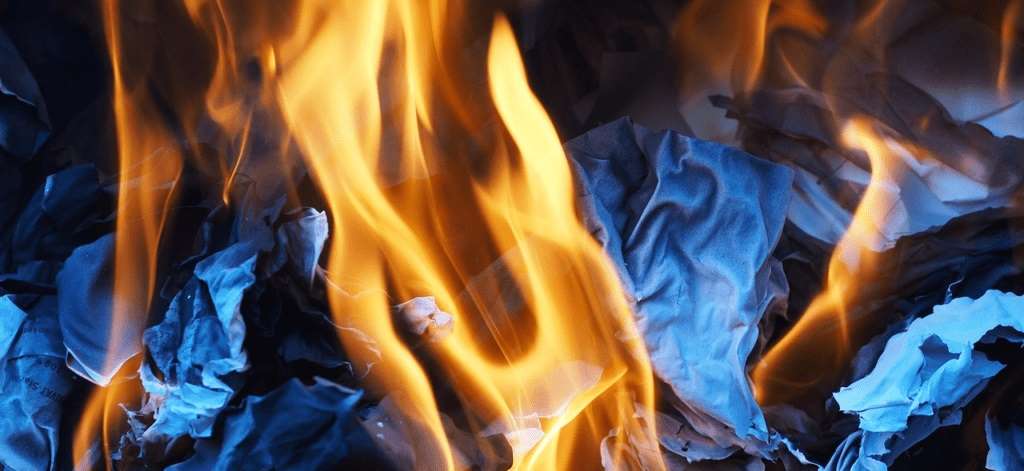 Finger injuries and overheating both pose a threat
These injuries often occur due to loose clothing or jewellery getting caught in the machine while shredding, or when workers attempt to fix a paper jam. Employees should know to always follow training guidelines before attempting to fix a jam or to wait for a trained professional to fix it.
Although finger injuries are most common, they are not the only health risk associated with paper shredders. Paper shredders also pose a fire hazard, as jammed paper or machines left on for too long can overheat and cause a fire. If your office does have a shredder, it's important to remember to unplug it when everyone leaves the office for the day to reduce the risk of it overheating.
Security Risks
Many businesses choose to purchase an office paper shredder to ensure confidential information is properly disposed of. This is not only good practice – it's the law.
In Canada, businesses must comply with the laws outlined in PIPEDA (the Personal Information Protection and Electronic Documents Act). PIPEDA includes rules and regulations for organizations regarding the use of personal and confidential information.
Failure to comply with PIPEDA can result in audits, enforced compliance agreements, or even court cases. Part of PIPDA includes information about the proper destruction of personal and confidential information:
Under Schedule 1, 4.5.3: "Personal information that is no longer required to fulfil the identified purposes should be destroyed, erased, or made anonymous. Organizations shall develop guidelines and implement procedures to govern the destruction of personal information" – PIPEDA Act – Justice Laws Website
Want to learn more about PIPEDA? Check out this quick video below to help you gain a better understanding of these Canadian privacy laws.
It's important for businesses to comply with Canadian privacy laws
Although businesses may think their office shredders ensure compliance, this is not always the case. When you leave shredding all confidential information up to employees (whose main job is typically not paper shredding) accidents and oversights are likely to happen.
Important documents may end up getting thrown out or sent to the recycling bin by mistake, putting your company at risk of information leaks, breaches, and even legal trouble.
Unfortunately, this isn't just a problem with big organizations that have difficulty keeping track of all their documents. Small businesses are actually at greater risk for information leaks! This is due to a variety of factors (such as lack of training and lack of security measures) that make them more vulnerable than larger businesses.
Secure Shredding Services Eliminate The Downsides Of Office Shredders
So, after reading all this, you may be wondering what you can do to keep your business safer. Office shredders have their place, and are a great way to make sure all documents are shredded – but relying on office shredders and your employees to safely and securely destroy all confidential records and documents 100% of the time puts your company at risk.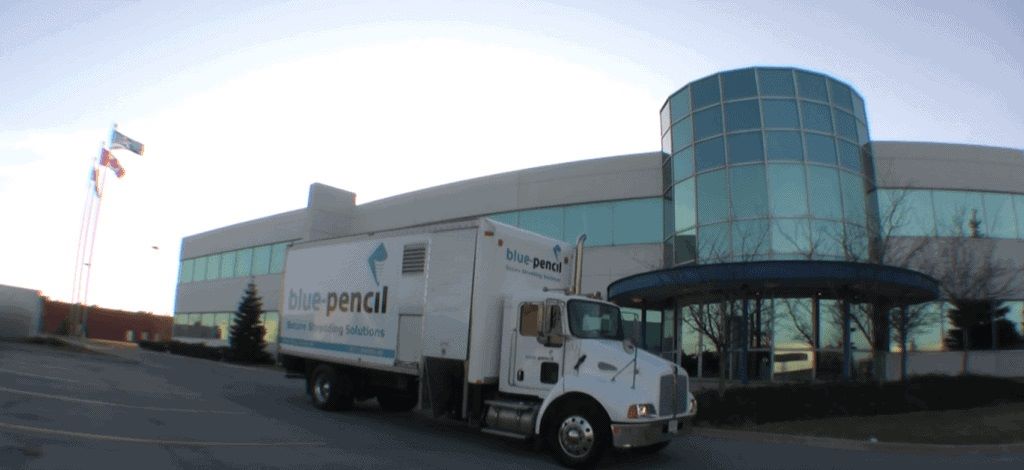 A shredding service can ensure safe, fast, and effective document destruction
Working with a safe and secure office shredding service is the best way to destroy and dispose of your confidential information in the most secure way possible. For example, Blue-Pencil is dedicated to helping you keep your company's information safe and secure. We offer a variety of shredding services to help suit the unique needs of your company.
Onsite Shredding – Onsite shredding is safe, fast, and convenient. We'll arrive at your facility using our mobile shredding truck, and shred your documents immediately, right on your site.
Office Shredding Program – A consistent shredding program where our professionals regularly come and take care of your documents
Non-Paper Shredding – Paper documents and records aren't the only confidential information you have! We also offer non-paper shredding, from hard drives to product destruction to pharmaceutical waste destruction and more!
When working with a professional shredding service, you can reduce the risks and extra costs associated with an office paper shredder. Your employees will have more time to get back to important tasks, you'll reduce maintenance and repair fees, and you'll keep your workers and your documents safer.
Keep Your Business' Information Safe With Blue-Pencil!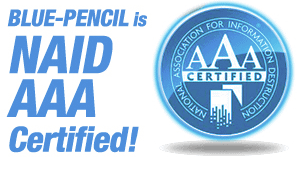 Whether you are starting a small business or are a large business owner, Blue-Pencil helps empower Canadian organizations to reach new heights with friendly and efficient document management services. Customer service is not only a slogan but something we practice by investing in our strategic partners.
Located in Oakville, we have grown our document security business over the past 10 years, serving more than 6,000 organizations including small and medium-sized companies as well as Fortune 500 businesses.
"Blue-Pencil has always been there when we need them."
–Paul Charlebois, Read more testimonials here!