Document disposal is an integral part of any business. Whether your business is big or small, your company can produce significant amounts of confidential information. Once this information is no longer in use, it should be properly destroyed and disposed of – or you may risk consequences. To learn more about effective document disposal, contact the experts at Blue-Pencil now!
How Can Document Disposal Help My Business?

5 Ways Ineffective Document Disposal Will Hurt Your Business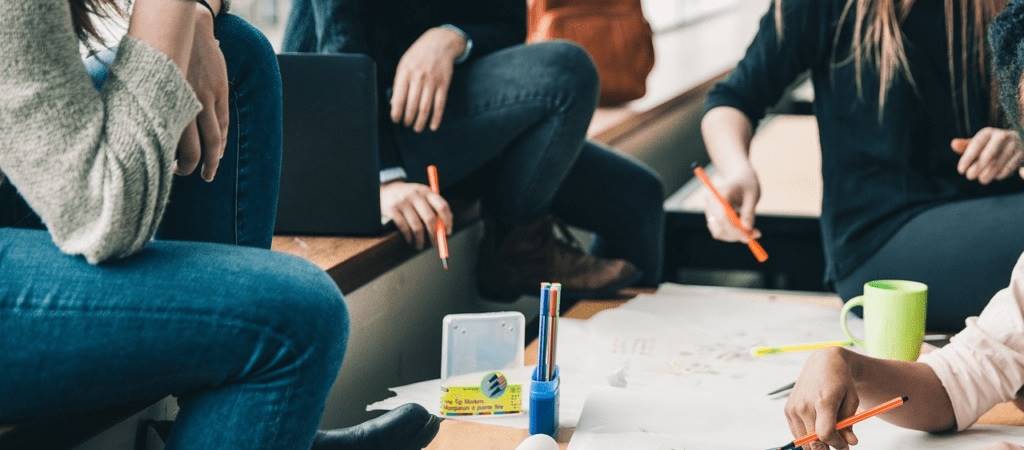 Your company can produce a lot of personal information that must eventually be destroyed
Proper document disposal and destruction can help ensure your documents stay confidential and prevent information leaks. Unfortunately, ineffective document disposal won't protect you from these problems, and can actually hurt your business.
1. Office Shredders Can Be Costly
Although you may think that owning your own office shredder is the most cost-effective option, this is often not the case. Heavy-duty office shredders themselves can cost a lot up front.
However, this is not your only cost. An office shredder is also expensive to maintain. Machines are not perfect and will break down due to wear-and-tear, paper jams, or due to incorrect use. Check out the infographic below to learn more about the true cost of shredders.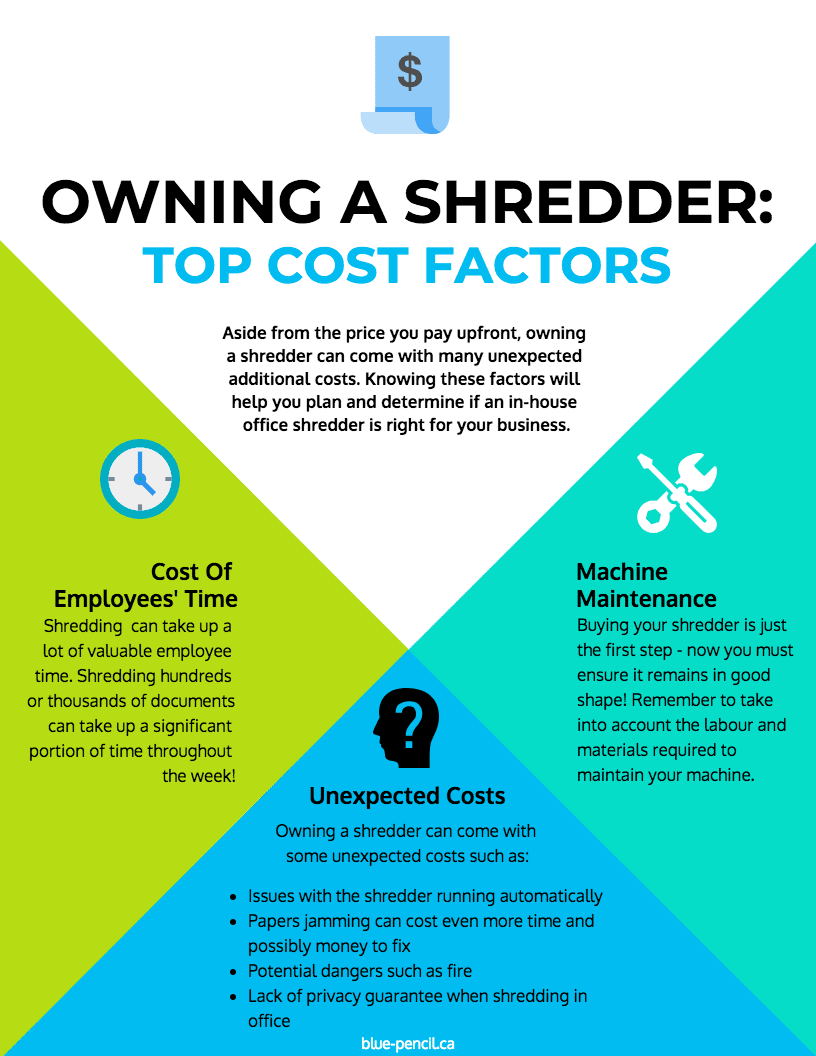 Because owning and maintaining an office shredder can be so costly, it means that your business may have to spend a good portion of your budget just to keep the machine in working order.
2.  High Cost of Training Employees & Safety Hazards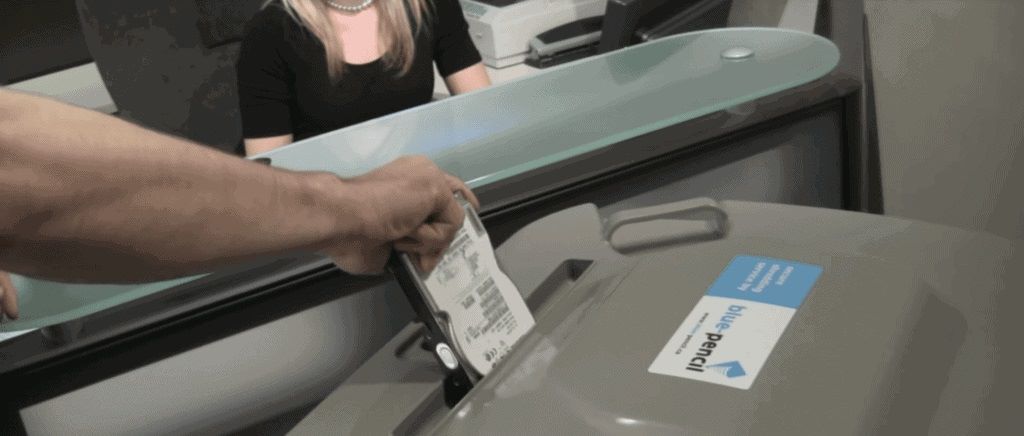 Shredding paper and other materials come with safety risks
Office shredders are so common that you might never think twice about using one. Whether you have a small one in your home, or use a large one at work, shredders are often a part of our regular life.
However, like any piece of machinery, shredders come with risks. Employees who do not know how to properly use a shredder, or do know how to use one but are not paying full attention, risk injury. The most common type of injury from shredders are finger injuries, ranging in severity from mild cuts to amputations.
Office shredders also pose a fire risk. If papers are left jammed in the machine while the shredder is still on, it can actually start a fire due to the heat of the machine. Because of these risks, employees must be adequately trained on shredder safety.
This safety training adds to the additional time burden in-office shredding places on employees. You may also need to provide refresher training, especially if you get new machines. Every new employee that begins at your company will need thorough training as well.
Although this training is necessary, it can place an unecessary financial burden on your business that can be avoided altogether by working with the professionals. Working with a professional shredding service means your employees won't have to go through potentially long hours of training and will also avoid the risks and hazards that come with office shredding machines.
At Blue-Pencil, we offer record management consulting services to help ensure that you and your employees have the tools and knowledge necessary to effectively manage your important data. Our professional team can help you build retention schedules, create policies and procedures, develop strategies, and so much more – so you and your employees can have peace of mind!
3. Failure To Stay Up-To-Date With Privacy Laws
In Canada, there are important privacy laws that businesses and corporations must adhere to. PIPEDA (the Personal Information Protection and Electronic Documents Act) has rules for organizations regarding personal information. Organizations are required to follow this code for the protection of personal information.
Failing to comply with PIPEDA can result in audits, enforced compliance agreements, or even court cases. Part of PIPDA includes information about the proper destruction of personal and confidential information. See below:
Under Schedule 1, 4.5.3: "Personal information that is no longer required to fulfil the identified purposes should be destroyed, erased, or made anonymous. Organizations shall develop guidelines and implement procedures to govern the destruction of personal information" – PIPEDA Act – Justice Laws Website
To learn more about PIPEDA and Canadian privacy laws, check out this quick video below:
Ineffective document disposal can put you at risk for information leaks or even cyber security breaches. Records or documents that contain confidential information should be securely stored. When no longer in use, these records should be properly disposed of in the most secure manner possible to ensure compliance with Canadian privacy laws.
4. Increased Risk of Information Leaks/Loss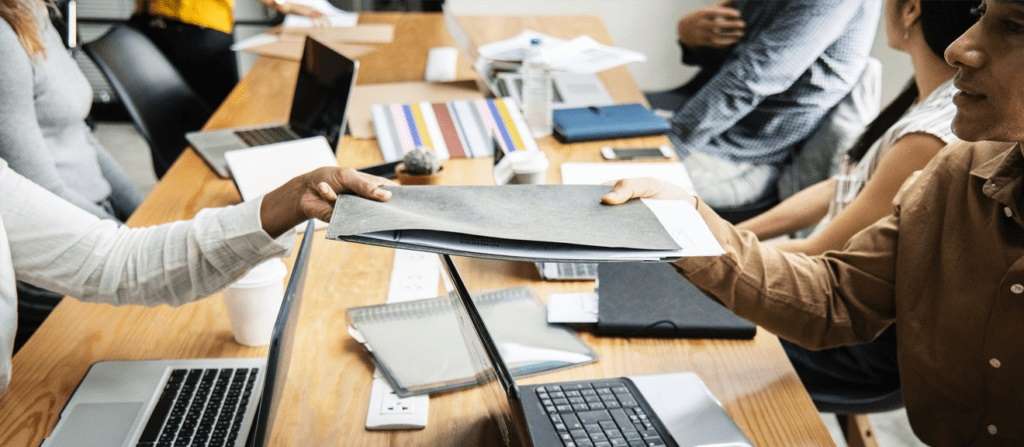 Information leaks can happen by mistake – or on purpose
Improper document management and disposal can put your company at risk for information loss or even leaks. When your employees are fully charged withf filing, organizing, retrieving, and eventually destroying documents, mistakes can be made along the way.
An important record may be stored in the wrong spot – essentially making it irretrievable until it's found again. Or, an employee may accidentally bring home a file with them, shred it with other documents, or leave it out somewhere else in the office.
These mistakes happen – but they also put your company at risk. Losing information can be detrimental to your company. Leaving information out in the open or not properly disposing of it (e.g. throwing it intact into the recycling bin instead of shredding) might allow the document to get into the wrong hands and lead to an information leak.
Information leaks and security breaches are not just happening to large companies. In fact, small businesses are actually at greater risk for an information leak due to a variety of factors that make them more vulnerable than bigger companies and corporations!
5. Failure To Implement Proper Rehttps://www.blue-pencil.ca/cyber-security-tips-for-small-business/cycling Systems
Think about how many documents and records your company has shredded over time. That is a lot of paper! And what happens with all that paper? Many businesses are not completely sure what happens to their shredded paper once it leaves their facility. Does it get recycled? How much of it is recycled? Where exactly does it go?
Sometimes, shredded paper doesn't get recycled at all. Unfortunately, not all employees know how to properly recycle or where to put shredded materials once they are finished. They may place shreds into the wrong recycling bin, or simply throw them into the garbage.
This is not great for the environment – or for your company's image. As environmental sustainability continues to be an important topic for many consumers, it's important that you company complies with current recycling standards. If not, your business could gain a bad reputation.
When you work with a professional shredding company that cares about the environment, you won't have to worry about this at all. At Blue-Pencil, we care about working towards a cleaner and greener Canada and world!

When you shred with Blue-Pencil, you can rest assured knowing that all shredded material is recycled and processed into recycled paper products or energy. And did you know that for every 200 pounds of paper shredded and recycled, you save 1 tree?
Blue-Pencil Helps Your Institution Stay Safer, Greener, and More Secure!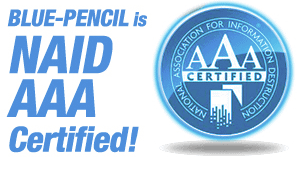 With Blue-Pencil, you can store your important company files worry-free at our secure facility. Blue-Pencil helps empower Canadian organizations to reach new heights with friendly and efficient document management services. Customer service is not only a slogan but something we practice by investing in our strategic partners.
Located in Oakville, we have grown our document security business over the past 10 years, serving more than 6,000 organizations including small and medium-sized companies as well as Fortune 500 businesses.
"Blue-Pencil is reliable and efficient. Their customer service
is the best in the industry!"
–Carrie Postma
We have recently launched two new divisions: Documents Storage and Records Management division and Document Imaging and Scanning Solutions division. This allows us to offer full circle, comprehensive solutions for information security management. We service the GTA and surrounding cities –  click here for a full list of our service areas. If you'd like to learn more about us and what we can do for you, contact us today!