Over time, businesses can become overwhelmed with disorganized records, documents, and other confidential information. Using a shredding service for your business is a great way to solve these problems – and more. In this article, we'll take a look at the 6 big benefits that shredding services provide for your business, including saving money and improved document security. To learn more about shredding services for your business, contact the experts at Blue-Pencil now!
Looking for an exceptional shredding service for your business?

Shredding Service – The 6 Benefits It Provides For Your Business
Considering working with a shredding service provider, but haven't made up your mind yet? Here are 6 reasons why using a shredding service is great for you and your business.
1. Shredding Services Offer a 2 in 1 Shredding & Recycling Program
When you shred documents yourself, employees may not know where or how to recycle the destroyed documents. Often, this means shredded paper ends up in the trash.
Shredding with Blue-Pencil not only contributes to total document, media, and product security, but it greatly contributes to the environment. All shredded material is recycled and processed into recycled paper products or energy.
And did you know that for every 200 pounds of paper shredded and recycled, you save 1 tree?

When you use Blue-Pencil for your destruction needs, you benefit from being involved in a program that contributes to the well being of our planet. You won't be just getting shredding services, you'll also be getting recycling services at no extra cost!
2. Shredding Service Providers Help You Stay Compliant With Privacy Laws
Did you know that there are privacy laws in Canada that govern how to handle private and confidential information? To learn a bit more about these laws, take a look at the quick video below!
In Canada, we have an act called PIPEDA (the Personal Information Protection and Electronic Documents Act). Under PIPEDA, organizations are required to follow a code for the protection of personal information.
Under Schedule 1, 4.5.3: "Personal information that is no longer required to fulfil the identified purposes should be destroyed, erased, or made anonymous. Organizations shall develop guidelines and implement procedures to govern the destruction of personal information" – PIPEDA Act – Justice Laws Website
Most employees do not know much about PIPEDA, or how to follow its standards. They may make mistakes and accidentally leak private information or simply throw it in the recycling bin instead of the shredder! This can cause potential legal problems. Working with a professional, experienced shredding service company will help ensure that does not happen to you, and help avoid any potential information leaks.
3. Shredding Services Help To Improve Document Security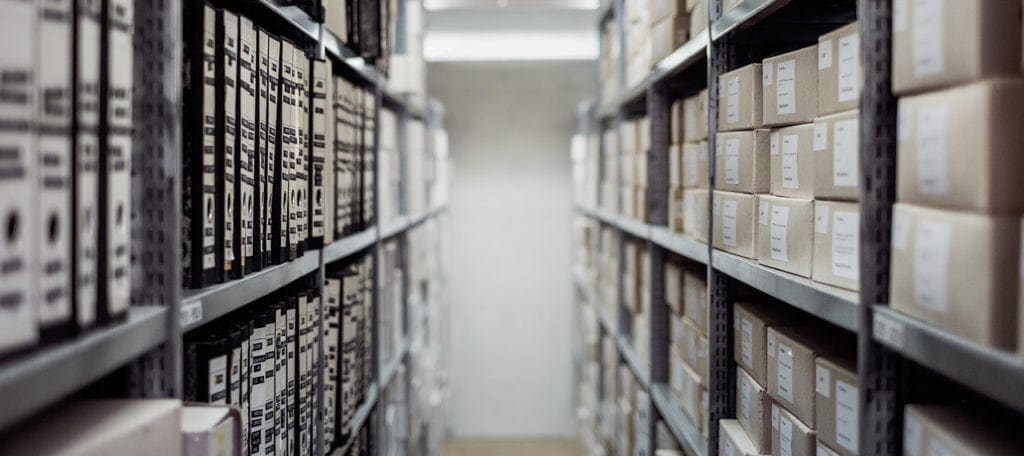 Over even a short period of time, your company can accumulate a lot of private and confidential information. This information may include records and documents such as:
Income records
Expense records
Other tax records
Credit card information
Training information
Telephone numbers
Old contracts
And more
Though you must store some records, such as income records, expense records, and other tax records for 7 years in compliance with Canadian tax laws, it is important to stay on top of your documents so they do not pile up! Keeping large amounts of confidential yet outdated information can put you and your employees at risk.
Information breaches are becoming more and more common. On top of that, cyber attacks happen more frequently to small businesses. Though this may come as a surprise, it actually makes sense. Small businesses do not always have the same resources as larger businesses. They may not have the experience or knowledge to keep their information safe.
Using a professional shredding service is the best way to ensure your business information is safely and securely destroyed and disposed of. A professional company will make sure that only certified technicians work with your confidential information. Options such as on-site shredding even allow you to watch as your documents are shredded and disposed of, ensuring all of your information stays secure.
4. Shredding Services Help To Increase Employee Productivity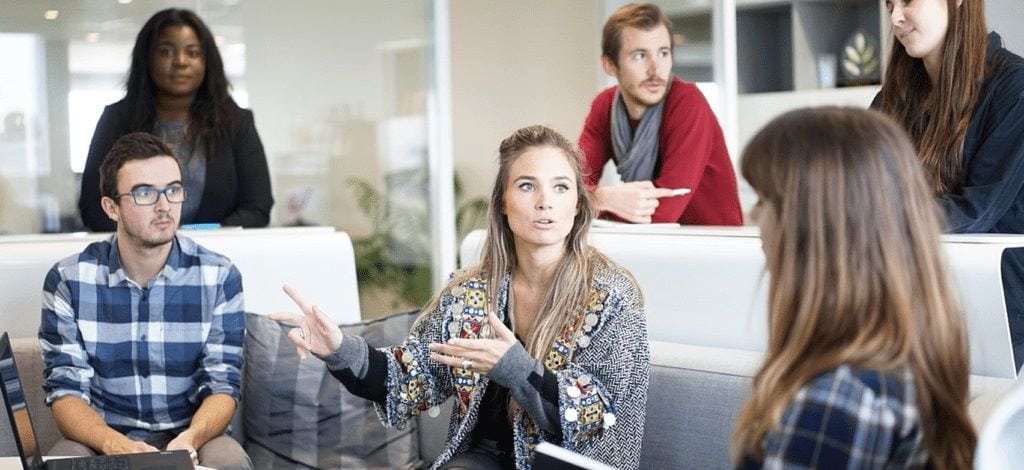 Working with a shredding company can actually help to increase your employee's productivity! How exactly can it help with that? Well, when your employees are responsible for shredding, that means valuable work time is now spent standing at the shredding machine.
Depending on the number of documents and records that require shredding each week (or day), this can mean that your employees are spending hours each month simply shredding documents instead of working on more important responsibilities!
Office shredders are not made to handle significant amounts of paper. The industrial shredders used by shredding companies can shred hundreds of documents in hardly any time at all! When you work with a shredding company, they will have all the right equipment, tools, and training to get the job done efficiently. Did you know that depending on the shredding service you need, Blue-Pencil can do the work within one hour!
By hiring an external company to do the work for you, your employees are free to get back to what really matters. Their task list is reduced, and they no longer have to worry about getting all those papers shredded by the end of the day.
5. Shredding Services Help You Save Money
Many businesses avoid hiring an external shredding company because they worry about the costs. But how much does in-house shredding actually cost? Check out the infographic below to learn a bit more about the true cost of office shredding!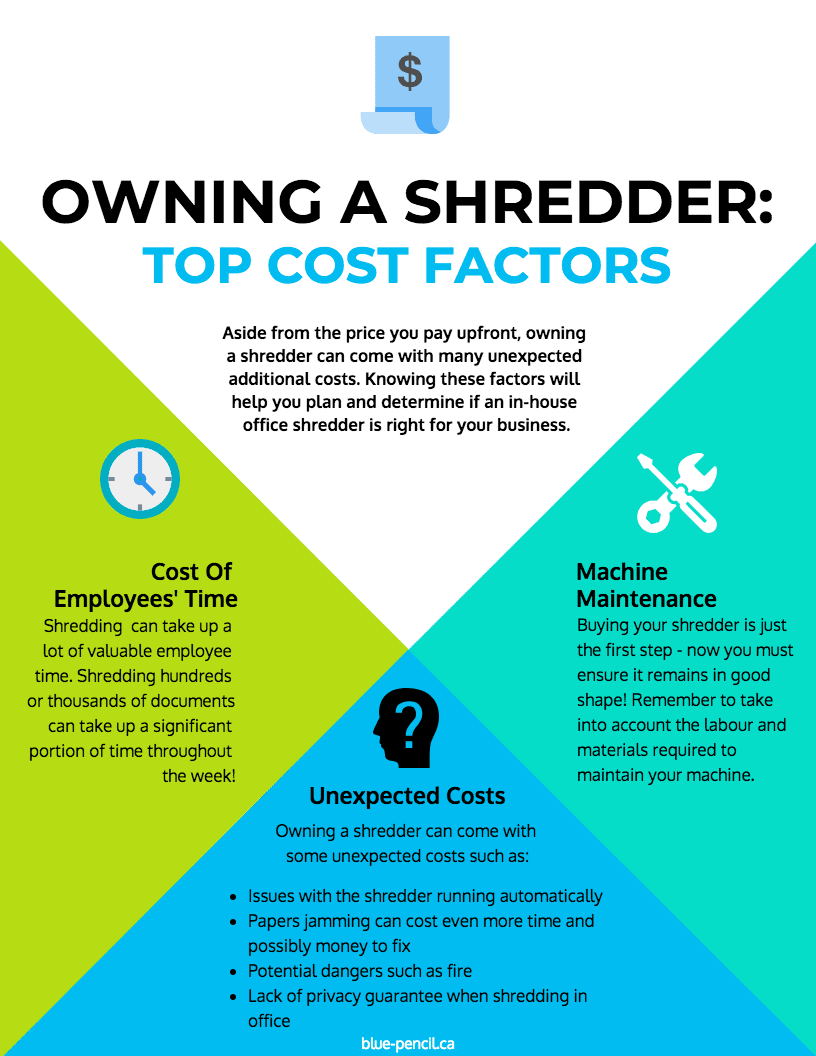 Aside from the cost of your employees' time, there are also more tangible costs associated with owning office shredders. Unexpected breakdowns, frequent paper jams, and the potential for serious problems such as fires can all cost you time and money.
Buying the shredder itself can also be costly – some heavy-duty machines cost over $5,000.00! Unfortunately, the costs don't stop there. Regular machine maintenance and paying for repairs once the shredder begins to age can quickly add up.
When you work with a shredding service provider, you don't have to worry about any of that! All you pay for is the service – and that's it. Your employees have more time, you don't have to worry about shredding safety training and you won't have to deal with costly repairs or maintenance! A shredding company helps you save money and gives you peace of mind.
6. Shredding Services Help You Automate Your Office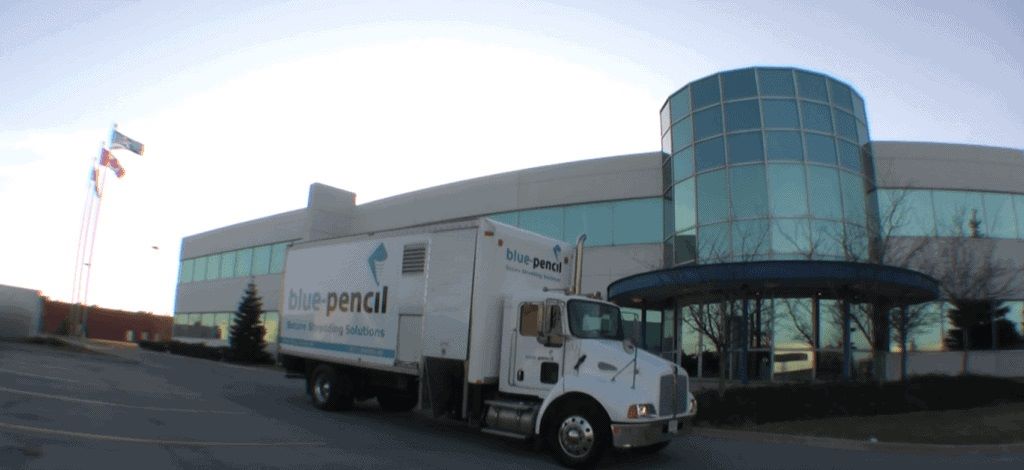 Working with a shredding service can help your company function like a well-oiled machine. Instead of employees scrambling to get documents shredded by a certain time, a shredding service will arrive and do all the work for you. You won't have to think twice about your old and outdated records!
At Blue-Pencil, we offer the Office Shredding Program. Our office shredding program starts with a full assessment of your office's unique needs, so we can serve you better. We can create a scheduled shredding system that works for you, so we can come on a regular basis to service your office. This automation process helps your office run smoother!
Keep Your Business' Information Safe With Blue-Pencil!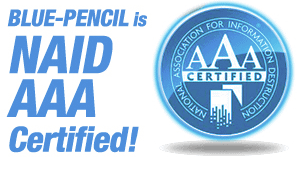 Whether you are starting a small business or are a large business owner, Blue-Pencil helps empower Canadian organizations to reach new heights with friendly and efficient document management services. Customer service is not only a slogan but something we practice by investing in our strategic partners.
Located in Oakville, we have grown our document security business over the past 10 years, serving more than 6,000 organizations including small and medium-sized companies as well as Fortune 500 businesses.
"Blue-Pencil is reliable and efficient. Their customer service
is the best in the industry!"
–Carrie Postma, Read more testimonials here!

We have recently launched two new divisions; Documents Storage and Records Management division and Document Imaging and Scanning Solutions division. This allows us to offer full circle, comprehensive solutions for information security management. We service the GTA and surrounding cities –  click here for a full list of our service areas. If you'd like to learn more about us and what we can do for you contact us today!