Business owners are faced with many different options when it comes to data management services such as document storage and document destruction. One of the most common options for document shredding is onsite shredding. This article looks at what onsite shredding is, the pros and cons of onsite shredding programs, and compares it to other popular options. For more information about secure document storage and destruction, contact Blue-Pencil now!
"My Blue-Pencil Mobile Shredding experience was worthwhile. When I called them to find out information, they were very professional and easily explained how the cost is estimated. In future, I would use them again"
– Nina Frati, A Blue-Pencil Customer – More testimonials here!

What Is Onsite Shredding?
Onsite shredding, or mobile shredding, is a secure document shredding process that destroys your documents right at your own facility. Instead of transferring your documents to another location to be shredded, the onsite shredding process does not remove your documents from your premises whole — they are destroyed first, then securely transported to a recycling facility.
With Blue-Pencil's On-Site Mobile Shredding program, Security Representatives come to your facility, collect your documents into a lockable security bin, and transport confidential information to our shredding truck parked outside your facility. Watch the video below to learn more about how Blue-Pencil's onsite shredding program works!
Onsite shredding programs offered by other companies may not look exactly the same, and the level of security provided will vary based on the company. However, all onsite shredding programs have one thing in common – they occur at your location. This is in contrast to off-site shredding programs, which have you take your documents to another facility and have them shredded or destroyed there.
Benefits Of Onsite Shredding & How It Protects Your Team
Onsite shredding helps increase the safety and security of your team and company information. See below for a list of the many benefits that onsite shredding provides for you and your business.
Increased Security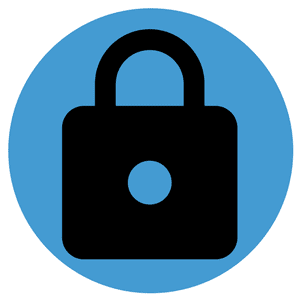 Many consider onsite shredding to be the most secure method of document shredding and destruction. Onsite shredding guarantees fewer people will see and come in contact with your confidential information. Clients are also able to observe the document destruction in process, adding another layer of security.
Peace Of Mind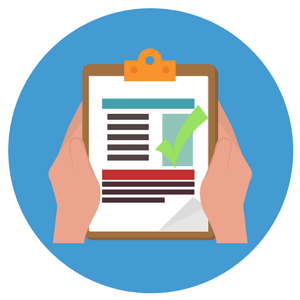 With off-site shredding, you may wonder who is handling your documents, how long they might sit around before they are shredded, and how secure the transportation process was. When you choose onsite shredding, you do not need to worry about any of these factors. Onsite shredding also provides you with an immediate certificate of destruction, so you have peace of mind right away.
Saves Employee's Time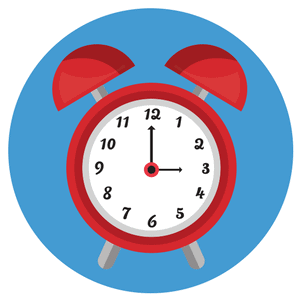 When working with a trusted company, you won't have to worry about how secure the shredding process is, as opposed to doing it yourself or assigning shredding tasks to employees. Though it may not seem like it, shredding documents can take up a significant amount of employee time. This can take valuable time away from significant business activities. It also leaves more room for human error, as most employees are not trained on how to properly dispose of confidential documents.
Convenience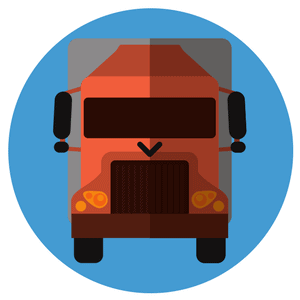 Onsite shredding programs are an easy, convenient way to securely destroy your documents. You won't have to worry about driving documents to a facility yourself or constantly organizing transportation. With onsite shredding, everything is done at your facility so you can oversee the process if you wish or focus on work while your documents are securely destroyed.
Environmentally Friendly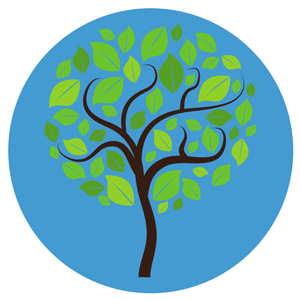 Did you know that with Blue-Pencil's onsite shredding program, all shredded materials are 100% recycled into reusable household goods? Trusting an environmentally conscious company to take care of your shredding helps ensure that your company also strives towards a more eco-friendly world.
What Are Onsite Shredding Disadvantages?
Mobile shredding offers a great number of advantages, especially when it comes to you and your company's security. However, it is important to consider all of the advantages and potential disadvantages when considering any service.
Onsite shredding often costs more upfront than other services such as off-site shredding. Off-site shredding programs typically cost less upfront. However, with on-site shredding, you reduce the risk of security breaches and leaks of confidential information – which could end up costing your company significantly more down the line.
Onsite shredding programs gain some of their value from the fact that clients can observe the document destruction process. However, some clients may not want to watch the process as they feel it is unnecessary or takes up too much time. If this is the case, some clients may feel like they are losing some of the value (source). To find out if onsite shredding is right for you and your company, contact the experts at Blue-Pencil now!
Blue-Pencil's Onsite Shredding Programs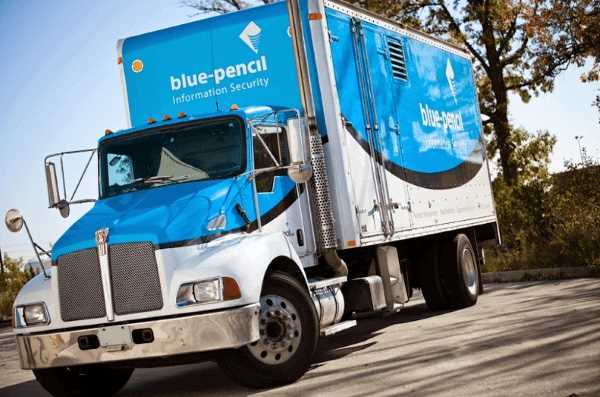 Blue-Pencil's office shredding program provides secure, onsite shredding services to clients. Blue-Pencil's unique office shredding management service starts with a full assessment of your current policies and procedures for security, legal compliance, and cost efficiency. This complimentary assessment is followed by a report comprising of recommended actions and our custom program proposal.
Blue-Pencil's office shredding program makes it simple and convenient for you to manage and securely destroy your confidential information. See below for more information on our program.
We provide a Certificate of Destruction at every service
We service clients during their business hours to make this program convenient for you
You can observe the entire destruction process
Our equipment destroys the material to cross-cut pieces of approximately 5/8″
You do not have to remove paper clips, staples, or binder clips – our industrial mobile shredder can shred through these items.
We provide our service on a weekly, bi-weekly, or monthly basis. Together, we will determine the frequency appropriate for you based on your paper shredding volume, number of office employees, and office layout.
At Blue-Pencil, we also offer one-time onsite shredding services! We understand that some individuals or businesses may not need consistent services, and therefore, we can schedule a non-contract, one-time service for us to come to your location and shred your sensitive documents like tax records or old, outdated files! We also offer on-site residential paper shredding services to help keep your information safe and your life organized.
Ready For Onsite Shredding Services?

Securely Shred With Blue-Pencil Today!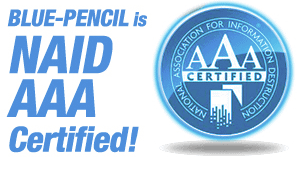 With Blue-Pencil, you can shred your documents safely and securely. Blue-Pencil helps empower Canadian organizations to reach new heights with friendly and efficient document management services. Customer service is not only a slogan but something we practice by investing in our strategic partners.
Located in Oakville, we have grown our document security business over the past 10 years, serving more than 6,000 organizations including small and medium-sized companies as well as Fortune 500 businesses.
We have recently launched two new divisions; Documents Storage and Records Managementdivision and Document Imaging and Scanning Solutions division. This allows us to offer full circle, comprehensive solutions for information security management. We service the GTA and surrounding cities –  click here for a full list of our service areas. If you'd like to learn more about us and what we can do for you contact us today!