Organizations around the world continue to face new challenges related to the COVID-19 pandemic and secure access to information remains top-of-mind for many workplaces.
As more employees continue to work remotely for the unforeseeable future, companies are having to weigh access to confidential information with security – and it's a very fine balance. If access is too restrictive, employees are unable to easily retrieve information to support their job functions. However, when the scales tip to allow unauthorized personnel access to sensitive data, organizations are at a greater risk for a security breach or fines for non-compliance.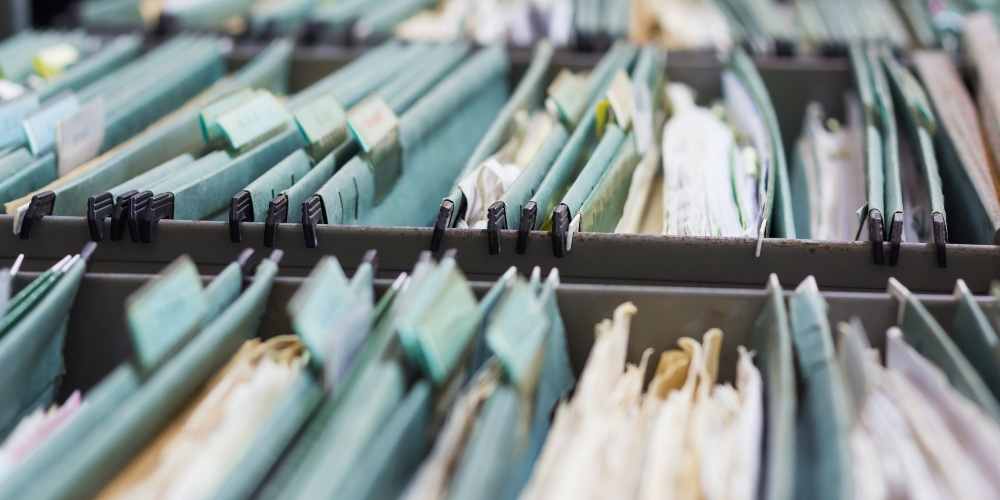 But, unauthorized access to information isn't only an issue in the virtual workplace – it's problematic in the physical workplace, too. Unsecured storerooms and file cabinets make confidential information vulnerable to theft, fraud and non-compliance. It's also more difficult to control who can search for, retrieve and share information since strict security protocols are often not in place or enforced.
Records Management with Scan-on-demand: A Two-Pronged Solution
Having a records management program in place that is supported with scan-on-demand services is an effective solution that will ensure only authorized employees have secure and near-real-time access to confidential information, regardless of their work location.
Advantages of Records Management with Scan-on-demand
A records management program with scan-on-demand will help your company:
Maintain Security
A records management program relocates files from unsecured storerooms and file cabinets in your workplace and stores them in a climate-controlled off-site storage facility with around-the-clock surveillance and strict security protocols. All files and boxes are indexed and scanned at every step in their journey to ensure a secure chain of custody and only fully trained security representatives have access to your documents for total peace of mind.
Gain Full Control Over Access to Physical and Digital Files
With a records management program in place, only authorized employees have access to certain sensitive documents to ensure that information doesn't fall into the wrong hands. Organizations can also set predefined access control lists to restrict who can request and receive scanned copies of physical documents in storage to prevent unauthorized access of confidential information.
Provide All Employees with Secure Access to Files
A records management program with scan-on-demand levels the playing field by providing all authorized employees with access to vital business information whether they are working in the office or another location. It also eliminates the security concerns of in-office staff catering to the file retrieval needs of remote employees, especially if on-site employees should not have access to sensitive business information.
Remain Compliant with Privacy Laws and Data Protection Regulations
A records management program with scan-on-demand will ensure that only authorized employees have access to pertinent information to remain compliant with privacy laws and data protection regulations, including the Personal Information Protection and Electronic Documents Act (PIPEDA) and the Payment Card Industry Data Security Standards (PCI DSS). It's also easier to stay on top of retention periods and timely destruction to maintain government record-keeping requirements and avoid hefty fines.
Get Total Control of Your Sensitive Information with Blue-Pencil
Blue-Pencil's scan-on-demand service combines the security of off-site records storage with the convenience of near-real-time document scanning to help you keep your confidential information secure and easily accessible to authorized employees.
To learn more about our records management services, including scan-on-demand, contact our team for your free quote today.