Along with the rise of information technology comes a rise in cybercrime and cybersecurity breaches. Check out our top 12 cybercrime facts and statistics to learn more about cybercrime and how it may affect you and your business. Looking for ways to keep your personal information safe? Contact the experts at Blue-Pencil today for more information!
Top 12 Cybercrime Facts and Statistics
The increasing rates of hacking, data leaks, and other cybercrimes may seem scary. Understanding what cybercrime looks like is the first step to preventing it. See the list below to learn more about the most interesting cases of recent cybercrime activity.
1. By The End of 2017, Global Ransomware Damage Costs Expected To Exceed $5 Billion

Did you know how costly ransomware damage could be? This estimate means that since 2015, ransomware damage costs have increased 15X! Unfortunately, this number is only expected to get worse. As more and more individuals and businesses rely on information technology and the internet to store information, the greater the potential and opportunity become for vicious cyber attacks (source). Canada has also spent a fair bit due to preventing and dealing with cyber crime. In 2015, CBC News reported that Public Safety Canada has spent $245 million on cyber crime related costs since 2010.
Key takeaway: Tighten up online security now and be extra cautious when opening up anything that seems off.
2. Healthcare Organizations Are The Number One Cyber Attacked Industry

This may come as a surprise, but healthcare organizations are number one on the list of most attacked industries. But why? According to Darkreading.com, the healthcare sector is vulnerable for a number of reasons. Historically, healthcare has lacked security. Many healthcare organizations also use outdated operating systems and internet browsers, creating additional vulnerabilities. There is also the fact that hospitals and other healthcare organizations store a lot of personal information, like patient records. This information can be lucrative for cybercriminals (source). Thankfully, Canadian hospitals have mostly been spared from these attacks – but experts warn it may not stay that way.
Key takeaway: If you work in the healthcare sector, keep these statistics in mind. If you are a manager or business owner, update your software and work to train employees on cyber security.
3. Cybercrime Will Increase The Cybersecurity Workforce Shortage By 2021

There is already a workforce shortage in the cybersecurity industry, and that shortage is expected to get much worse by 2021. It is predicted that by 2021, there will be 3.5 million unfilled cybersecurity jobs due to the expected sharp increase in cybercrime. (source)
Key takeaway: Though this is problematic, it also signals a new growing field of work. This means more job opportunities for those interested in the IT field.
4. There Are Cybercriminals On The FBI's Most Wanted List

Cybercrime is in no way a joke. As of May 2016, there were 19 cybercriminals listed on the FBI's Most Wanted List. The cybercriminals on this list were responsible for huge consumer losses, some up to $100 million (source).
Key takeaway: Cybercrime can be costlier than most people realize. Do not engage in anything that may be seen as cybercrime. Work hard to protect yourself and your employees as cybercrime can cost companies millions.
5. Employees Are Often Responsible For Poor Cybersecurity Practices

When using company computers, it is important for employees to practice good cybersecurity housekeeping! According to Optus Business Insights Blog, security managers often see the following bad security choices made by employees:
Telling colleagues password: 43%
Failure to log out: 69%
Logging into an unsecured WiFi: 53%
These poor practices can put individuals and companies at risk. It's important to remind employees of good cybersecurity practices to prevent ransomware attacks and other cybercrime (source).
Key takeaway: Teach employees basic online security practices. Consider putting up memos around the office, such as "log out when you finish" or "do not share your password with anyone."
6. The Most Expensive Computer Virus Ever Caused $38.5 Billion In Damages

This computer virus is named "MyDoom," and is considered to be the world's most expensive computer virus ever. This virus was first discovered back in 2004, and it spread quickly. It not only became the most expensive virus, but also the fastest spreading virus. The virus was transmitted through a spam e-mail. This virus caused a lot of problems, and even allowed the virus created to gain remote access to infected computers! (source)
Key takeaway: Once again, remember how costly viruses and cybercrime can be. Ensure you do not open up any strange emails and do not send anything that seems suspicious to anyone else on your mailing list.
7. As of May 2016, 600,000 Facebook Accounts Were Compromised Every Day

Social media networks continue to grow, and cybercriminals are taking advantage of that. With over 1 billion social media users worldwide, hackers are using numbers – and trust – to their advantage. Because social media users typically trust their online friends, cybercriminals use fake Facebook 'like' buttons, spam, and other techniques to trick users into downloading a virus (source).
Key takeaway: Remember that your social media accounts are not immune to cyber attacks! Only click 'like' on Facebook just to be safe, and stay away from any websites or emails that link you to suspicious-looking social media accounts.
8. Cybercrime Is A Lucrative "Business"

Unfortunately, many cybercriminals make off with hundreds of thousands of dollars each year. Though the average cybercriminal is not making the same amount as those on the FBI's Most Wanted List, they still can make quite the living. Some have estimated that the average hacker makes over $90,000 a year (source).
Key takeaway: There are people out there who see cybercrime as a job – and they do not worry about who gets hurt in the process. Click here to learn if your business is at risk of an information security leak!
9. Some Cybercrimes Are Inside Jobs – 59% Of Employees Steal Data When They Quit Or Get Fired!

It is not just the silent, unknown hackers you have to worry about. Insider threats are also becoming increasingly problematic. Sometimes, insider threats happen on purpose – employees intend to harm the company. Other times, insider threats happen by accident – an employee accidentally releases information or trusts the wrong person with a password or other company information (source).
Key takeaway: Be aware what information is given to which employee. Remember that internal threats exist, and be prepared in case one arises in your workplace.
10. Email Attachments Are The #1 Delivery Method For Malware

Email scams are definitely not a new trick. They continue to cause huge problems for individuals and employers alike. They remain as the number 1 delivery method for malware and can have a high success rate. Hackers sending just 10 email scams may have up to a 90% success rate (source). In Canada, the number one online activity internet users engage in is using email at 92%!
Key takeaway: Never open up emails, especially email attachments, from an email address you do not recognize. Never open up attachments that sound suspicious, even if they come from a contact you know. 
11. It Is Estimated That There Will Be Over 6 Billion Internet Users By 2022

This means that 6 billion people will be vulnerable to cybercrime. That's 75% of the projected 2022 world's population! To put this in perspective, in 2017, there are 7 billion people and 3.5 billion internet users – that's 51% of the world's population (source).
Key takeaway: Remember that no one is immune from cyber attacks, and as IT grows, you will need to take extra precautions to avoid cyber threats.
12. "Hacktivism" Drives 50% Of Cyber Attacks

What exactly is hacktivism? Hacktivism is the use of cybercrime and cyber attacks to promote any political agenda. Though it is a play on the word "activism," many do not see hacktivism as a positive thing. Hacktivism is a major motivator for cybercrime, and may account for about half of cyber attacks around the world (source).
Key takeaway: Ensure that your passwords are not easy to figure out – hacktivists may choose to hack into whatever account is easiest.
Cybercrime Facts & Stats Infographic
Feel free to download and share our Cybercrime Facts & Stats infographic. For a larger version, click on the image below.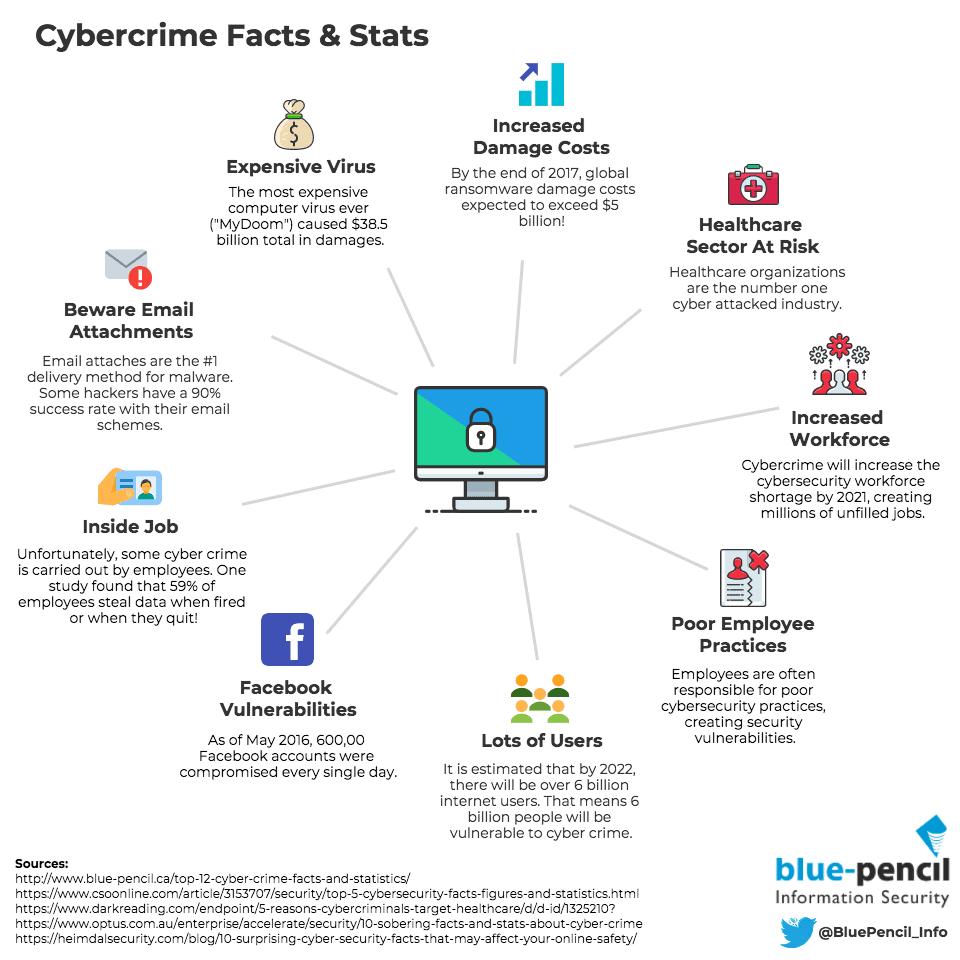 Keep Your Information Safe With Blue-Pencil!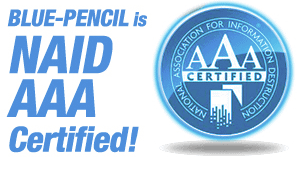 Blue-Pencil helps empower Canadian organizations to reach new heights with friendly and efficient document management services. Customer service is not only a slogan but something we practice by investing in our strategic partners.
Located in Oakville, we have grown our document security business over the past 10 years, serving more than 6,000 organizations including small and medium-sized companies as well as Fortune 500 businesses.
"Blue-Pencil was efficient and professional. My documents were safe and disposed of properly. Not only would I continue to use Blue-Pencil, I would recommend them to everyone."
– Immanuel Greenberg – More testimonials here!
We have recently launched two new divisions, Documents Storage and Records Managementdivision and Document Imaging and Scanning Solutions division. This allows us to offer full circle, comprehensive solutions for information security management. We service the GTA and surrounding cities –  click here for a full list of our service areas. If you'd like to learn more about us and what we can do for you contact us today!