Would your business benefit from an information security audit? An information security audit for businesses both large and small can help identify any information security gaps in current systems, give you access to training and tools that can close these gaps, and help you create a retention/destruction schedule for your important information.
If you are ready to invest in a security audit for your business, you can rely on the information security experts at Blue-Pencil to give you the solutions you need!
3 Benefits of an Information Security Audit For Your Business
1. Find Gaps Or Non-Compliance In Current Security Systems/Practices

When you work with the professionals to get an information security audit, the first thing that many businesses find out is where there are areas of non-compliance or gaps in information security.
Did you know that in Canada, there are privacy laws that govern how organizations are allowed to use and keep confidential information, as well as regulations on how businesses should dispose of personal/private information once it's no longer in use?
These regulations are outlined in PIPEDA (the Personal Information Protection and Electronic Documents Act). Organizations and businesses that fail to comply with these privacy laws can face audits, enforced compliance agreements, or could even lawsuits/court cases.
By performing an information security audit, your business can get ahead of these potential issues – before they escalate to full-blown non-compliance problems or information leaks!
It's important to note that simply not knowing about your company's non-compliance does not remove responsibility from your business. Even if you are truly unaware of laws under PIPEDA or other local regulations, that does not provide 'plausible deniability' for your business! That's why it's so important to know about compliance ahead of time.
During your audit, your information security professionals will provide you with information about areas where your business could improve, areas where you must change in order to achieve compliance, and gaps in security measures that could lead to problems down the road.
2. Gain Access to Tools and Training to Help Close Discovered Gaps

Not only will you discover potential gaps and non-compliance with privacy laws or security best practices, you will also gain important tools and access to training to help close those gaps.
It's not enough to just know about potential issues – there needs to be a next step. Fortunately, when you work with the professionals, you will be given access to the information you need in order to take that next step.
For example, after the initial assessment, your information security professionals may provide you with:
Recommendations for improvements in cost and security
Recommendations for improvements in consistency and efficiency
Help to develop a document management strategy
Thorough training for all employees on best security practices
Assessment of current records management program and tips for improvement
Thorough training for all employees on compliance with privacy laws and other regulations
A retention and destruction schedule (more info below!)
Help to create thorough security policies and procedures
To keep your business' information secure, you need to ensure that everyone is on the same page – including managers, supervisors, and employees. That's why effective, thorough, and consistent training is so important.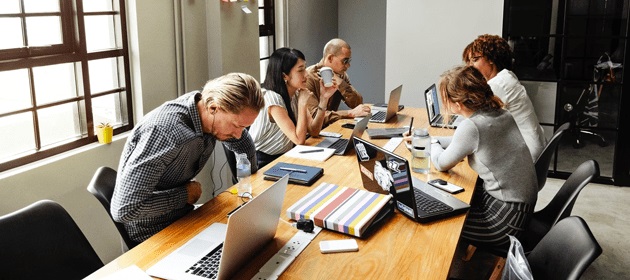 When it comes to information security, it's important that everyone is on the same page
Your information security experts can provide you and your employees with training on best security practices as well as information about compliance with security laws and regulations. They can also train and equip managers and supervisors with the tools and information they need to provide continuous training for employees, as refreshers are often needed to ensure consistency.
At Blue-Pencil, we provide our clients with a wide range of tools to help ensure information security, convenience, and compliance. Some of these tools include:

To learn more about all of our services and tools, click here!
3. Create an Effective Retention/Destruction Schedule for All Your Important Documents

Another great benefit of an information security audit is that it allows you to create a retention/destruction schedule for your business' information.
Certain documents should be kept on file for a certain number of years depending on the type of document. For example, most tax records must be kept on file for 6-7 years in order to comply with CRA (Canada Revenue Agency) regulations.
Depending on the size of your business and the average number of documents, files, and records you produce on a regular basis, you may quickly exhaust your available storage space! Or, you may end up with a pile of disorganized records – which isn't good for your business, your information security, or for when tax season comes around.
Working with an information security company, you can create a retention schedule – a certain amount of time to keep important files and records. Not only that, but you can rely on document storage options too.
At Blue-Pencil, we offer highly secure, 24/7 monitored document storage for businesses. Your retained documents will be kept on file for a set amount of time. After that, we'll safely and effectively destroy the documents and records that you no longer need.
A retention/destruction schedule can ensure your business information stays safe
Safe document destruction is an important part of information security and document management! You can do everything right when it comes to creating, using, and storing confidential information – but if you don't dispose of it properly, it can easily end up in the wrong hands.
Information theft, leaks, and security breaches are all too common, and happen more frequently to small businesses! Ensuring your information is properly disposed of after your business no longer needs it is important for keeping your business safe, your employees safe, and your customers and clients safe.
Rely on Blue-Pencil For Your Information Security Audit!

After reading about all the benefits of an information security audit for your business, you may want to set one up for yourself! If you are ready to move forward with an audit, or have any questions about how a consultation works, contact the information security experts at Blue-Pencil now!
Blue-Pencil can provide your business with a thorough and effective security audit, provide information and feedback about possible gaps and non-compliance in current policies, help you create a retention/destruction schedule, provide you with document storage options, and so much more.
"After years of searching for an information security company that we could trust, we have been more than pleased with the service provided by blue-pencil. They have always been punctual, reliable and communicative. Our service tech Adam H is polite, jovial and efficient. The professionalism and care he provides to keeping our disposal secure is greatly valued. Adam's smiling face is always welcomed in our office!"
– Iolanda Sardo
Read More Google Reviews!
At Blue-Pencil, we serve business and residential needs across the province of Ontario, including Toronto and the GTA, Hamilton, Kitchener, Waterloo, Ajax, Pickering, Aurora, Newmarket, and more. As your local business partner, we offer value, consistency and efficiency in our services.