Secure, convenient and cost effective alternatives to Staples or UPS shredding. Shred without a shredder for as little as $20/ box with Blue Pencil. We pick up or you drop off.
Shredding documents is an effective way to protect your personal and corporate information. This article looks at the different prices for using a drop-off shredding service at one of the many business centres like UPS, and Staples. Get the most secure and expedient shredding service today by contacting us for paper shredding service.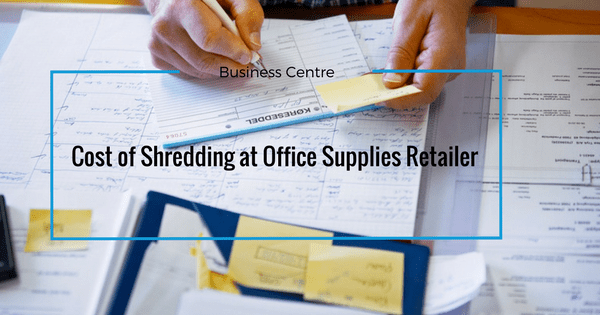 Pros and cons to going to a business centre for shredding
Despite being convenient to go to a local UPS, or Staples there are a number of drawbacks to using this kind of service. Here are the questions to ask before paying for a contracted shredding service by one of these retailers.
1. Am I comfortable with adding an additional hand off point in my document disposal process?
All of these retailers use a third-party to shred your documents once received. This means more people handling your sensitive documents. Typically, this is not recommended.
2. Is convenience more important to me than cost savings
Staples and UPS charge by the pound.  Depending on the amount of paper you have, it can be more expensive to shred at one of these locations vs using a shredding service.
For example, you have one full Bankers Box which weighs 25-35lbs.  This would cost you $25-$35 at Staples or UPS.  If you use a Drop-Off Shredding service, like the one Blue-Pencil offers, the cost would be $20 per box (no matter the weight)
The strategy with offering shredding at a local office centre is to bring in more foot traffic to the store. Some customers may enjoy the experience of looking around the store after. But for more residents and professionals this often means spending extra time or money. Typically, this amounts to another $20 spent and 30 minutes shopping around.
3. Are you comfortable having your documents sit in someone else's facility for possibly weeks
Due to the arrangement with a third-party shredding service, most retailers will only dispose of documents after a month. This means your documents are sitting in the store waiting to be shredded. Though some retailers may shred their documents within a day or two, there remains a lag time if customers are looking to dispose immediately.
One way to manage this is to ask questions first.  Some questions you may want to ask include:
How often is your paper picked up and shredded?
Is your confidential information shredded on site or is your information transported to another facility for destruction?
Do they provide a certified shredding certificate to confirm the documents are destroyed as soon as possible?
Paper Shredding Costs Compared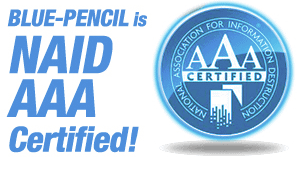 Staples Shredding Cost
The shredding costs associated with using Staples is $1 per pound
Here are the documents that Staples can shred
Paper of any colour/thickness
Envelopes
File folders
Paper with staples, paper clips and rubber bands
UPS Shredding Cost
UPS also contracts with a third-party service provider for paper shredding.
Documents are weighed upon arrival and placed in a bin.  it is not known how long your documents will sit before they are shredded or whether they will be transported before destruction.
"Our company has utilized Blue-Pencil for the past 6 years for their secure shredding service. They are efficient, reliable, and their teams from head office along with the service technicians are highly professional & a pleasure to communicate with. We would, without hesitation, recommend their services, they will not disappoint. "
– Caroline
Click here for more customer reviews
Take documents to a Secure Shredding Facility or Schedule a Mobile Shredding Service
Cost: $20/box when you drop-off at the Blue-Pencil shredding office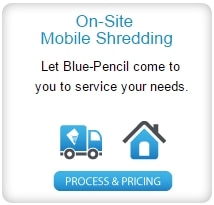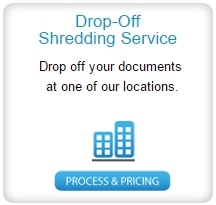 Professional shredding companies offer a safe and convenient way for residents of Toronto and the GTA a way to manage their personal information.  Most, including Blue-Pencil have a convienient drop-off service.
Pros:
Convenient and flexible, if you are in the Oakville area, you can drop your boxes at the Blue-Pencil office fore shredding.  Alternatively, you can arrange for the shredding service to come to you.
Depending on the amount of paper you have, it can be substantially cheaper to bring your documents to a shredding service provide vs to a retail location that offers shredding.
All information security professionals are regularly background checked for security and any criminal activity before being allowed to service residents
Certificate of destruction may be provided, meaning residents get peace of mind that their information is destroyed.
Cons:
Shredding facility may not be as close or as numerous as Staples or UPS locations.
If you have 10+ boxes, an on-site service where a shredding truck will arrive at your location to shred your documents would be the best choice both from a financial and a simplicity perspective.
Your choices have an impact on how well your personal information is managed.  Residents of Toronto and the GTA are advised to review all their options to make a thorough and informed decision.
Comparison Infographic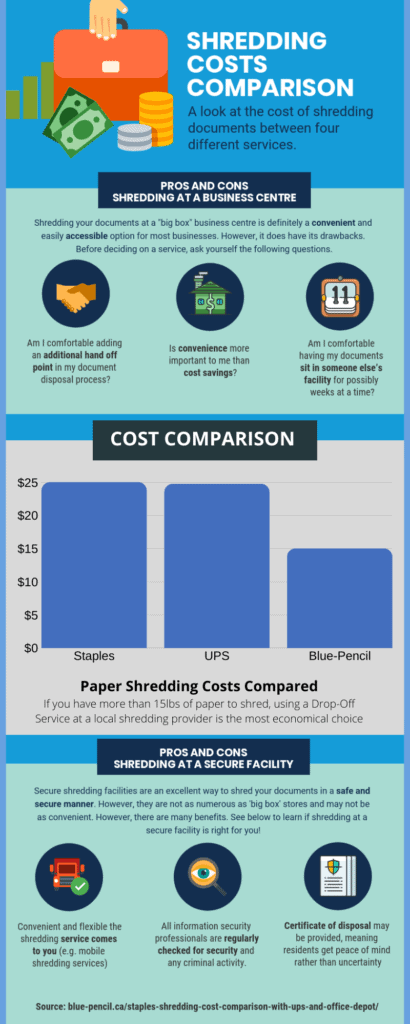 If you've found this infographic useful, feel free to save and share!
Blue-Pencil Helps You Draw the Line Between Your Personal Information and Identity Thieves
Blue-Pencil is experienced in helping people secure their personal information and offers a free security audit to businesses who want to deter rather than be defeated by identity thieves. Draw the line in the sand today and don't let your hard-earned business and customers fall prey to identity thieves!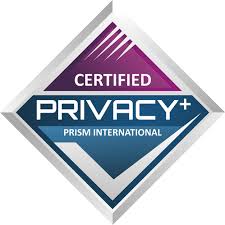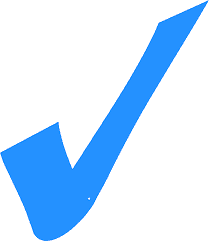 High standards in information destruction services with NAID AAA and Privacy+ certification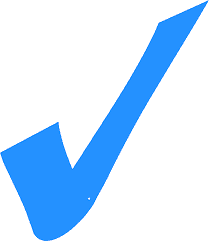 Training, resources, and support for your staff to become adept at information management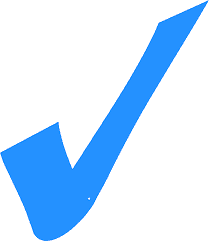 Big-picture strategy and best practices to help business stay informed about legislation.
Costs and pricing from office retailers were acquired from information online December 2019 are subject to change.