There are many shredding companies to choose from and the choice can vary widely based on price, variety of services, and availability. This guide offers a quick way to choose from some top shredding companies.  If you're tight on time, click here to see our 30-second vendor comparison for top shredding services in Ontario and the Greater Toronto area. This article provides a starting point for residents and businesses on what to shred, including how to find business reviews on shredding companies, geographies of service, and innovative technology employed: which help you meet regulatory requirements and manage risks.
"Very courteous staff who perform their duties in a timely, professional manner. We are very pleased with Blue-Pencil's service and would highly recommend them in the future." – Shirmilla Maharaj
Click here for more customer reviews
Why Should People Consider Shredding?
Shredding personal and corporate information is a good way to guard against identity theft or data leaks that can harm your business or stakeholders. There are many common household and business documents that, when not securely disposed of, can be a risk. Here is a brief list of items that should be shredded or destroyed to ensure you or your workplace is properly protected. The key to personal or corporate information security is to know when the information is not needed.
Personal documents:
Here are some items to consider shredding for personal information at home.
Credit card bills and information,
Personal tax information,
Phone and internet bills,
Old insurance policy statements,
Pay stubs and bank statements.
See here for a great Lifehacker article on what to shred and when documents should be kept or disposed of.
Business documents:
Here are some items to consider to shred in regards to commercial documents at the workplace.

Bills and invoices,
Bank records,
Credit card bills,
Payroll information,
Tax returns,
Human resources documents,
Customer information.
For more details, click here for a list from a previous article and recommended time frames in which documents should be considered for disposal. See here for a quick summary.
How Do the Top Shredding Services in Toronto Stack up?
Many of the top shredding service providers have garnered an A+ rating from the Better Business Bureau (BBB), which is an organization that helps customers find and recommend businesses, charities, and brands they can trust. The BBB rating is awarded based on meeting 13 criteria (click here for further details). Here is a summary of Blue-Pencil's BBB rating with a summary of why we were awarded A+. Click here to view other ratings for other companies using BBB's site search function.
Blue-Pencil: A+ Rating awarded for the length of time the business has been operating.  We have no complaints filed with BBB.  For more details from BBB on Blue-Pencil, click here.
For informed buyers looking to gauge service quality for the above service providers, the BBB site also offers listings of customer reviews. Reviews, if available, can be found at each of the BBB summary pages linked previously.
Locations of Service in Ontario
Consumers often need to consider the geography of these shredding service providers, as distance can mean inconvenience or added premiums. Coverage of service providers cover similar regions across Ontario and the Greater Toronto area, but be sure to check that your provider offers drop-off or on-site shredding solutions.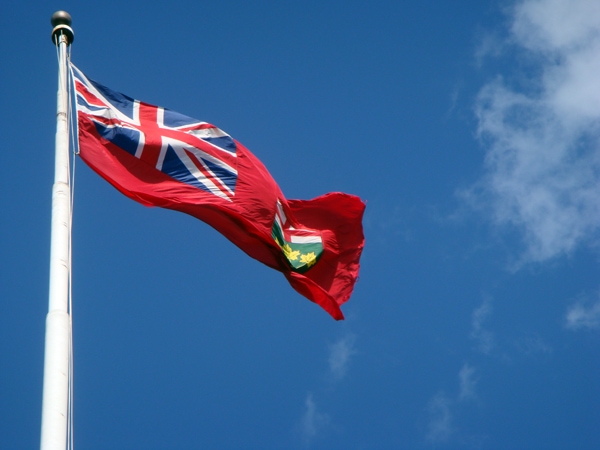 Blue-Pencil offers shredding service across Ontario with a focus on added convenience for drop-off or on-site shredding: suitable for both commercial and residential clients. If a city isn't within our usual service areas, we can work with you to ensure your shredding needs are met with our network of trusted partners. Click here for our full list of service areas. 
The top providers are commonly found in a similar number of urban areas, so making the right choice can be difficult with so many options. It is recommended that customers count on a dedicated provider that can work to ensure your shredding needs are met by leveraging a flexible shredding service network like Blue-Pencil's.
Equipment and Technologies Used
Advances in technology have given rise to a number of innovations and technology that can now be used to serve residents and businesses. Below is an overview of some of the key technologies used by the top shredding service providers in serving their customers.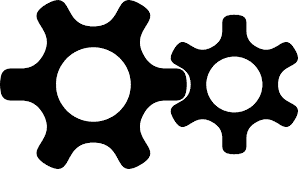 Disposal tracking technology: For non-paper destruction, certain service providers offer the ability to track how far along the disposal process their items have progressed.
Environmental friendly mobile shredding: Blue-Pencil offers not only the convenience of mobile shedding but also follows a rigorous process to minimize the impact on the environment while contributing to the sustainability of our ecosystem.
Precision cutting: Other providers may offer proprietary cross-cut shredding that can turn documents into confetti. Further customizable shredding sizes may also be available to meet regulatory requirements.
Things to Look for in Choosing a Shredding Service Provider and What Blue-Pencil Offers
With the many options and factors to weigh in choosing a shredding service provider, and with similar ratings and certifications, the choice becomes even more difficult. As with many things, however, the devil is in the details. Here are factors that should be considered in engaging a shredding service provider that often fly under the radar.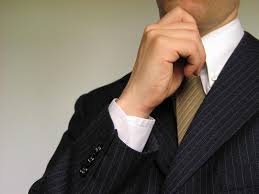 Legal Compliance Assistance: One of the main objectives of any endeavour to dispose of documents is to safeguard yourself  or your business from legal liability. Blue-Pencil can help you safeguard your information from end-to-end, by auditing your processes and also helping you create information destruction policies and manuals.
On-Time Service Guarantee: Timeliness and precision are key outcomes in ensuring tight-knit and effective information disposal. Blue-Pencil offers an on-time service guarantee so you can have peace of mind.
Live Answer Customer Service: Having the right person to walk through shredding services and packages with you can help you choose the right solution for your needs. Blue-Pencil staffs a team of highly capable and informative customer service representatives that can help you find the right fit. Click here to speak to one of our team members now.
Blue-Pencil Delivers Cost Effective Service at the Best Value and Customer Service
Without a proven adviser, even the best marketing and technologies can simply be insufficient to help safeguard your business or personal identity. Our team focuses on helping clients get the best value and stellar shredding service that's integrated with a record management strategy across industries including government, healthcare, manufacturing, small business, and residential clients. No job is too big or small for Blue-Pencil.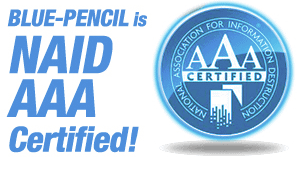 Blue-Pencil is an information security company that has been serving the needs of clients in Canada since 2004. We have grown our document security business over the past 10 years, serving more than 6,000 organizations, including small and medium-sized companies as well as Fortune 500 businesses. We have recently launched two new divisions, Documents Storage and Records Management division and Document Imaging and Scanning Solutions division. This allows us to offer full circle, comprehensive solutions for information security management. We service the GTA and surrounding cities –  click here for a full list of our service areas. If you'd like to learn more about us and what we can do for you, contact us today!