Destroy your documents, secure your business
How North York Secure Shredding Services Benefit Your Business
Why Blue-Pencil is the best choice for Paper Shredding Services North York
Blue-Pencil is proud to provide shredding services for thousands of business locations in North York, Ontario and the Greater Toronto area.
Fast & Affordable Document Destruction Services
In a rush? Your boxes could be shredded as soon as tomorrow
Mobile On Site Document Shredding
Your material is shred before we leave your premises
NAID AAA and Privacy+ Certified
Document destruction that keeps you compliant with all data protection regulations
Recycling of Confidential Information
All material collected is sent to a local recycling company
100% Canadian
Our local company is headquartered in Southern Ontario
Shredding Service tailored to North York and Toronto area businesses
Blue-Pencil securely shreds and recycles your documents on site.
Contact us today for a free quote
Have piles of paperwork that need destroyed? Blue-Pencil can help.
Get a Quoteor call us at 1-877-821-9611
How Blue-Pencil's North York Shredding Service Works

Blue Pencil will begin your North York shred service by completing a complimentary assessment of your business. This assessment will enable our customer service team to recommend the best service for your business.
If the Office Shredding Program is the best fit, we will provide you with a security console. Using the security console, your employees can safely deposit the private and confidential records and files you want to shred. The security console is just one of the ways to ensure all of your business documents remain private and confidential.

Our next step is to plan and put in place a paper shredding services schedule that will work well for your needs. In some cases, a one time pick-up makes the most sense, but in others, a more frequent pickup schedule is needed.
To determine how often we need to come, we take into consideration, the size of your company, the number of personal records you have, the number of confidential documents produced on a daily/weekly basis and your individual wants and needs.

On your scheduled pick-up date, we arrive at your facility at the agreed-upon time to collect your files, and other materials.
Our representative will take all of your sensitive materials to our mobile shred truck which will be parked outside to be immediately shred.
From there, your confidential records, files, and documents are shred right in the truck, on-site. You can even watch the process if you would prefer.
When using a secure shredding service, you should be able to trust that the utmost care has been given to your confidential information. After each and every shred, you will be issued a Certificate of Destruction. You will receive this document as soon as the shredding is complete.
This certificate of destruction provides proof of document compliance and peace of mind that all private company information has been completely shredded and properly disposed of.
Document Storage Services
Blue-Pencil can safely and affordably store your documents for you
Information management goes beyond shredding services. Document storage is another important service that your North York business could benefit from.
At Blue-Pencil, we offer a number of document storage and management services for businesses of all sizes.
It is also a cost-effective option. Documents, records, and files pile up over time. It's often much more cost-effective to store your information off-site than to purchase larger office space, especially in North York (or anywhere in Toronto or the GTA), where property costs are often quite high.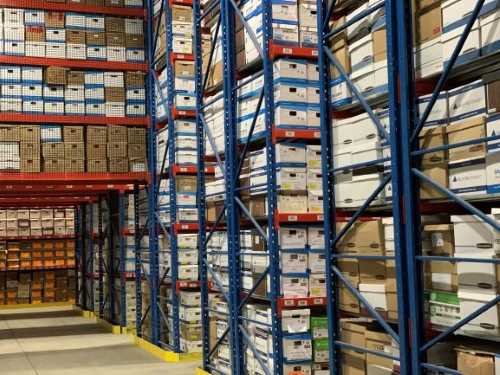 Blue-Pencil's Document Scanning Service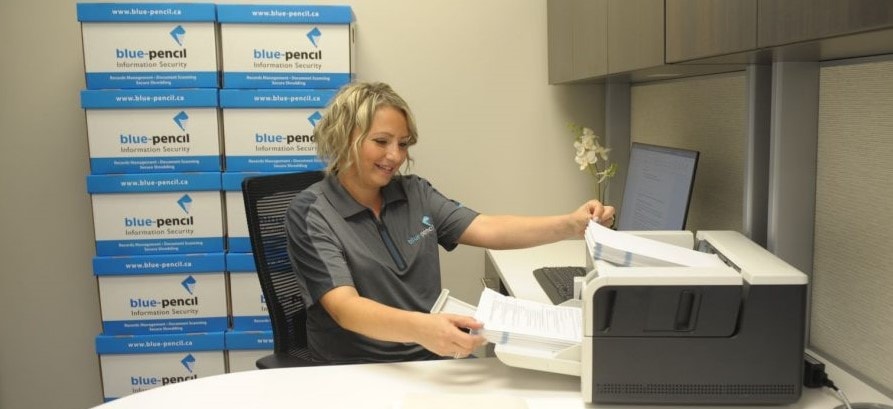 Let Blue-Pencil scan your documents for you
Companies that have been in business for a long time may have a significant amount of paper records. Over time, these documents can become disorganized – or even lost – due to accidents or employee oversights.
Going digital is the perfect way to not only organize your files but to keep them safe as well. Blue-Pencil's Document Imaging & Scanning Services help businesses of all sizes within Ontario.
Join our 15,000+ happy shredding customers
Trusted by thousands of companies in North York and across Southern Ontario, Canada to shred, store and scan their information.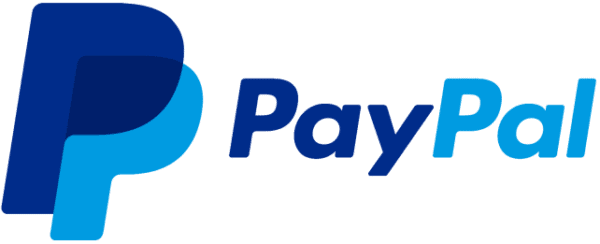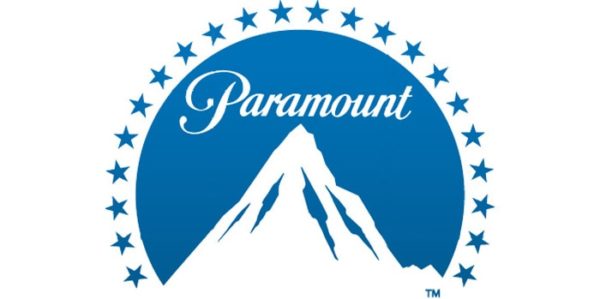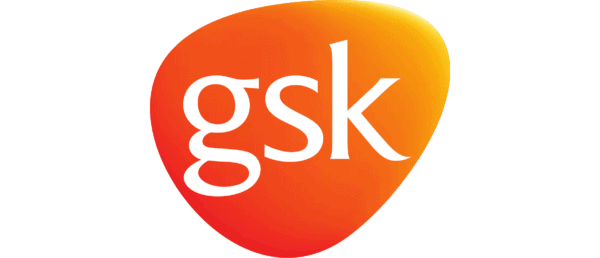 Helpful resources to securely shred, scan and store personal and business information