Destroy your documents, secure your business
Why Blue-Pencil is the best choice for Cambridge, Ontario Shredding Services
Blue-Pencil has served over 15,000 organizations across Ontario, including Cambridge, Kitchener-Waterloo and the surrounding area.
Fast & Efficient Shredding Services
In a rush? We can complete document shredding services in Cambridge for you as soon as tomorrow
Mobile On Site Paper Shredding
Your material is destroyed before we leave your Cambridge location
NAID AAA and Privacy+ Certified
Keeps you compliant with all data protection regulations
100% Canadian
Our company is owned and operated by Canadians
Secure Document Destruction Services tailored to Cambridge businesses
Blue-Pencil securely shreds and recycles your paper on site.
Contact us today for a free quote
Have piles of paperwork that need destroyed? Blue-Pencil can help.
Get a Quoteor call us at 1-877-821-9611
How Cambridge Shredding Service Works

Blue Pencil will begin your Cambridge shred service by completing a complimentary full assessment of your business. This assessment will enable our customer service team to recommend the best service for your business.
If the Office Shredding Program is the best fit for your business, we will provide you with a security console. This is a secure bin that your staff can use to safely deposit all of your sensitive and confidential documents that you need shredded.

Our next step is to plan and put in place a paper shredding services schedule that will work well for your needs. In some cases, a one time pick-up makes the most sense, but in others, a more frequent pickup schedule is needed.
To figure out how often we need to come, we'll take into consideration the following factors:
Size: Usually larger businesses will require more frequent pick-up, however, that isn't always the case
Number of Personal Records: The amount of personal records you have on file, will also affect your destruction pick-up frequency
Number of Confidential Documents: We'll take into consideration the amount of paper you produce on a daily and weekly basis produced on a daily/weekly basis
Your Individual Wants and Needs: Blue-Pencil always strives to put your wants and needs first; we will always listen to and follow your preferences.

On your scheduled pick-up date, we arrive at your facility at the agreed-upon time to collect your files, and other materials.
Our representative will take all of your sensitive materials to our mobile shredding unit which will be parked outside to be immediately destroyed.
Your sensitive material will never leave your premises. This process ensures the security of your information. Only our professional and thoroughly trained Document Destruction Representatives will have access to the contents.
The final step in Blue Pencil's Cambridge document shredding service is to present you with a Certificate of Destruction. As soon as we have securely shredded all of your materials, we will issue this destruction certificate so that you have proof and can rest assured that all of your private company information has been completely and properly disposed of.
All shredded material is sent to a recycling facility to be recycled into household paper good.
Blue-Pencil understands how important your customers' and staff's privacy is to your company; that's why we go out of our way to ensure that all of this valuable information is kept confidential.
Be Compliant with Blue-Pencil
By working with Blue-Pencil, you can have peace of mind knowing that your business complies with privacy laws (PIPEDA) in Canada.
In Canada, it is your responsibility as a business owner to ensure the safe storage and destruction of confidential information that is no longer in use.
Blue-Pencil can help you implement a document management strategy and schedule that complies with Canadian laws and makes it easy to destroy your documents and other sensitive materials when the time comes.
Blue-Pencil's Document Storage Service
Blue-Pencil can safely and affordably store your documents for you
Along with a secure shredding program, safe document storage is also very important for the sensitive information that you need to keep. Tax records are one example of documents that must be stored – they must be kept on file for up to 7 years. However, they don't need to take up important space in your office's records room or filing cabinet!
Blue-Pencil can help you keep your confidential records safe and secure while you still need to have them on file. We offer a number of document storage and management solutions for businesses of all sizes.
Our Document storage service can help you save money by providing you with the storage space you need for these documents at a fraction of the cost of renting your own space or purchasing a larger facility.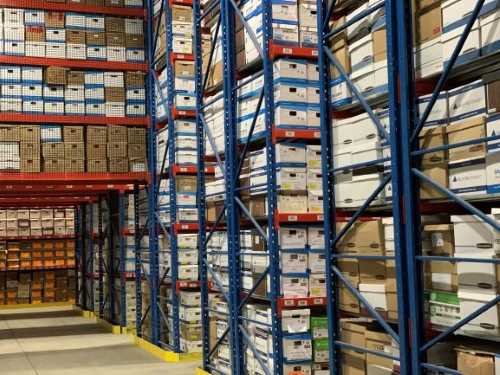 Blue-Pencil's Document Scanning Service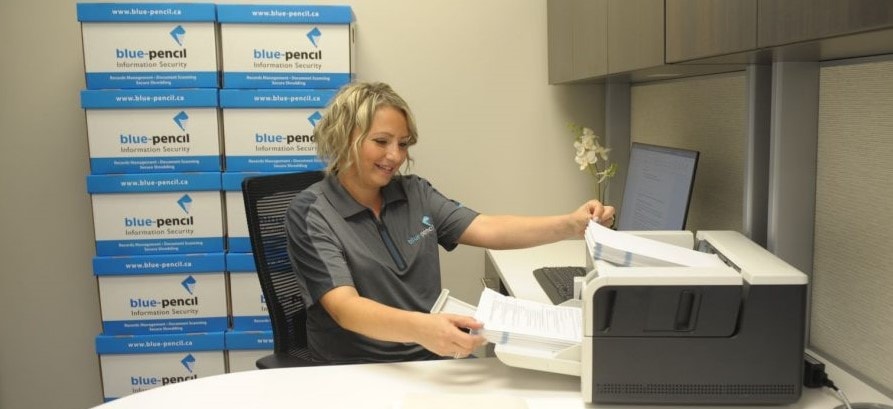 Let Blue-Pencil scan your documents for you
If you are feeling overwhelmed with the ever-increasing number of paper documents and records you are accumulating, take advantage of Blue-Pencil's document scanning services.
Converting these paper files to digital can be a great solution, however, it does take time. That's where Blue-Pencil comes in. We do the scanning for you at a fraction of the cost and time that it would take you to do it.
Learn more about document management in Cambridge
Helpful resources to securely organize your information