Offsite storage of sensitive files and documents in Scarborough, Ontario
Store and protect your documents in highly secure facilities
Setup is simple
Have our professional records team help you get set up quickly and easily with a document storage solution. From indexing to accessing your files, we can help every step of the way.
Easy access to information
Need a file? No problem. Request the file you need, and have it physically delivered to you or scanned and emailed with our Scan on Demand service within a few hours.
Decrease your costs
Using valuable office storage space for long-term records management is costly, especially in Toronto. For a few dollars per year, per box, you can securely store your files and get back your office space.
How Scarborough Document Storage works
Manage your records in a few simple steps

You contact us to get started
Contactour dedicated Sales team to discuss your records management and document storage requirements and to schedule your file box pickup.

We index and store your boxes
After securely transporting your information, boxes are indexed and stored in our secure facility. Using our barcode system, we always know exactly where they are.

You need an important file
Using Blue-Pencil Plus+ choose the file or box in storage and have it physically delivered to your office orscanned and emailed within a few hours.

Your information reaches end of life
Using the pre-defined retention schedule, Blue-Pencil+ sends alerts when the retention period is up. Simply provide authorization and your documents are destroyed using Blue-Pencil's secure shredding services.
Why Blue-Pencil is the best choice for offsite document management
Blue-Pencil has been managing the document storage and destruction of sensitive information for businesses and across the Greater Toronto area and Ontario since 2004.
Cost-effective solution
For a few dollars per year, per box, you can securely store your files and get back your office space
Secure Document Storage Facility
Documents stored in climate-controlled storage facilities with 24/7 surveillance and strict security protocols
Secure chain of custody
All files and boxes are indexed and scanned at every step of the way
Online Document Management Services
Centrally manage your account to order files, access storage reports and much more
No Company is Too Big or Too Small
Document storage services for small and large business alike
Scarborough Document Retrieval Options
Secure Solutions to Access your Business Information
Scan-on-Demand services
Files or boxes in storage can be scanned and emailed on an as needed basis, giving your team permanent access to electronic files.
File or box delivery
Request a file or box online and have the physical documents delivered to your business in Scarborough.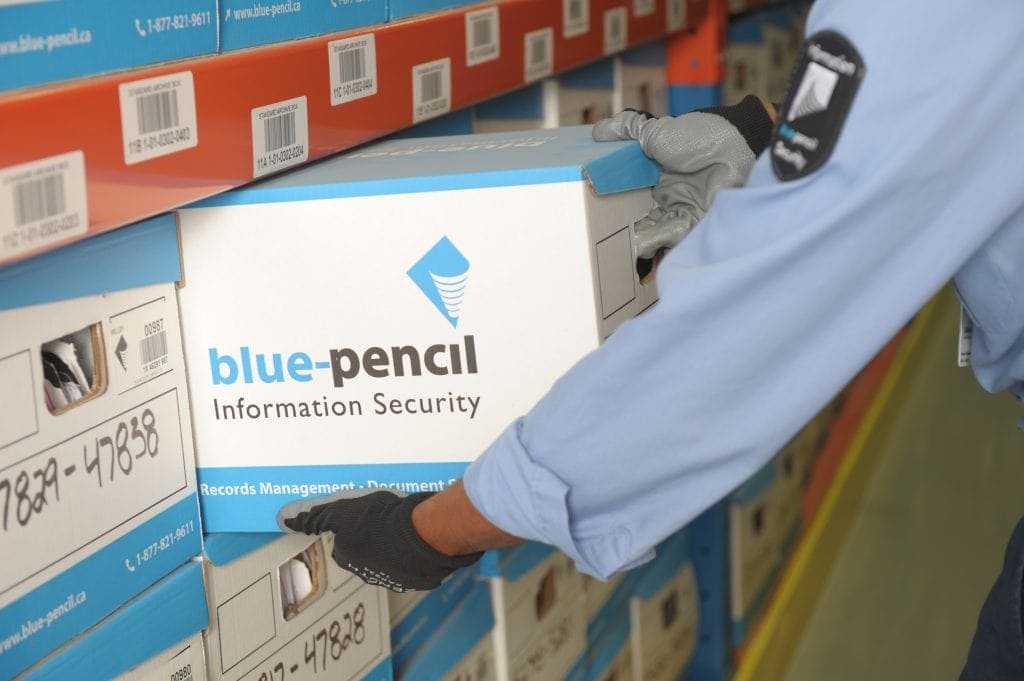 Storage room full?
Learn how much you can save by storing your documents with Blue-Pencil.
Get a Quoteor call 1-877-821-9611
Learn more about offsite records storage