If your office is overwhelmed with documents and you're lacking storage space and patience, you've likely scoured the internet in desperation for file storage tips. Pages upon pages of results for public storage facilities may have you thinking that you've found a cheap and quick fix to your business' document storage woes. But, if you don't look below the surface, you could miss some major disadvantages of this method of storage, which can cost your company more money and hassles in the long run.
Before you decide to rent a self-storage unit to store business documents, here are some tips to help you make the right decision.
Downsides of Using Self-storage Facilities for Document Storage
1. It's expensive.
The cost of a self-storage unit is determined by the size of the locker and the location of the facility, but the average cost of a 10 ft. x10 ft. unit is $290. In major cities, such as Toronto, businesses can pay up to $395 per month in rent! Some self-storage facilities will lure you in with an enticing offer, like getting one month free. But, when you factor in the expense to furnish the empty storage space with document storage racks and filing boxes, costs quickly add up. Self-storage space is not infinite either – when you need more storage room, you have to find available space, sign another lease and buy more document storage racks and filing boxes before moving in.
With a self-storage unit, you are also responsible for rent each month, whether you use the locker to store documents or not. Considering that your rent doesn't include additional benefits, like 24/7 security, proper climate control or the option to have files indexed, retrieved or managed online, a self-storage unit doesn't offer much in the way of added value. It's simply not the best way to manage long-term costs for your business.
2. It wastes valuable resources.
When calculating the expense of document storage, you also have to consider the time, cost and energy required to create, use and maintain the storage space. Setting up racks and moving file boxes from your office takes time and labour, plus employee safety is compromised when lifting heavy storage boxes.
When a file is required, you must contact someone from your office to drive to the facility where they will have to access the storage locker and find the document amongst racks of boxes. This not only hinders productivity, but it takes workers away from essential job responsibilities. Employees will also require reimbursement for mileage each time they travel to and from the storage locker, which is an ongoing company expense that is often overlooked.
3. It's not secure.
When you choose a self-storage unit to keep your files, security and privacy are not guaranteed. Most public facilities have certain safety measures, such as gates and cameras, but that may not be enough to help protect your confidential data from theft or corporate espionage. Not knowing what's being stored in neighbouring lockers is a security concern, too. It's also difficult to keep track of documents in an off-site storage facility, especially when employees are moving many boxes of documents.
4. It's not an effective document management system.
When storing documents in an off-site storage locker, it's too easy for them to be neglected since they are out of sight, out of mind. Employees must continue to follow your company's document management policy, even though the files aren't stored at your office. This includes monitoring retention periods and ensuring timely destruction according to privacy laws. If not, your business could face serious compliance issues for improper management and accessibility of confidential information.
5. It's not climate controlled.
Without proper climate control, documents are susceptible to mould, mildew and moisture, which can deteriorate paper records and impact document quality over time. Self-storage units are a great solution for items that can handle the elements, but when it comes to critical business information, it's important to keep proper temperature and humidity levels to avoid damage. You also need to ensure that proper fire, flood and pest protections are in place, which isn't a guarantee with self-store units.
Choose the Best Document Storage Solution for Your Business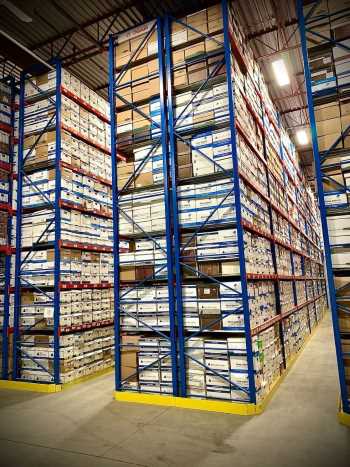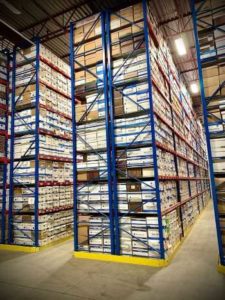 Don't put your documents at risk by storing them in a self-storage facility. Make the right choice by choosing a professional records service instead! At Blue-Pencil, we provide long-term records storage services for sensitive documents, so you can rest assured that your important data is safe throughout its entire lifecycle. Documents are managed by authorized and trained professionals and housed in our climate-controlled facility with 24/7 surveillance and strict security protocols.
All documents and boxes are indexed and bar-code scanned every step of the way, so you always have a secure chain of custody. Our records management service can also create and implement a document storage policy to keep your business compliant with privacy laws. When retention periods expire, we can destroy your information with your approval using our secure shredding service.
When you need access to important files, retrieval is one click away. Documents can be physically delivered or scanned and sent via email within hours to keep your confidential information in close contact. You can also centrally manage your account online to order documents, access your inventory, get storage reports and so much more. And since Blue-Pencil charges only a few dollars per box each year, our storage services are a safe and affordable long-term solution for businesses both big and small.
From storing and indexing to accessing your files, we are here to help your company every step of the way. To learn more about Blue-Pencil's secure document storage services, get in contact with our customer service team for a free quote.
You can also find many useful document storage tips in the Resource section of our website.