Properly destroying sensitive information is critical for any organization, but it can be a complex and time-consuming process when handled in-house by employees. Outsourcing your paper shredding and document destruction to a professional service provider not only frees up valuable time and resources, but it also keeps you compliant with privacy laws and reduces the risk of a serious security breach.
If you are looking for a hassle-free way to protect your confidential information, reduce expenditures and increase productivity while ensuring environmental sustainability, mobile shredding is an excellent solution.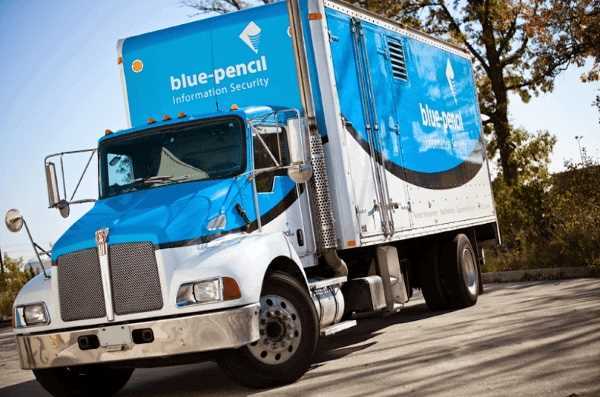 What is Mobile Shredding?
Mobile or on-site shredding is a secure shredding service that destroys your confidential material at your premises. It is a preferred option for many commercial and residential clients because it is a convenient, efficient and cost-effective way to shred papers and other media types, including hard drives and unneeded goods or products. You can also schedule your visits to suit your needs, whether you require a one-time shred, weekly shredding services or something in between.
How Do Mobile Shredding Services Work?
On your scheduled service date, a state-of-the-art shredding truck will arrive at your location. You will be greeted by a fully-bonded and screened Document Security Representative, who will collect your stored documents from locked consoles throughout your office and transport the contents to the waiting shredding truck.
The material will be automatically lifted inside the truck by a hydraulic arm where the contents are destroyed into small cross-cut pieces using an onboard industrial shredder. A closed-circuit monitor will capture the entire process on video, so you can witness your paper, hard drive devices and other media types being destroyed right before your eyes. Since your shredded material is mixed with documents from other companies, you will have total peace of mind that your confidential information can never be restored.
At the conclusion of your shredding service, you will receive a Certificate of Destruction. This documentation proves that all paper and media types have been properly destroyed before recycling and that the secure shredding process is compliant with privacy laws.
How are Mobile Shredding Services Different from Off-Site Shredding Services?
Off-site paper shredding is another method of document destruction, but the actual shredding process doesn't occur on your premises. On your service date, an off-site shredding provider will arrive at your location, collect your documents and haul them away to a shredding facility. From there, the material will be unloaded, hand sorted and held until it is ready to be destroyed.
Since the shredding of paper occurs in a warehouse, you cannot witness the destruction process, like you can with an on-site document shredding service. Off-site shredding services also have a longer chain-of-custody with more points of contact, which can lead to a security breach.
Which Document Destruction Services are the Most Secure?
Mobile shredding services are the most secure method of document shredding because:
Your material is destroyed on your premises and not an off-site warehouse, which ensures a complete and concise chain-of-custody.
Your confidential material is never directly handled by a technician or hand sorted before shredding, which greatly reduces your risk of identity theft, fraud or an information leak.
Your shredded material is mixed with documents from other companies, making it impossible to restore.
You can watch the entire process on a closed-circuit monitor, which adds an extra layer of security.
You receive a Certificate of Destruction at every service visit to prove that the shredding process was completed and in compliance with privacy laws.
Choose a Shredding Service That Works for You
Blue-Pencil provides a range of options for commercial and residential shredding customers to help you keep your confidential information secure. No job is too big or small! We offer one-time and reoccurring mobile shredding for all of your needs, whether it is shredding paper records, computer hard drive devices, non-paper media destruction and product destruction.
Blue-Pencil helps thousands of the Greater Toronto area businesses shred their private information each year and protect it from a security breach.
To learn more about our NAID AAA Certified shredding services or to discuss your document shredding needs, contact our customer service team for a free quote.