More than eight months have passed since COVID-19 was declared a pandemic and life as we know it has changed immeasurably. Across the country, Canadians have experienced lockdowns, unemployment, remote work and virtual learning, as well as new realities, such as long lines and empty store shelves. Wearing a face covering, staying two metres apart and quarantining have become the norm as communities work together to flatten the curve. The disruption of the pandemic has also led to major changes in how businesses carry out work.
From essential workers keeping the world turning behind plexiglass to employees transitioning to a remote workforce, workplaces are adjusting to these trying times. Companies are continually exploring creative business models that prioritize the safety of their staff and customers while abiding by changing regional restrictions. Other businesses are adapting in innovative ways that favour digital connection and collaboration over in-person contact.
With such a vast amount of change in a short time, Blue-Pencil conducted a survey to learn more about the impact of COVID-19 on Information Management. Responses were collected from over 400 Greater Toronto Area businesses and the changes in how workplaces operate are evident. Below are some of the key trends and observations made as a result.
In the Workplace: What's Happening Now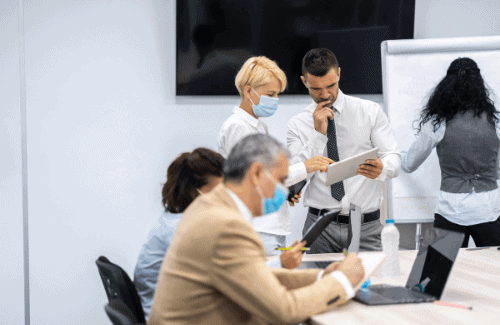 Coronavirus caused a drastic shift in how organizations and employees carry out work and many of these changes are expected to impact the workplace post-COVID-19. The survey sought to understand how businesses are currently adapting to the pandemic and how this experience is shaping future workplace philosophies.
Many companies have resumed in-person work
Of the responses received, almost half of the workplaces surveyed (45%) have at least three-quarters of their employees conducting in-person work while adjusting to new safety protocols that have arisen in recent months.
This includes public health measures, such as wearing facial coverings, practicing good hygiene and ensuring proper social distancing with staff, customers, clients, visitors and patients. Workplaces have also had to step up cleaning and disinfecting protocols and ensure that those who are unwell stay home and follow public health requirements. It's a new normal that all in-person workplaces are continuing to navigate while making adjustments as regional restrictions and guidelines regularly change.
Businesses are still operating with a significant amount of remote employees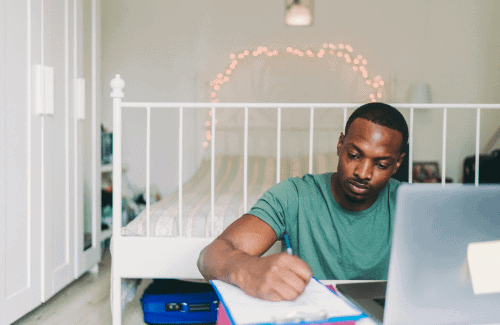 Even though many businesses have resumed in-person work, remote work remains commonplace for workplaces. 43% of survey respondents are continuing to address the global pandemic by maintaining a majority remote workforce.
This shift to remote work hasn't come without its challenges. The home office environment has presented employees with a new set of distractions and security risks. Technical issues and not being able to access information have also made it difficult for employees to complete work tasks, while video conferencing has taken away the connection that team members feel when engaging with colleagues in person. Screen fatigue is now a reality as workers stare at devices instead of face-to-face interaction. The lines between work and private life have also blurred, especially for employees who have difficulties disengaging from the virtual workplace since their office is now a corner of their home.
In-person work is being prioritized where possible
For those workplaces operating with a combination of on- and off-site staff, in-person work is prioritized for employees whose job functions or industry cannot be accommodated in a remote capacity. By having as many employees working remotely as possible, it is more manageable for organizations to ensure widespread social distancing and to maintain regular cleaning and disinfecting protocols. With fewer employees on-site, contact tracing is further simplified should an outbreak occur in the workplace.
Some workplaces are also utilizing creative solutions, such as allowing employees to rotate who comes into the office on different days. Again, this allows employers to have sufficient coverage throughout the workplace without having staff in close contact for extended periods.
Many workplaces are striving to return to on-site work in the short-term
Presently, 31% of businesses are requiring employees to return to their standard work arrangements within the workplace while following public health guidelines and social distancing protocols.
However, certain companies are taking a flexible approach. More than half of the businesses surveyed (52%) have employees working remotely, but expect them to return to in-person work at the end of the year or once deemed safe.
Companies are changing their philosophies on remote work in the long-term
While the overarching consensus for the short-term sees employees safely reunited together in the workplace, coronavirus has caused a shift in remote work policies in the long-term.
Based on the survey results, 56% of businesses will continue to allow for more flexibility for employees to work on- or off-site or make changes to encourage a larger remote workforce going forward. Some workplaces (2% of those surveyed) are choosing to close their offices completely and transition to a fully remote workforce.
While these modifications may not be immediate, change is certainly on the horizon. The learnings gained from the surge of remote work from the COVID-19 pandemic are certainly shaping how work is carried out in the future. Many businesses are also realizing that employees can be productive when not working in the office, which is a major shift in perspective for some organizations.
Some businesses still prefer an on-site workforce due to necessity and choice
While some businesses are embracing change, 16% of respondents agree that while their workforce could operate remotely, they would rather have their employees on-site. Other workplaces – nearly 28% – simply cannot work remotely due to the nature of their work, such as those in the healthcare, food service, manufacturing, transportation, and retail and service industries.
Information Security: How Workplaces Are Managing
As COVID-19 began to spread, many workplaces quickly shifted to a remote workforce, causing companies to improvise information security protocols and policies on the fly. With so much change in a short time, the survey sought to gauge how businesses are handling their information management requirements – specifically, how information is being accessed, stored and destroyed by remote employees and how secure those processes are.
Access to physical documents and office mail is a challenge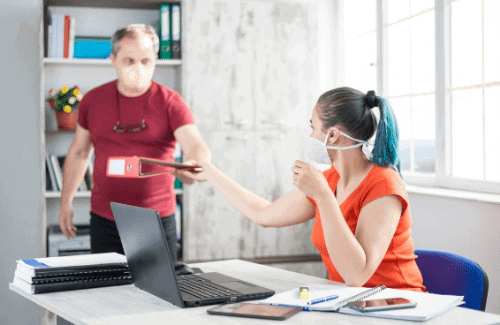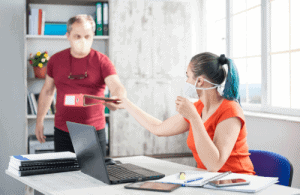 According to the survey, 32% of remote employees are picking up documents from the office as needed, while another 31% of workplaces are scanning and emailing documents to employees working off-site. While employees have found new ways to obtain important files and office mail over the last eight months, it has come at the expense of productivity.
Anytime a file or time-sensitive mail is needed, a remote employee has to travel to the office to retrieve it, thus taking them away from important work tasks. Trips into the workplace also require extra time to accommodate public health protocols, such as signing in for contract tracing purposes, frequent sanitizing and social distancing. This ongoing process is seriously impacting employee productivity and it is not conducive to an efficient workflow.
For those remaining in the office, their productivity is also impacted any time an off-site colleague needs access to documents and office mail. On-site employees must divert their attention from their core responsibilities to locate, scan and email documents to coworkers. In this new role, access to confidential information may also be given to employees that normally wouldn't have access to certain information. This adds additional layers of risk for companies and can lead to a serious security breach, identity theft or corporate espionage.
Remote employees are making an effort to shred documents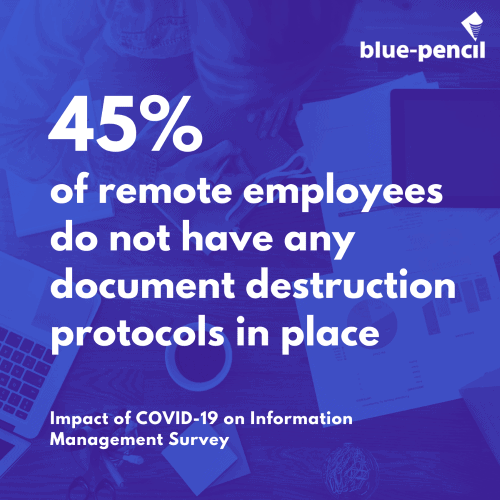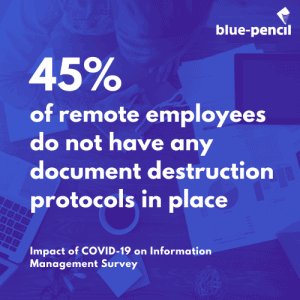 The destruction of confidential information became a concern when workplaces transitioned to having remote employees. Away from the safe confines of their workplaces, which have clear document destruction policies in place and are supported by office shredding programs, the responsibility of information security is now on those working off-site.
The positive news is that the majority of remote workers polled are making an effort to properly destroy information. Based on the survey results, 55% of remote employees have some document destruction protocols in place, whether they are collecting documents and bringing them into the office for shredding or following a no print policy while working off-site.
Personal home shredders are impacting productivity and information security 
According to the survey results, 7% of remote employees are using home shredders to destroy documents.
Most personal home shredders made for residential use can only shred a few sheets of paper at once. This process is time-consuming and frustrating, especially when there are many documents to destroy or a paper jam occurs. These types of shredders are also designed with a strip cut method, which leaves information vulnerable and is not 100% secure. At-home shredders simply do not compare to the professional cross-cut shredders or shredding services used by workplaces, which destroy documents into small pieces quickly and efficiently so that the information can never be restored.
COVID-19 Challenges: Common Concerns
Knowing how challenging COVID-19 has been on workplaces over the last eight months, the survey sought to gain insights on common concerns that organizations are facing in terms of document management practices and unfulfilled business needs due to the pandemic.
The following is an overview of the most common responses:
Digital storage space and technology upgrades
As more companies are shifting to paperless environments, the need for additional digital storage space is growing at a rapid pace. Businesses are also seeking technology upgrades to efficiently convert paper documents into electronic documents, which is very labour intensive and time-consuming when handled in-house by employees.
Access to physical documents
Whether having to pick-up documents from the office or relying on on-site employees to retrieve, scan and send files to remote employees, many workplaces are wanting a centralized way to access physical documents to improve productivity and to eliminate unnecessary security risks.
Document management policies
The rise in remote working has highlighted gaps in document management policies for many businesses, causing confusion for off-site employees. Remote workers need clear guidelines in place for the proper destruction of sensitive information when working off-site.
Flexible document destruction
With employees working in-person and remotely, businesses are looking for ways to securely destroy confidential information whether at the workplace or remote locations.
Workplaces Remain in a Constant State of Flux
With the ever-changing tightening and loosening of restrictions as the virus evolves, businesses are doing their best to shoulder the impact of the coronavirus pandemic. Companies have shown amazing resiliency by adjusting their processes so they can continue to serve their clients and community while ensuring the safety of their staff. Innovative thinking and speed of response have helped businesses adapt – and hopefully survive – these trying times.
So much remains unknown for businesses, but one thing is certain: COVID-19 and its challenges are shaping how we work – both now and into the future.