How Blue-Pencil's Oshawa Shredding Services Work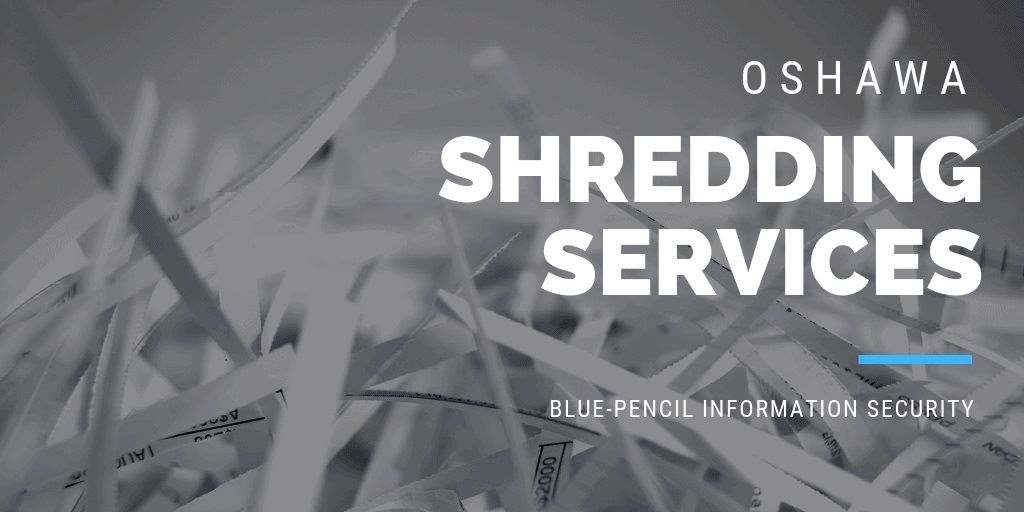 Blue-Pencil's Oshawa shredding services can help keep you and your business safer. We provide the most secure disposal methods for businesses of all sizes. Keep your company's private information confidential – work with Blue-Pencil today.
Step One – Full Assessment

Before the shredding begins, Blue-Pencil will perform a full assessment of your business – this includes gathering information on your current policies, record management solutions, legal compliance with privacy and information laws, and cost-efficiency of current programs.
During the assessment, we will help you determine a number of important decisions regarding information management, including:
What documents and records can stay on file
What documents and records must stay on file
What documents and records are no longer needed
How often your information will be shredded
We will also provide your office with a security console. This security console is where you and your employees will safely deposit the confidential records and files you want to destroy. The security console is just one of the ways we ensure all of your business documents remain private and confidential.
Step 2: Plan a Collection Schedule

The next step in the process is to plan out a collection schedule that works best for your business. The frequency of collection will depend on a number of factors, including the size of your business (larger businesses tend to produce more documents – but that isn't always the case), the number of personal records you have on file, the number of confidential documents produced on a daily/weekly basis, and more.
Blue-Pencil works with you to help determine a collection schedule that works best for your business. During pickup, a Blue-Pencil Security Representative will arrive at your facility and collect the material from your security console. This process ensures limited access to your confidential information. Only our professional and thoroughly trained staff will have access to the contents of your security console.
"From the onset of the initial engagement through to the disposal of our documents, the experience was excellent."
– Coleen, A Satisfied Customer!
Want to learn more about our privacy certifications and thorough employee vetting process? Click here!
Step Three: On-Site Shredding

After our professional and trained staff have collected the documents in your security console, they will be safely transported to our mobile shredding truck parked outside of your facility and destroyed right in the truck, on-site. You can even watch the process if you wish! See how secure and simple the process is in the video below.
We securely shred on-site of your Oshawa business!
Step Four: Certificate Of Destruction

We understand that your company, employee, and customer privacy are of utmost importance. That's why after each shred, you will be issued a Certificate of Destruction. You will receive this document as soon as the shredding is complete. This way, you will always have peace of mind that all of your company's confidential information has been properly destroyed and disposed of.
Why You Need Oshawa Shredding Services For Businesses

Oshawa is a large city in Southern Ontario, with a population of around 380,000 people. Oshawa is noted as one of the fastest growing cities in Canada, and although was known as the home of the General Motors of Canada Headquarters, in recent years it has become well known as a leader in both the educational and healthcare sectors.
Because of its growing population and emphasis on the sectors mentioned above, Oshawa is home to many businesses that would greatly benefit from secure shredding services.
This is especially true for the healthcare industry, as it is one of the most attacked and breached sectors when it comes to information leaks and security issues. This makes the need for high-quality information security measures such as secure shredding even more pressing.
All companies will produce documents and records that will include some or all of the following:
Financial documents
Property records
Legal documents
Medical records
Academic records
Personal documents
Customer records
When you choose to work with Blue-Pencil, you ensure your business in Oshawa not only keeps all information safer and protects your employees and customers – but also complies with privacy laws in Canada. Contact us now to learn more!
Why You Need Oshawa Shredding Services For Residents

If you are a resident in the Oshawa area and want to shred your own personal documents, we also offer shredding services to individual residents. We understand that everyone may need help keeping confidential information protected. Almost everyone will have some or all of the following confidential documents on file:
Tax records
Credit card and banking information
Employee information and pay stubs
Property records
Medical records
We offer mobile shredding services to residents, as well as drop-off shredding (if you happen to be in the Oakville area, you can consider dropping off your files at our facility!).
Trust Blue-Pencil For All Your Information Security Needs!

Blue-Pencil helps empower residents in the Oshawa area to reach new heights with a friendly and efficient shredding service. If you are looking for services outside of Oshawa, you can view our full service area here!
We offer services such as documents storage, records management, and document imaging and scanning solutions – comprehensive solutions for information security management!
"The company was professional from start to finish, very focused and without a doubt, the best company for this service I have had the pleasure to work with."
– Cindy R, More Testimonials Here!
Click here for a full list of our service areas. If you'd like to learn more about us and what we can do for you, contact us today!