What is hard drive destruction? It is likely that your computer's hard drive contains significant amounts of personal or confidential business information. As computers continue to play a large role in most Canadian's lives, keeping your personal information stored on your hard drive safe and private is important. However, most people replace their computers every 4-5 years.
When it's time to replace your computer, hard drive destruction is one of the best ways to ensure your information is appropriately removed. In this hard drive destruction guide, we will answer common questions regarding hard drive destruction so you can make an informed choice when it comes to your own computer. Contact Blue-Pencil today for more information about data and information management!
What Is A Hard Drive?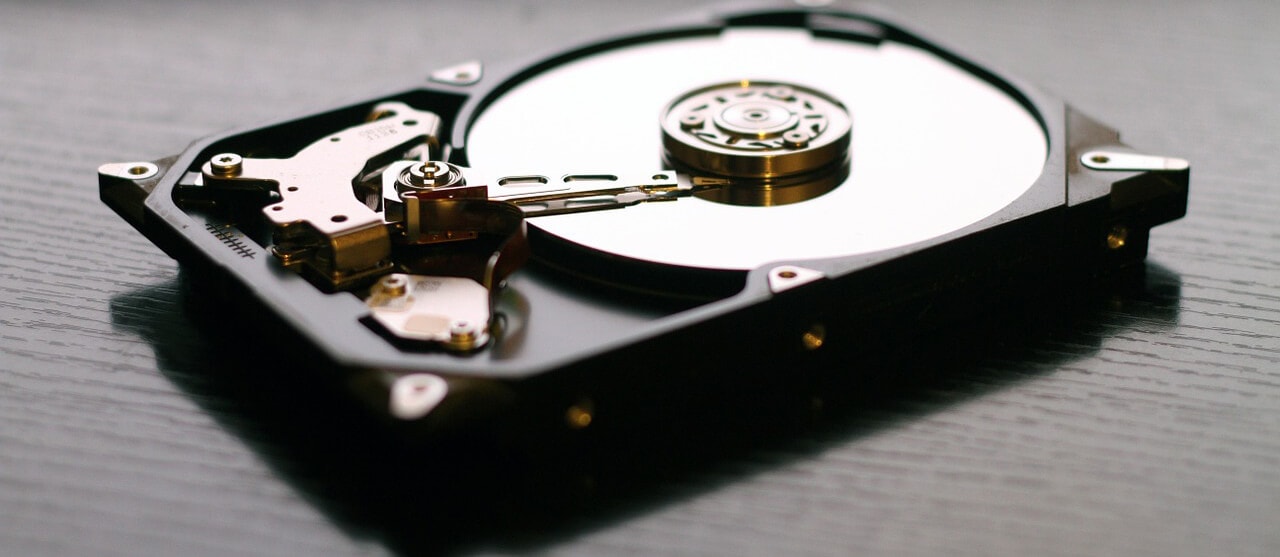 It is likely you have heard the term "hard drive," but do you know exactly what it is or what it does on your computer? The hard disk drive, often shortened to just "hard drive" or "HD," is usually the largest data storage device component of your computer. The hard drive is a hardware – meaning it has it physical component you can actually see, touch, and remove from your computer.
If you are building a computer or want to replace your hard drive, you can purchase hard drives separately from manufacturers such as Seagate, Toshiba, and more. However, most individuals and business owners will never need to purchase an additional hard drive – it is likely you will always use the hard drive that came with your computer.
Hard drives store almost everything on your computer, including your operating system, most software, and most of your files. Even when your computer is powered off, your hard drive holds on to all of the information you have stored on it. Some hard drives can hold up to 500 GB of data or more. That's a lot of information!
Why Destroy A Hard Drive?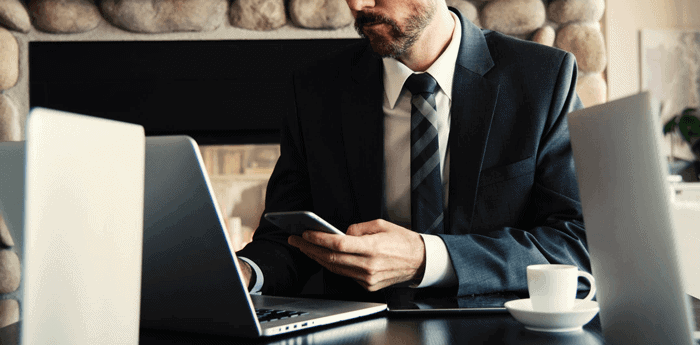 Unfortunately, simply deleting all of your data off a hard drive and throwing it out is not a safe solution. Data can be still be recovered even if you have deleted it. That's why it is important to properly destroy the actual physical hard drive. Your hard drive may be storing significant amounts of information you do not want others to get a hold of. Information such as:
Your name, address, date of birth
Bank numbers and information (if you've used online banking)
Credit card information
Business information or files you've saved on your computer
Online shopping or social network information
Personal photographs
Though you may believe you have properly wiped your hard drive, there is software available that makes recovering data easy for cybercriminals and identity thieves. If you are throwing away your old computer, you should ensure the hard drive has been wiped and then destroyed.
Recycling vs Destroying Hard Drives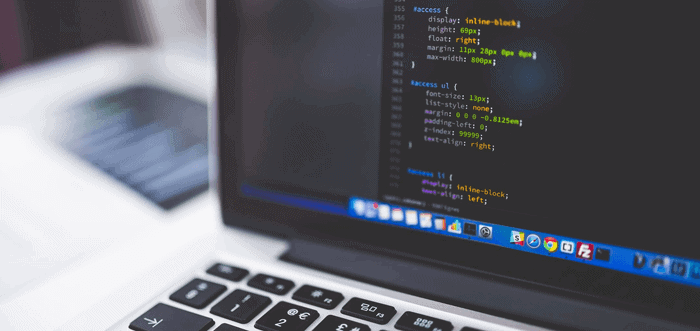 Many computer owners face the decision of recycling vs destroying their old computer hard drives. This can be a difficult choice, as both methods have their pros and cons. Recycling or reselling a hard drive often means you can make some cash off of your old computer. You can either sell it yourself or sell it to a vendor that purchases and sells used computers.
If you choose to recycle, InfoWorld.com has some tips for making your hard drive's previous information difficult or nearly impossible to retrieve. In the article Hard Drive Recycling Do's and Dont's, the author suggests completely reformatting the hard drive. They also suggest overwriting every single block on the hard drive at least once, and up to five times if your computer was used in a high-security system (such as accounting or sales).
However, most computer owners do not have the know-how to properly reformat or overwrite their hard drive's information. If you want to resell or recycle but do not know how to securely remove information, it's best to ask a professional for help and guidance.
Another issue some computer owners may come across is the fact that they are unsure what happens to their computer during "recycling." Recycling sounds like a safe and environmentally friendly option. However, some "recycling" companies actually resell old computers for cash or dump them in unprotected sites – meaning your hard drive's information could end up in someone else's hands.
The other method you can choose is hard drive destruction. Of course, with hard drive destruction, you cannot resell or recycle your hard drive. There are also service fees associated with hard drive destruction. However, hard drive destruction is the best way to keep your information safe. InfoWorld.com states:
"The ultimate data protection strategy is running the disk through a purpose-built hard drive shredder, which is like a wood chipper on steroids. This physically destroys the entire disk, ensuring that data can't be recovered."
– Logan Harbaugh, InfoWorld.com
Though there are methods to make reselling and recycling your hard drive safer, if the hard drive is still physically intact, there will always be a risk that previous information can be recovered. With the destruction method, you can have peace of mind knowing your information has truly been destroyed.
Blue-Pencil's Hard Drive Destruction Services
Blue-Pencil offers hard drive and media destruction services in Toronto and around the GTA. See the quick video below to the watch hard drive and media destruction process!
Our media destruction service uses secure, high-speed shredding to ensure your old hard drives, disks, tapes, mobile data devices, and more, are properly disposed of – so you will never have to worry about identity theft, data breaches, or leaked information. Our service includes:
Completely secure and confidential physical destruction
Instant, on-site high-speed shredding
Media destroyed cross-cut to 5/8″
Video recording available
Fully bonded and screened technicians
Certificate of destruction provided
We also ensure environmentally friendly disposal of destroyed items. With our E-Destruction Program, shredded hard drives are sent to a facility for material separation and recovery. These products are then destroyed via shredding or Waste-to-Energy Incineration. Shredded waste is disposed of through Waste-to-Energy Incineration, not thrown into a landfill.
Securely Destroy Your Hard Drives With Blue-Pencil!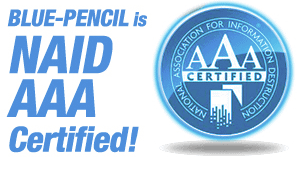 With Blue-Pencil, you rest assured knowing your hard drives and media are securely shredded and disposed of. Blue-Pencil helps empower Canadian organizations to reach new heights with friendly and efficient document management services. Customer service is not only a slogan but something we practice by investing in our strategic partners.
Located in Oakville, we have grown our document security business over the past 10 years, serving more than 6,000 organizations including small and medium-sized companies as well as Fortune 500 businesses.
"We highly recommend Blue-Pencil. The service is excellent and the guys that come out are so nice. It's a pleasure dealing with them."
– Mozelle C – More testimonials here!
We have recently launched two new divisions; Documents Storage and Records Management division and Document Imaging and Scanning Solutions division. This allows us to offer full circle, comprehensive solutions for information security management. We service the GTA and surrounding cities –  click here for a full list of our service areas. If you'd like to learn more about us and what we can do for you contact us today!
Looking For Shredding Solutions?

Sources
InfoWorld.com / Computerhope.com / Techterms.com / Lifewire.com / Servicebyte.com