Feeling overwhelmed with old documents and an overcrowded office? Free shredding events are one great way to deal to help organize your life and get rid of unnecessary paper. Free shredding events happen all over Brampton and the Peel Region. In this article, we'll look at previous free shredding events and outline the services these events provided as well as any limitations.
For more information on secure shredding services, contact Blue-Pencil now!
"Blue-Pencil Mobile Shredding delivered what they promised. They were quick and efficient and solved our paper shredding problem in a manner of minutes."
– Tax Plan Canada – More testimonials here!

Free Shredding Brampton – Are Free Shredding Services Really Free?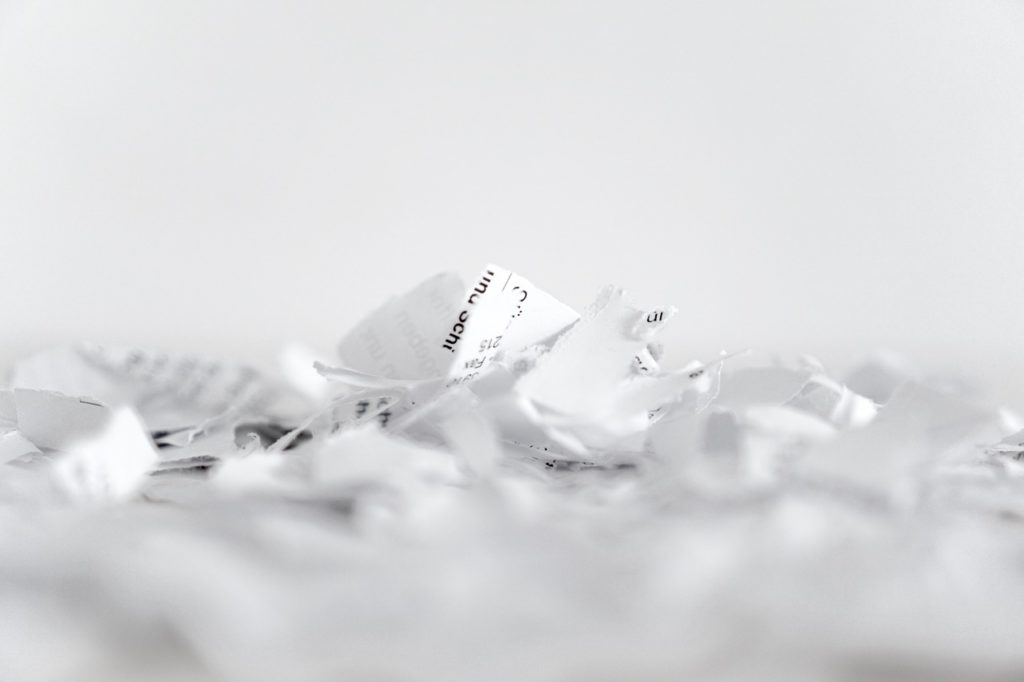 In the past, many community events around Brampton and the GTA have offered free shredding services to residents. Many of these community events are in partnership with shredding companies. Others use Community Recycling Centres as hosts for free shred events.
These events provide great opportunities for residents to protect valuable information and help prevent serious crimes such as identity theft.
These community events come at no monetary cost to participants. However, there are limitations. Consider the following features offered by Blue-Pencil's secure shredding services:
Peace of Mind – When you shred with a reputable, certified, and insured organization like Blue-Pencil
Certified and Insured – You are protected by our certification and insurance which is not offered by free services
Mutual Safeguards – We ensure that there is a service agreement that protects all parties involved
Looking for Risk-Free Paper Shredding Services In Brampton?

Past Events – Free Shredding Services Brampton
Here is a sample of past document shredding events that were provided in Brampton and around the GTA.
Spring Confidential Shredding Events – Provided by The Region Of Peel

Services Provided  – In the spring of 2017, The Region of Peel announced four free confidential shredding events around Peel. Out of these four events, one took place in Brampton, one took place in Caledon, and two took place in Mississauga. Every shredding event was run out of local Community Recycling Centres (CRCs). The timing of this event was convenient for many residents who were in the process of spring cleaning!
Limitations – This service is only provided to residents of Peel Region. During regular operating hours, Community Recycling Centers do not offer shredding services, but you can drop off unbound paper for recycling. These events were also limited to specific dates in 2017. Similar events also took place in the fall.
Source: www.peelregion.ca
Fall Fest Shred-A-Thon in Toronto

Services Provided – In September 2015, City News reported on Fall Fest, which was held in Toronto on Yonge Street. At Fall Fest, aside from music and autumn festivities, you could bring your confidential documents to be shredded at Uptown Yonge BIA's Shred-A-Thon! Though this shredding event is a bit of a drive from Brampton, if you were already attending Fall Fest, it would be a fun and convenient way to shred documents.
Limitations – This service was limited to Fall Fest in Toronto and may not occur yearly. It is also a fair bit of distance away from Brampton and may not be easily accessible to some members of the Brampton community.

Source: Toronto.citynews.ca

Services Provided – Every City of Toronto Ward (there are over 40 wards in Toronto) hosts a Community Environment Day, and many of the wards also host free shredding events. For example, in September 2016, Ward 30 had their annual Community Environment Day and supplied residents with free shredding services at the event. Though this event takes place only in Toronto, it is a good example of community shred events – keep a lookout for shredding events like this one in Brampton!
Limitations – This free shredding service occurs only once a year. The date of the event depends on the Toronto Ward you are part of. Though anyone can attend the event, some services may be limited to residents. Some wards do not provide free shredding services – each ward will have its own set of events and services available. Click here to learn more about free shredding events in Toronto.

Source: councillorpaulafletcher.ca
Waterloo Region Crime Stoppers Community Event

Services Provided – Crime Stoppers in Waterloo offered free shredding of personal documents. They encouraged participants to bring the following items: documents containing personal and financial or other sensitive information, with the goal of helping to prevent identity fraud. Members of Crime Stoppers were also on site to help answer any questions relating to fraud prevention.
Limitations of Service – Event did not guarantee secure disposal and upcoming events have not been announced. Attending the event would also require extra commute time for those living in Brampton or the Peel Region.
Source: http://www.wrps.on.ca/news/
Plan your own shredding event

Services Provided – Can't find a free shredding event near you? Missed the deadline for free local events? If you know your community is in need of a shredding event, why not plan it yourself? Some shredding service providers will actually be available to offer free shredding, as long as someone in the community is willing to organize an event! Talk to your neighbours or colleagues and rally your community together to help protect personal information. This is also a great way to connect with others in your neighbourhood and build lasting friendships.
Limitations of Service – Shredding companies may be limited to business operating hours, which may not be convenient for everyone. Be sure to check the time you are looking to get your community shredding event to take place, and whether the service provider is available. This may also require quite a bit of planning, time, and energy – but the rewards can be great!
Ask your Real Estate Agent

Services Provided – Another DIY way to take care of old documents is by asking your real estate agent for help. Some real estate agents may partner with local shredding services in Brampton or the GTA to help clients take care of unwanted paper and personal information during or before a move. Talk to your agent and see if they can provide you with any helpful information!
Limitations of Service – Ensure that the real estate agent's referral is to a certified and secure shredding service. Some may simply take your documents to a big box shredding store, which may result in information exposure and uncertainty regarding proper information disposal.
Check for Upcoming Free Shredding Service Events in Brampton & the GTA
Though free shredding services are convenient and easily accessible, they do come with limitations and risks. The biggest risk is a lack of guaranteed secure disposal. When deciding between secure shredding services and free shredding services, residents should be aware of this risk and limit personal information exposure when using free services. Here are some ways you can keep an eye out for upcoming shredding events:
If you are not comfortable using a free shredding service, consider speaking to your employer about other options. Some workplaces will pay for their employees to use secure shredding services! Consider contacting Blue-Pencil to discover a plan that works for you and your workplace.
Securely Shred With Blue-Pencil Now!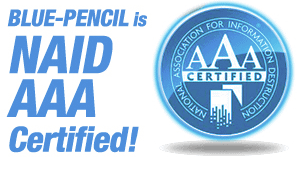 At Blue-Pencil, you don't have to wait for a community event – you can securely shred now! Blue-Pencil helps empower Canadian organizations to reach new heights with friendly and efficient document management services. Customer service is not only a slogan but something we practice by investing in our strategic partners.
Located in Oakville, we have grown our document security business over the past 10 years, serving more than 6,000 organizations including small and medium-sized companies as well as Fortune 500 businesses.
We have recently launched two new divisions; Documents Storage and Records Managementdivision and Document Imaging and Scanning Solutions division. This allows us to offer full circle, comprehensive solutions for information security management. We service the GTA and surrounding cities –  click here for a full list of our service areas. If you'd like to learn more about us and what we can do for you contact us today!