Where to shred personal documents in Toronto? – Personal documents such as outdated employee information, tax records, and other documents containing confidential information should be properly disposed of. Without proper disposal, you may become a target for problems such as information leaks or even identity theft. In this article, we'll outline where you can shred personal documents and the pros and cons of each option. Contact the experts at Blue-Pencil today to learn more about secure shredding and information management!
Where To Shred Personal Documents in Toronto?
Like many other major cities, Toronto offers a wide variety of options when it comes to shredding your confidential documents and records. We'll take a look at each of these options so you can make an informed choice when it comes time to shred!
Secure Shredding Services

Security: ★★★★★
Ideal For: All types of documents, electronics, sensitive information
Biggest Pros: Highly secure, efficient, provides peace of mind
Biggest Cons: May not be located in the most convenient location
Shredding services offer highly secure shredding methods
Many data management companies offer secure shredding services for both businesses and individuals looking to shred personal documents. Working with a company that offers secure shredding can help give you peace of mind. Certified technicians safely shred documents, while you'll also receive a certificate confirming your secure shred.
At Blue-Pencil, we offer highly secure business and residential shredding services so that you can shred and dispose of your sensitive information with the same care that large organizations benefit from. Check out this quick video below to learn more about our office shredding program!
At Blue-Pencil, we offer both drop-off shredding services and mobile shredding services so you can choose the method that works best for you and your schedule. If you are more comfortable dropping off, our drop-off shredding centre is located in Oakville – approximately a 30-40 minute drive from Toronto. If you do not want to make the drive to Oakville, you can rely on our mobile shredding services to come to you.
Location may not be the most convenient depending on where you live
Secure shredding services are ideal if you're looking for the most secure way to shred your documents. However, they may cost a bit more than other options as there is usually a minimum charge. Depending on where you live, you may or may not live within a convenient driving distance from a drop-off location. This could be a problem for those who do not want to use mobile shredding and do not have access to transportation.
Not sure if residential shredding is right for you? Ask us questions to find out more.
Office Supply Stores

Security: ★★ 1/2
Ideal For: Those looking for convenient options, low-sensitivity documents
Biggest Pros: Very convenient, affordable
Biggest Cons: Not ideal for disposing of highly personal information
Office supply stores are convenient and easily accessible
If you live in Toronto or the GTA, it's likely that you pass by multiple office supply stores on your daily commute or drive to the mall! Office supply stores such as Staples sometimes offer services as well as products. One service they office is paper shredding. Because office supply stores are usually found all over the city, they are easy to find and use. You will likely be able to find one within short driving or walking distance.
If you already regularly shop at a 'big box' office supply store, it will be convenient to just drop off your documents while you're already there. It is the convenience of these stores that usually draws in customers.
Office supply stores may not provide high-security shredding
However, office supply stores may not be right for you, depending on the documents you need to shred. If you shred at an office store, your information is not guaranteed to remain safe and secure. This is because these chains often use a third-party organization to shred your documents. Because of this, your information may pass through multiple hands before finally making it to its destination.
Another potential problem is that your information is not shredded immediately. It may sit around in boxes for days or weeks depending on the volume of documents waiting in line. Depending on the service you use, you will likely not receive a certified shredding certificate. This can leave you without the peace of mind that your personal documents were securely destroyed.
Not all documents contain private information. If you are simply organizing your office clutter, shredding at an office supply store may work well for you.
Community Shredding Events

Security: ★★★ (Varies depending on service providing shredding)
Ideal For: personal info depending on shredding service, those looking for a fun shredding solution
Biggest Pros: Fun way to shred, completely free of charge
Biggest Cons: May not be secure, not predictable, events happen infrequently
Community shredding events are FREE!
Want to shred some documents and have some fun while you're at it? If so, you're in luck! To support safely destroying personal documents, many local community events incorporate a free shredding booth during these events.
Community shred events happen all over the GTA – not just in Toronto! If you live in Toronto or the GTA, it's likely you'll be able to find a free event near you.  They usually happen in the spring and summer months as they are outdoor events. For more information, check out the events below:
Individuals can bring and drop off their documents at the booth or, in most cases, a shredding truck. Shredding events can provide highly secure disposal if documents are shred immediately and with a secure shredding service. If you have sensitive information, it's a good idea to find out as much as you can about the shredding methods and service providing shredding before attending the event.
Shredding events are limited and may not be secure
It's difficult to predict exactly how shredding will take place at these events. Every event is different. Each event will employ a different company, so methods are not entirely predictable. However, most of them operate as a booth during another festival (such as Toronto Wards Environment Day, or as a standalone event (such as Region of Peel's confidential shredding days).
Though free shredding events are free, (some may request a charity donation) which is, of course, a huge benefit, they are not without any drawbacks. Most events are one-day only and happen infrequently. Even if they are open more than one day, they are generally still limited to only a few specific dates. You may have to wait a long time before you find a free event close to you. Shredding events may use many different companies to shred, so you won't know exactly what you're getting until you arrive.
At-Home Shredding

Security: ★★ (Can vary slightly depending on the type of shredder)
Ideal For: Consistent shredding of low-sensitivity documents
Biggest Pros: Most convenient method, allows full control over shredding
Biggest Cons: Not the most secure method, can take a very long time to shred multiple documents
At-home shredding is the most convenient option for individuals.
What's more convenient than shredding at your own home? Many individuals own their own paper shredder or have considered purchasing one. Owning a paper shredding is a great way to stay on top of your home office. It allows you to regularly de-clutter and quickly huge reduce piles of documents to tiny piles of shredded paper! Another great thing about at-home shredding is that you can shred whenever you want and have full control over the process.
If you're not sure what kind of paper shredder to buy, worry not. Paper shredders come in so many different sizes and styles, which a variety of different functions. You can find a small paper shredder for less than $100.00, or a commercial shredder for over $5000.00! Because of this, almost everyone can find a shredder within their budget and that suits their specific needs.
Residential paper shredders may not be the most reliable or efficient
Paper shredders are convenient, there's no arguing that! However, most paper shredders made for residential use are not ideal for completely and securely destroying sensitive information. Many at-home shredders use the strip cut method, which could leave your information vulnerable. To counter this, you can purchase a cross-cut shredder. Still, even with a more secure cross-cut shredder, you still have to find a secure way to dispose of the little pieces at the end.
You should also remember that most residential paper shredders (that don't cost hundreds or thousands of dollars) can only handle a few papers at a home. For example, an 8-sheet cross cut shredder from Staples costs $61.12, while a 24-sheet cross cut shredder costs more than 5 times the price at $336.55! To ensure you don't end up shredding for hours on end, you will have to regularly shred your documents — which just lets you shred for hours over a longer period of time!
Owning your own shredder can still be a good choice. Some individuals choose to buy a shredder and use it for less important documents (like old receipts, letters, and more), while they save their highly secure information (such as tax records, personal information, etc) for more secure shredding methods.
Securely Destroy Your Files With Blue-Pencil!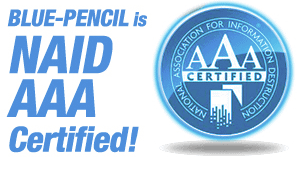 With Blue-Pencil, you rest assured knowing your files and documents are securely shredded and disposed of. Blue-Pencil helps empower Canadian organizations to reach new heights with friendly and efficient document management services. Customer service is not only a slogan but something we practice by investing in our strategic partners.
Located in Oakville, we have grown our document security business over the past 10 years, serving more than 6,000 organizations including small and medium-sized companies as well as Fortune 500 businesses.
"Blue-Pencil Mobile Shredding delivered what they promised.  They were quick and efficient and solved our paper shredding problem in a manner of minutes."
– Tax Plan Canada – More testimonials here!
We have recently launched two new divisions; Document storage and Records Management division and Document Imaging and Scanning Solutions division. This allows us to offer full circle, comprehensive solutions for information security management. We service the GTA and surrounding cities –  click here for a full list of our service areas. If you'd like to learn more about us and what we can do for you contact us today!
Looking For Secure Shredding Solutions?