Today we are going to look at what sets the best shredding companies apart from their competition.
Blue-Pencil has served over 6,000 companies with secure document scanning, shredding and storage, and we're here to help you with all your document shredding needs.
We'll outline what you should look for when choosing between shredding companies, as well as what services should be offered. So, let's jump right in.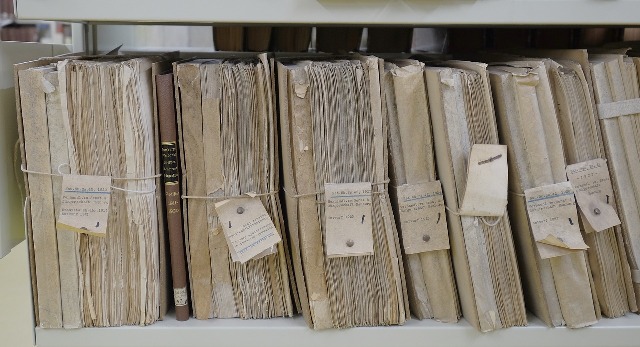 Protect your sensitive information – choose the best document shredding company
Shredding Companies Are not All the Same – Why You Should Choose Carefully
No two shredding companies are exactly alike. Some are much more thorough and secure than others. That's why you should take some time to do some research and not just hire the first one that you come across. You should choose your shredding company carefully:
To Protect Your Sensitive Information
Every business has confidential information that needs to be kept secure. In order to fully protect your company and its sensitive data, you need to hire the best document shredding service.
If your document shredding company fails to follow any vital security measures, then you may need to prove that you were diligent in your selection process as you might have to defend your decision in court.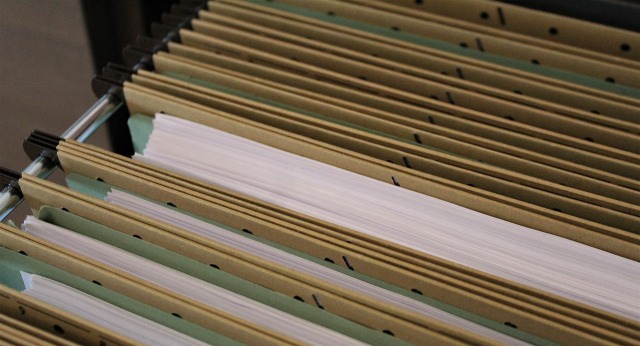 Your business's confidential information needs to be kept confidential
To Follow the Law
The Personal Information Protection and Electronic Documents Act (PIPEDA), is a federal law that is designed to protect all personal information. In addition, there are secondary laws that relate to specific provinces, industry sectors, and employment matters.
According to both PIPEDA and local laws, any personal information that your business collects about clients, staff, and/or patients must be protected when it is discarded or you will be subject to hefty fines.
The company that you use must have written protocols that explain specifically how the information was disposed and they must follow those protocols precisely.
To Respect the Privacy of Others
Even if there were no privacy laws in effect, guarding the sensitive information that you collect shows that you as a company respect the privacy of others.
This respect will go a long way to demonstrate your code of ethics and to help you build a solid reputation of trust with your customers and staff.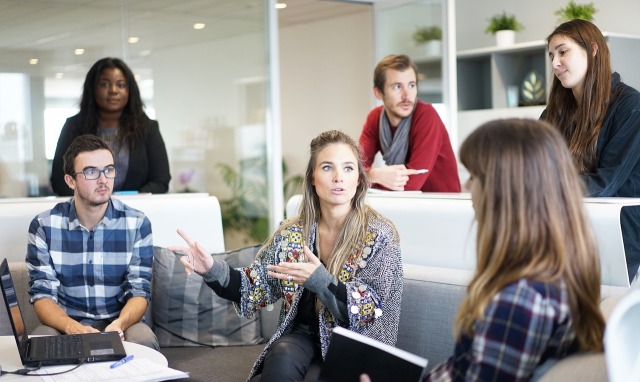 You should respect and protect your employees' sensitive information
What the Best Shredding Companies Offer You
1. On-Site Secure Shredding
Shredding companies will offer you either an on-site or off-site shredding service. On-site shredding means that your sensitive documents are shredded on the truck right on the premises of your business. On the other hand, an off-site service means that the shredding company will transport your documents to another location where they will be destroyed.
The benefits of an on-site service
Of the two choices, the on-site service is much more secure. This is because:
You can confirm that your documents were never unattended because they never leave your property
You can keep track of who has access to your documents because you can see it happening
You can know that your documents are destroyed immediately and not held in a location for destruction at a later time
You eliminate the risk that comes with transportation such as the vehicle getting in an accident or breaking down, the driver forgetting to secure the door after multiple pick-ups during the day, etc.
Blue Pencil offers secure on-site shredding
2. NAID AAA Certification for Shredding Companies
The best shredding companies will have NAID AAA Certification. NAID is the only organization whose purpose is to raise the security and ethics of the information destruction industry.
Shredding companies that are members of NAID are bound to a strict code of conduct and are committed to a higher standard than those that are not members.
NAID certified service providers are given regular random onsite audits and their employees are reviewed and screened by accredited auditors from NAID. As a customer, you can request to see these audit reports at any time to make sure that your shredding company is following proper procedures.
3. Insurance for Shredding Companies
Make sure that the shredding company you choose has the proper insurance to protect you and your business.
Errors & Omissions Insurance: This type of insurance will cover you if there is inadequate work performed or negligent actions from any of your shredding company's employees.
General Liability Insurance: This is another necessary type of insurance that will cover you and your business in case your shredding company damages your property or causes bodily injury to you or someone on your staff.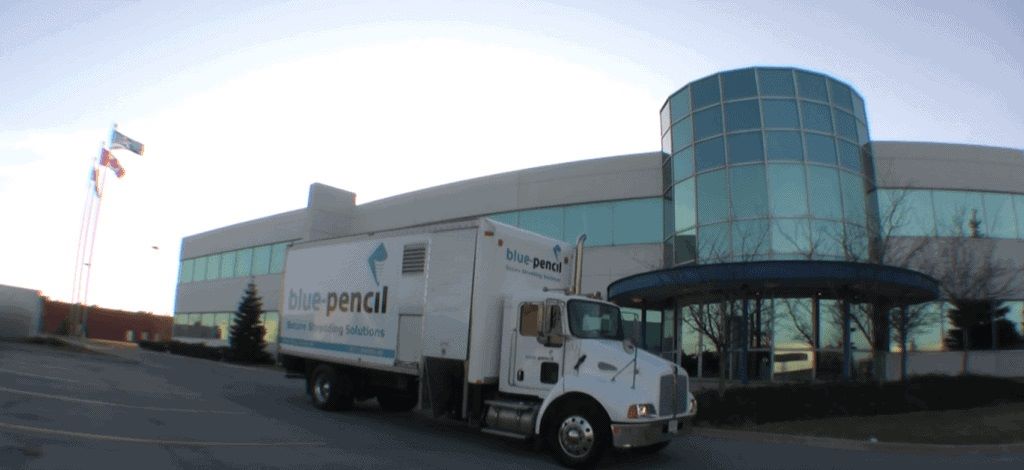 Ask your shredding company if they have insurance
4. Certificate of Destruction
The top document shredding companies will give you proof that your documents have been securely destroyed by giving you a certificate of destruction. This document should be very specific and include a list of individual records as well as where and how they were destroyed.
5. Additional Security Measures
Some additional security measures that you should make sure that your document shredding company provides include:
Employee screening
Written procedures in place
Access prevention
Monitoring and alarm systems
6. Appropriate Particle Size
The smaller the particle size of your papers after the shredding, the more difficult it will be for any of the pieces to be put back together or for any of the shredded pieces to be read.
Cross-cut shredding is more secure than traditional strip-cut shredding, as cross-cut slices documents into small, inconsistent shreds.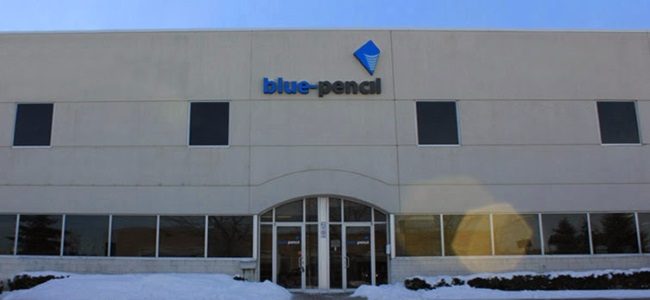 Blue Pencil: One of the Best Shredding Companies You Can Trust
You can trust Blue-Pencil to provide your business with safe, secure, and professional shredding services. We are NAID AAA certified and we offer:
We offer secure storage, file shredding services, document storage, scanning, consulting and audits, and more. We have helped over 6,000 organizations take better control of their company's information.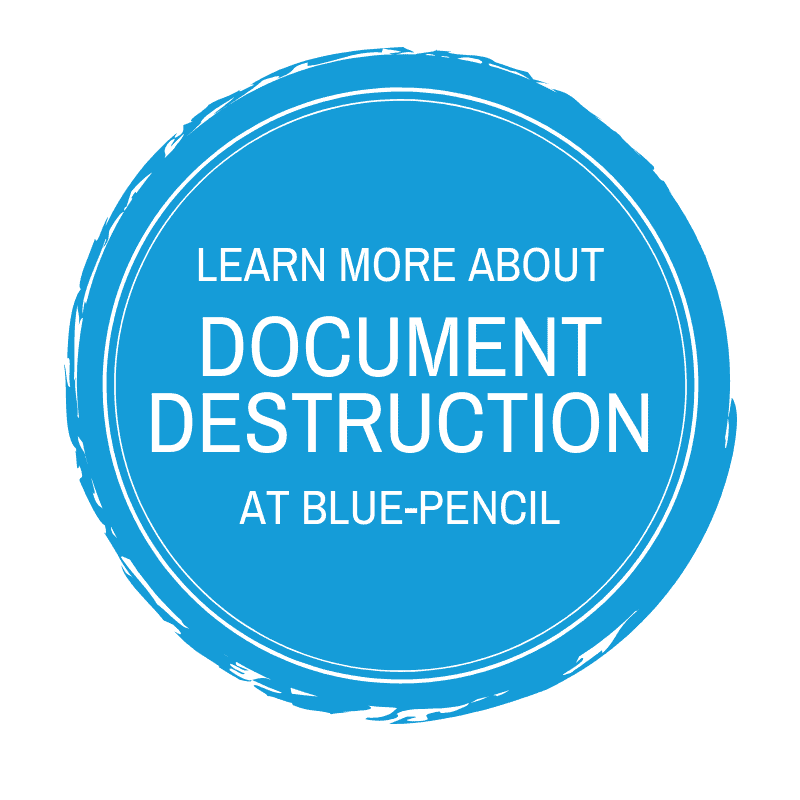 "Exceeded expectations. Met all our needs fast, courteous,
efficient, inexpensive. Sweet!"
– Judy Davies
Read More Google Reviews!
At Blue-Pencil, we serve business and residential needs across the province of Ontario, including Toronto and the GTA, Hamilton, Kitchener, Waterloo, Ajax, Pickering, Aurora, Newmarket, and more. As your local business partner, we offer value, consistency, and efficiency in our services.