Effective and meaningful record management is a must for every business of any size. In Chapter 2 of our series, we will examine various challenges that we all face in this area on a daily basis. For more information on record management, document storage and paper shredding, be sure to read the introduction and Chapter 1 of this series on record management, and contact the experts at Blue-Pencil today – our mission is to consistently provide our customers with exceptional service in managing their valued information securely and efficiently.

Record Management Challenges for 2019
The ins and outs of record management change almost every day. Paper-only records are a thing of the past, and the ability to properly store, protect and retrieve digital documents is at a premium. Read on to discover three challenges that those in charge of record management may face over the next several years.
1. How will you deal with the sheer volume of records?
The information superhighway is becoming increasingly congested. According to Forbes, "by the year 2020, about 1.7 megabytes of new information will be created every second for every human being on the planet."
As it stands, we create 2.5 billion gigabytes of data every day, enough to fill 10 million Blu-Ray discs. If these were stacked on top of each other, they would reach the height of four Eiffel Towers!
Every business contributes to that pile, and record management is a necessary task that should not be lost in the shuffle.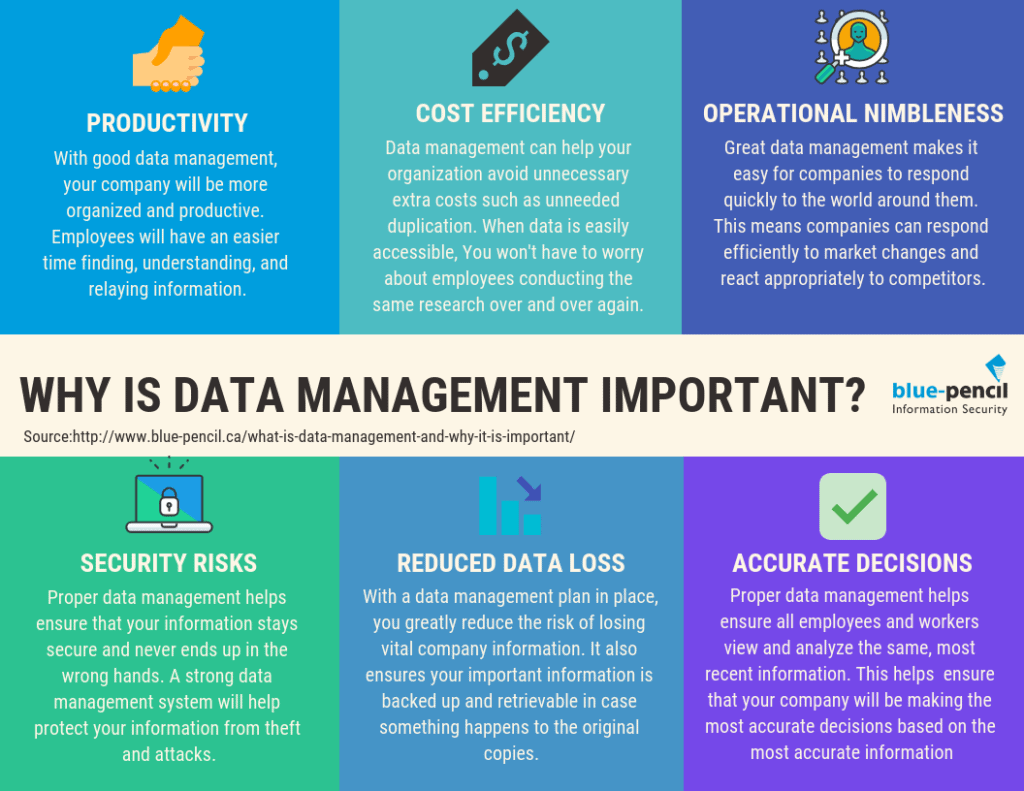 A few reasons why record management is so important.
2. How will you keep track of it all?
In the not-so-distant past, records were primarily physical documents that were largely sourced from on-site management systems.
Paper records are still plentiful, but the definition of what is considered a "record" has changed quite a bit over the years – refer back to the introduction to this series for more on that current definition.
In general, you should assume that everything is a record – knowing what to keep, what to shred (and when!) and what to store off-site for long term retention is key, and there are services out there to help with that process. Contact Blue-Pencil today to see how we can meet your needs.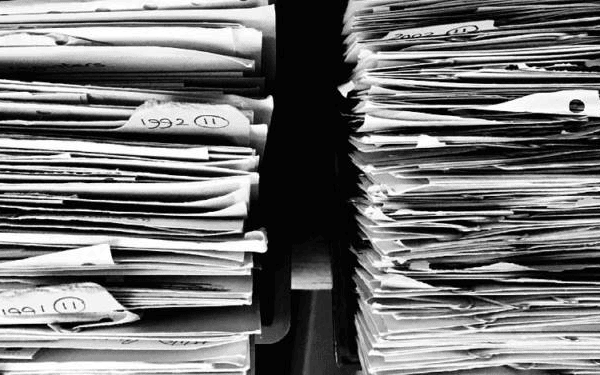 Knowing what to keep and for how long is an essential aspect of record management.
3. How will you remain compliant?
Privacy laws are becoming increasingly complex, and that poses a big challenge to your record managers. Companies are no longer only affected by local laws and regulations anymore; they need to consider international laws and regulations too. This is requiring companies to adopt much complex record keeping and information sharing processes.
When considering a record management service, be sure to select a company that has high security measures to protect your vital information and accountability to maintain those high security levels. A National Association for Information Destruction (NAID) AAA certification gives you assurance from a third party that the service is secure and trustworthy.

Canadian privacy laws are becoming increasingly complex, and that poses a big challenge to your record managers.
NAID AAA certification requires a record management service to have a number of security measures in place to keep their certification, including the following:
We perform background checks on potential employees, including criminal, credit, pre-employment, and reference checks
Conducting background investigations prior to hiring employees
Conducting county-by-county criminal record searches where the employee has resided for the previous seven (7) years
Requiring new employees to sign confidentiality agreements
Requiring drivers to meet all applicable licensing requirements
Drug screening conducted at the time of hiring and at random
Maintaining written policies and procedures for drivers and assisting employees
Requiring employees to wear uniforms and picture ID badges
Ensuring all customer materials remain secured and in the control and custody of the NAID member agent until destroyed by shredding equipment
Requiring all fleet vehicles meet the United States Department of Transportation (DOT) regulations and have lockable cabs and cargo area
Conducting comprehensive third party background checks on all officers of  the company.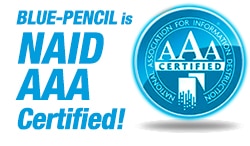 NAID AAA certification gives you assurance from a third party that the service is secure and trustworthy.
Trust Blue-Pencil to conquer your record management challenges
Blue-Pencil Records Management and Document Storage services deliver secure and convenient solutions for all types of business records and document management needs in the Greater Toronto Area and around Ontario.
" I did check out other companies but I found Blue Pencil extremely knowledgeable, efficient, courteous and very helpful. Your prices were extremely affordable given the constraints of my budget. Thank you. I will definitely recommend your company." – Iolanda Sardo
Blue-Pencil's off-site storage solutions will reduce your costs, free up time and space, and allow for easy access to the information you need to meet the demands of your business in a timely manner.
Our dependable staff will develop a total records management solution for your business, with services such as active file management, vital records protection, and other special services to tackle the challenges of complex information management.