Secure shredding service on a schedule
Complete Protection of Your Paper Documents from a Security Breach
Setup is quick and easy
During your first phone call, our dedicated Customer Service team will discuss your shredding needs, provide pricing, and recommend a paper shredding program that meets your volume and frequency needs.
Reduce your expenditures
When you factor in employee wages, storage space and maintenance costs you are likely to spend more doing your own shredding compared to using Blue-Pencil's services.
Protect your business
Having confidential records fall into the wrong hands can be a disaster. The Regular Shredding Service also includes help to implement shredding policies that comply with Canada's Privacy Laws.
Try our service for 30 days risk-free
Not sure if an ongoing shredding program is right for your business? Try the program risk free for 30 days. If you don't see the value after your first service, we will shred your paper and our invoice.
Try It Nowor call 1-877-821-9611
How it works
Ongoing shredding service completed in a few simple steps

You place paper in console
Your unwanted office paper is placed into the locked console and is kept safe until your next secure shredding date.

We arrive on site
On your scheduled service date, our Document Security Representatives collect your material and destroy it right in the truck.

You receive a certificate
Once complete, our representative will provide your company with a certificate of destruction for your records and all paper is recycled into resusable household goods.

We recycle
Your shredded material is then sent to a recycling mill so it can be recycled into reusable household goods. The process then repeats, keeping your information secure.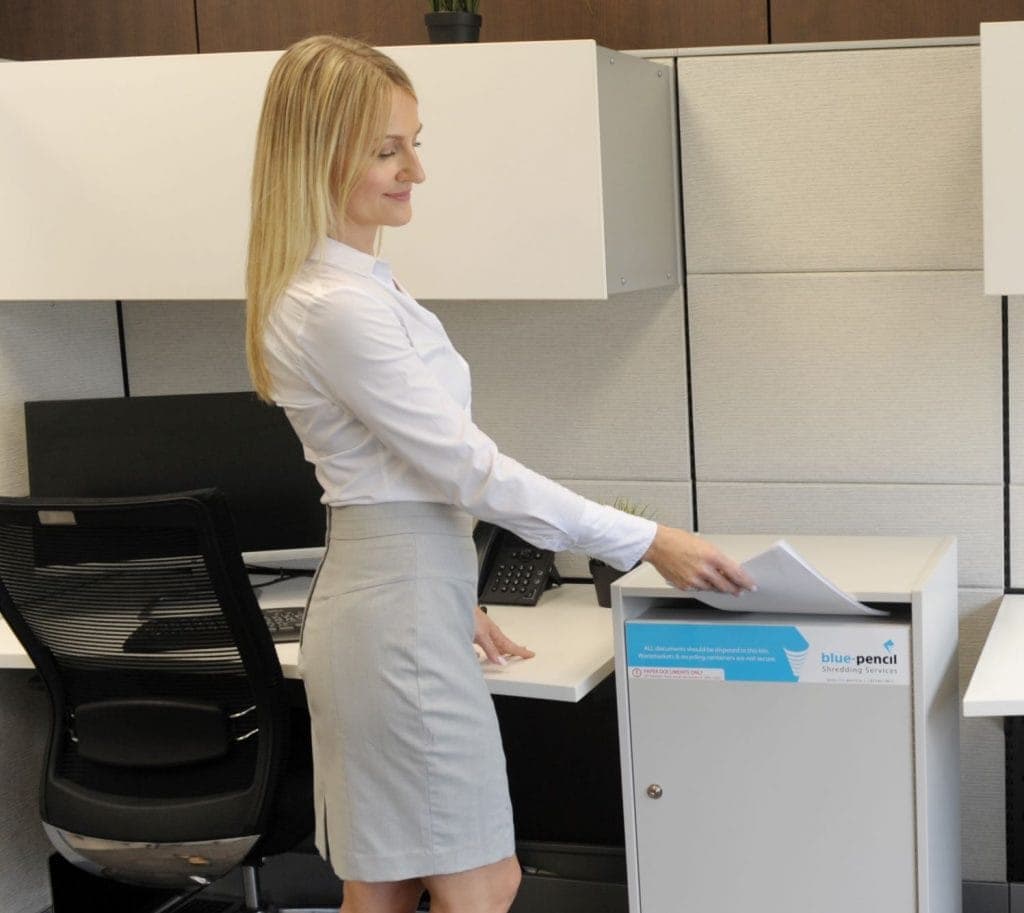 Why Blue-Pencil for ongoing shredding services
Affordable
Services start from as low as $55
Secure, Locked Consoles
Conveniently located throughout your workplace making it easy for employees to use
Mobile, On-site Destruction
We arrive at your business on the scheduled day and shred your information at your location
Information Destruction Policies
Provided policies and employee training to be compliant with Canada's privacy laws
Fully Bonded and Screened Document Security Representatives
Your information is in safe hands
NAID AAA Certified Process
Our strict process ensures your information remains safe
Secure Shredding Consoles
Blue-Pencil offers customers a variety of high-quality secure shredding consoles to store paper for document destruction.
Simple to use
Each container is strategically placed within office locations to ensure the convenient collection of sensitive documents for all employees. All containers are also manufactured in North America.
Secure, locked consoles
The secure, locked consoles are designed to blend into workplaces and can hold approximately 45.4 kg (100 lbs) of documents.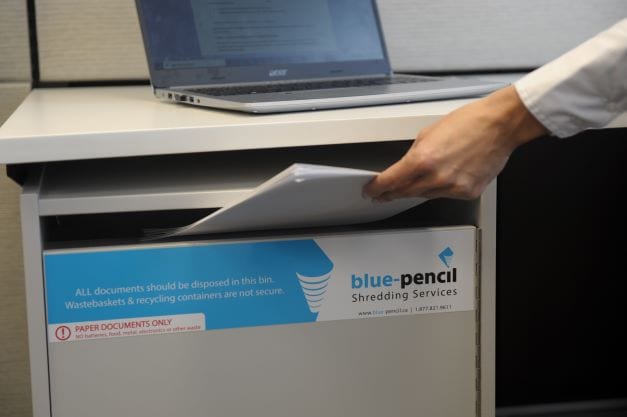 Have more questions?
Learn more about our shredding service
Learn more about paper shredding
Articles & calculators to help you plan your information security