How Blue-Pencil's North York Shredding Service Works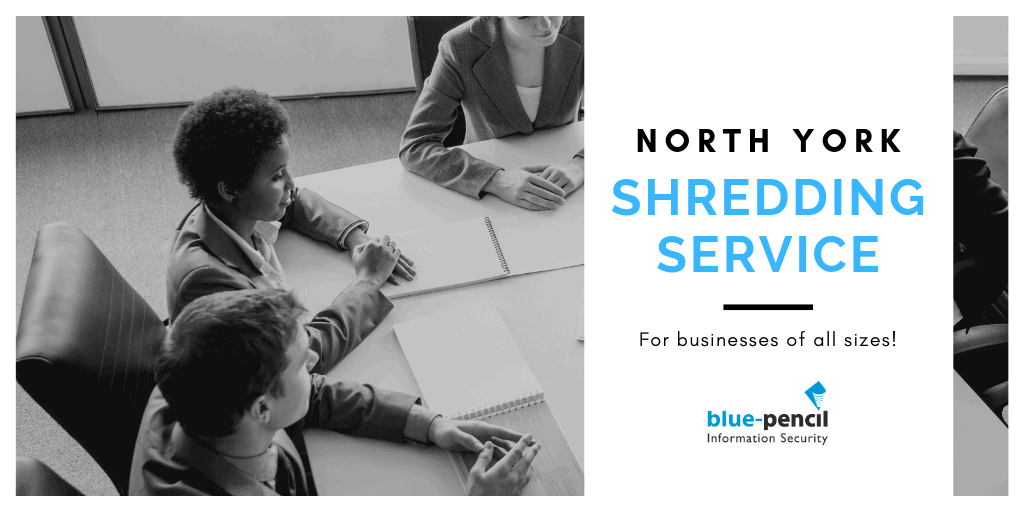 We'll take a look at how Blue-Pencil's North York Shredding Service can help you keep your company's information safer.
At Blue-Pencil, we've helped over 6,000 organizations take control over their records, files and documents.
Now, it's time to see how we can help your business in Toronto. Let's get started now!
Step One – Full Assessment

Before the shredding begins, Blue-Pencil will perform an important assessment of your business. This initial assessment typically includes gathering information on your current policies, record management solutions, legal compliance with privacy and information laws, and the cost-efficiency of your current services and programs.
This assessment is an important step in determining many important decisions regarding your company's information management, including:
What documents and records can stay on file
What documents and records must stay on file
What documents and records are no longer needed
How often your information will be shredded
After the assessment is complete, and your business chooses to move forward, we will provide your office with a security console.
Using the security console, your employees can safely deposit the private and confidential records and files you want to shred. The security console is just one of the ways we ensure all of your business documents remain private and confidential.
Step 2: Plan a Collection Schedule

In order for shredding to be an effective information security method, it should occur on a regular basis. That's why it's so important to come up with an effective shredding collection schedule.
The frequency of collection will depend on a number of factors, including:
The size of your business (larger businesses tend to produce more documents – but that isn't always the case)
The number of personal records you have on file
The number of confidential documents produced on a daily/weekly basis
Your individual wants and needs
Blue-Pencil will work closely with your North York business to help you determine a collection schedule that makes sense for your unique company culture. Once a collection schedule has been determined, pick-up will occur regularly from then on.
★★★★★
"Efficient service every time. In and out with friendly staff."
– Diane C, A Satisfied Customer
Read More Testimonials Here!
Want to learn more about our privacy certifications and thorough vetting process of our employees and staff? Click here!
Step Three: On-Site Shredding

During pickup, a Blue-Pencil Security Representative will arrive at your facility and collect the material from your security console. This process ensures limited access to your confidential information.
Only our professional and thoroughly trained staff will have access to the contents from your security console.
Our staff will then arrive at your facility, and the contents of your console will be immediately placed into a second console. Then, they are safely transported to our mobile shredding truck parked right outside of your facility.
From there, your confidential records, files, and documents are destroyed right in the truck, on-site! You can even watch the process if you would prefer! See the quick video below to learn how simple and efficient this process is.
We securely shred right on-site of your North York business!
Want to learn more about all the benefits of on-site shredding? Click here!
Step Four: Certificate Of Destruction

When using a secure shredding service, you should be able to trust that the utmost care has been given to your confidential information. At Blue-Pencil, we fully understand that your company, employee, and customers' privacy is of utmost importance.
That's why after each and every shred, you will be issued a Certificate of Destruction. You will receive this document as soon as the shredding is complete.
This certificate provides peace of mind that all private company information has been completely shredded and properly disposed of.

Why You Need A North York Shredding Service & More

North York is a large division of Toronto, with over 690,000 residents (2016 Census data).  The majority of residents are between the ages of 25-64, meaning most residents are within workforce age.
Many residents of North York find themselves within the following occupations:
Sales and Service
Management
Education, law and social, community and government
Business, finance, and administration,
Natural and applied sciences
Other common occupations and industries in the area include the health sector, trades, transport, equipment operators, and manufacturing and utilities.
All types of industries and occupations create financial, legal, and confidential documents and records that must be safely stored and eventually destroyed.
What Types Of Documents Should Be Destroyed?
As mentioned above, many of the industries that exist within North York are types of businesses that can quickly create significant amounts of personal and confidential documents.
This is especially true for organizations that run in sectors such as finance, administration, management, government, and more. Important records that must be properly managed and eventually destroyed include:
Financial documents
Property records
Legal documents
Medical records
Academic records
Personal documents
Customer records
When you choose to work with Blue-Pencil, you ensure your business in North York does its part to keep your employees, customers, and business safer. You can also feel good knowing that as you shred with Blue-Pencil, you are also helping the environment!
When working with Blue-Pencil, you can even securely destroy old hard drives and other electronic devices. Our e-waste recycling program is a highly secure and environmentally friendly option for managing your company's old electronics.
By working with an information management company, you can also rest assured that your business complies with privacy laws in Canada. Contact us now to learn more!
Document Storage
Information management goes beyond shredding. Document storage is another important service that your North York business could greatly benefit from.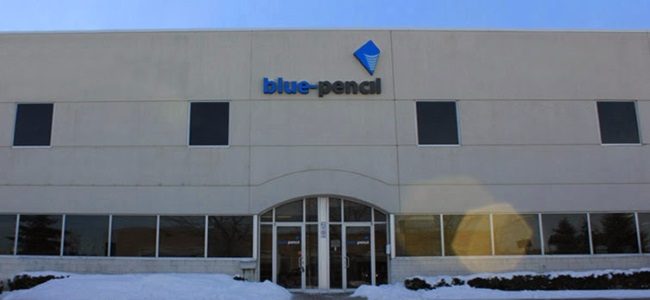 At Blue-Pencil, we offer a number of document storage and management solutions for businesses of all sizes. Some of these services include:
Long-term secure records and documents storage
Active file management (coded and indexed stored files available when you need them)
Vital records protection (secure, climate-controlled records storage with 24/7 monitoring for your most confidential information)
Online document management (locate records, request retrievals, and more all from the comfort of your own home or office)
Custom solutions (records management and consulting services tailored to your individual needs)
Document storage helps keep the records and files you still need safe and secure. It helps reduce the amount of time your employees spend filing, organizing, and retrieving documents – ensuring they can get back to what matters.
It is also a cost-effective option. Documents, records, and files pile up over time. It's often much more cost-effective to store your documents off-site than to purchase larger office space, especially in North York (or anywhere in Toronto or the GTA), where property costs are often quite high.

Document Scanning
North York has a rich history, and many businesses have been around in the area for decades. Because of that, your business may benefit from document scanning services.
Companies that have been in business for a long time may have a significant amount of paper records. Over time, these documents can become disorganized – or even lost – due to accidents or employee oversights.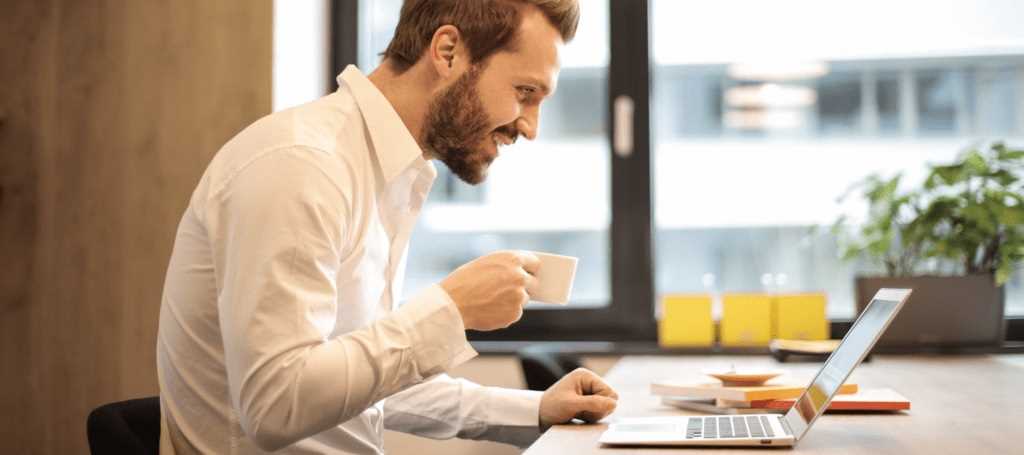 Going digital is the perfect way to not only organize your files but to keep them safe as well. Blue-Pencil's Document Imaging & Scanning Solutions serves businesses of all sizes within Ontario – including North York! Click here to see how Blue-Pencil can help your business!

Trust Blue-Pencil For All Your Information Security Needs!

Blue-Pencil helps empower businesses in the North York area reach new heights with a friendly and efficient shredding service. If you are looking for services outside of Toronto or North York, you can view our full service area here!
"I recommend Blue Pencil to everyone. Not only does it have great customer service, but it also has great rates."
– Keele R, More Testimonials Here!
Ready to learn more about document scanning, shredding, records management, and more? Blue-Pencil can help. If you'd like to learn more about us and what we can do for you, contact us today!