Introducing home shredding services in the Greater Toronto Area and surrounding cities. If you are in need of residential shredding, contact Blue-Pencil today!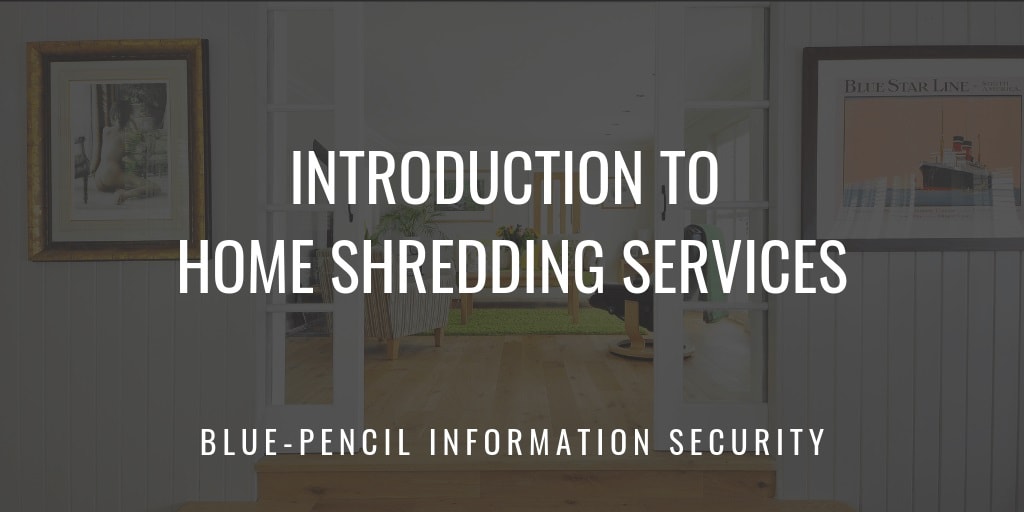 Introduction to Home Shredding Services
Why you need home shredding services
As the years go by, you can accumulate a lot of personal and confidential information. That can include tax records, credit card and banking statements, pay stubs, property records, medical records, and more.
Here are three reasons why you should shred some of those documents and records.
Home shredding services help keep you organized: Do you have a hard time keeping your files organized? Paper documents can stack up in a very short period of time, and many of them don't need to be kept forever. With a shredding service, you can stay organized and keep only what you need.
Protect you from identity theft: By limiting the amount of information kept in your home, you won't have to worry about information leaks, identity theft, fraud, or other breaches that can happen when confidential information ends up in the wrong hands. It's also not enough to simply toss them out – you want to make sure they're properly destroyed and no longer legible.
Protect the environment: When you work with home shredding services that care about the environment, you're doing your part to ensure your shredded records are properly recycled. At Blue-Pencil, for example, we have a Tree Saving Paper Shredding program. We make sure that all your shredded material is properly recycled and disposed of. That way, it does not end up in a landfill.
Remember, paper shredding services are not just for businesses – they are for you as a homeowner as well!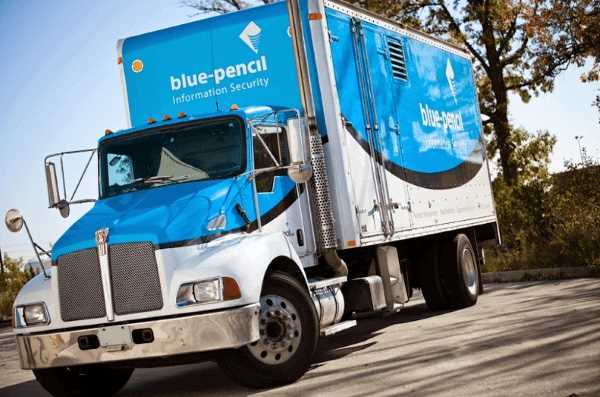 Blue-Pencil offers home shredding services in the Greater Toronto Area and surrounding cities.
How it works
You essentially have two options when it comes to home shredding services: mobile shredding or off-site shredding.
Mobile shredding
Let's use Blue-Pencil's on-site shredding program as an example.
We will drive our secure truck to your home and shred up to 10 banker boxes of documents, records, and files. The process looks like this:
Call us or fill out an online quote form to schedule a service.
Customer service will contact you 1 hour before arriving.
Mobile shredding truck arrives at your location and shreds your documents.
 Certificate of destruction is issued for your records.
Shredded paper is recycled.
It's that easy! Additionally, you can observe the entire destruction process. Furthermore, you don't have to remove paper clips, staples, or binder clips – our industrial mobile shredder can shred through these items.
Off-site shredding
If you're going to be out and about, you can drop your items to be shredded at Blue-Pencil's secure shredding facility.
Visit our drop-off location – no appointment necessary (see below for address and hours of operation). More drop-off locations coming soon!
Deposit material for shredding into a security bin.
Certificate of Destruction issued at time of drop off.
Materials shredded at the end of each day.
You can even shred your hard drives and non-paper products with us! You may be surprised to learn about all the different types of products that can be shredded. The list includes:
Hard drives, computers, and other old electronic equipment often contain more personal information than your filing cabinet. It's important that you safely and efficiently destroy electronic material just as you would with paper files.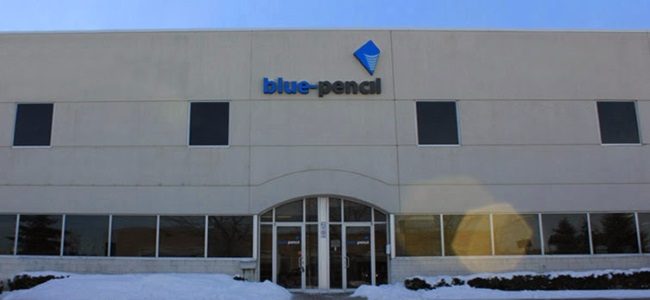 >
You can drop your items to be shredded at our secure facility. 
Get shredding with Blue-Pencil!
With Blue-Pencil, you can shred all of your important files worry-free at our secure facility. Conversely, we can come right to your home with our mobile shredding services!
Blue-Pencil helps empower Canadians to reach new heights with friendly and efficient document management services. Customer service is not only a slogan but something we practice every day!
What Blue-Pencil customers are saying:
"Service was outstanding. They provided a 3 hour time frame so I could plan my day plus they called 1 hour in advance of arriving … All was done at a very reasonable price and I highly recommend this company." (Barbara Kelly)
Located in Oakville, we have grown our document security business over the past 10 years. We serve more than 6,000 organizations, including private residents, small and medium-sized companies, and Fortune 500 businesses.
We service the GTA and surrounding cities – click here for a full list of our service areas. If you'd like to learn more about us and what we can do for you contact us today!