Today we going to take a look at the difference between in-house and outsourced shredding services.
Blue-Pencil has served over 16,000 organizations including small and medium to larger businesses as well as Fortune 500 companies with our secure shredding needs, and we'd love to help you too.
We'll outline all the reasons why outsourced shredding services are far superior to in-house. Let's get started!

In-house shredding is not your best choice – find out why
In-House vs. Outsourced Shredding Services: What Is the Difference
In-house shredding means that you and your staff take care of all of your shredding needs yourselves. Outsourced shredding services, on the other hand, involve hiring an outside professional shredding company to do all of your shredding for you.
Problems With In-House Shredding
At first glance, in-house shredding may seem to be the logical choice because you don't have to pay for an additional service and you and your staff can make sure that all of your confidential documents are handled properly and according to Canadian privacy laws. But is this correct?
The following explains why hiring a shredding company is actually better than doing it yourself.
1. Your Documents May Not Get Shredded
If you leave the shredding of confidential documents up to your staff, they may be too busy to take the time required to shred all of the confidential documents that pile up each day. You may not realize how much sensitive information you accumulate in a short period of time.

Customer and employee information, as well as your company's intellectual property, should be securely destroyed
Documents that need to be securely disposed of include those that contain:
Your Customers' Information: names, addresses, dates of birth, phone numbers, PIN numbers, email addresses, banking information, and credit history
Your Employees' Information: names, addresses, phone numbers, birth dates, SIN numbers, salary, work history, human resources documents, Tax information, T-4's, RSP and pension information
Your Company's Intellectual Property: internal correspondence, proposals, financial records, meeting notes, acquisition plans, supplier information, and trade secrets
The list is endless and the amount of information that needs to be shredded on a regular basis will pile up quickly. Because the amount is so large, your staff may leave it in a storage room or in their desks to do later, put it in the recycling bin, or simply throw it in the garbage.
2. Your Confidential Documents Could Fall into the Wrong Hands
If your confidential documents don't get properly destroyed on a regular basis, then the odds of them falling into the wrong hands is incredibly high.
In Canada, the disposal of sensitive information is regulated by the Personal Information Protection and Electronic Documents Act (PIPEDA). PIPEDA has strict guidelines surrounding the data given to companies by customers and employees that need to be precisely followed. Failure to follow these guidelines could lead to fines.

If your documents are left to pile up, they could fall into the wrong hands
If you simply leave the responsibility of destroying this information to your staff – on top of their usual responsibilities – then you are taking a huge risk that you will be in violation of these laws.
In addition, if your customers' or employees' personal data gets leaked, you could also be risking your company's reputation and you could lose the trust of the public, which would be very bad for your business.
3. You End Up Paying Higher Costs for Shredding
Contrary to what you might think, paying for outsourced shredding services is actually cheaper than doing your shredding in-house.
It will save you in wage costs
Consider the following scenario. Let's say you have 15 employees and each one makes an average of $20 per hour. If they spend about 2 minutes each day shredding sensitive documents, then after one month (20 business days), you will have paid your staff approximately $200 to do their own shredding. This estimate may go up if your shredder can't handle staples or paperclips and your staff needs to take the extra time to make sure that these are all removed.
Professional shredding services are much cheaper than doing it yourself
That is about 10 times the amount that an outsourced shredding service, such as Blue-Pencil offers, would cost you. So using outsourced shredding services will save you in wage costs.
It will save you in the cost to purchase an office shredder
If you choose to do your own shredding in-house, then you will have to purchase your own office shredder. They can range anywhere from $200 to $11,000 depending on the type that you purchase. This cost will have to be incurred again in 5 to 10 years depending on how long your shredder lasts.
It will save you on the cost to maintain your office shredder
If you do in-house shredding you will also have to pay for the ongoing maintenance of your machine, including the labour and materials required to keep it running.
The following chart gives you more detail about the actual cost of owning an office shredder.

Owning a shredder will cost you more than you think
4. You Don't Have Any Guarantees Like a Certificate of Destruction
In-house paper shredding also doesn't come with any guarantees like outsourced shredding services can provide you with. A professional shredding company will give you a legitimate certificate of destruction.
A certificate of destruction is a document that confirms that your confidential information has been securely destroyed. It is your proof that your information has been disposed of in compliance with the relevant privacy laws. It will give you the peace of mind that you need that your sensitive documents have been shredded and properly destroyed prior to being recycled. You can't get this type of assurance if you leave your shredding up to your staff.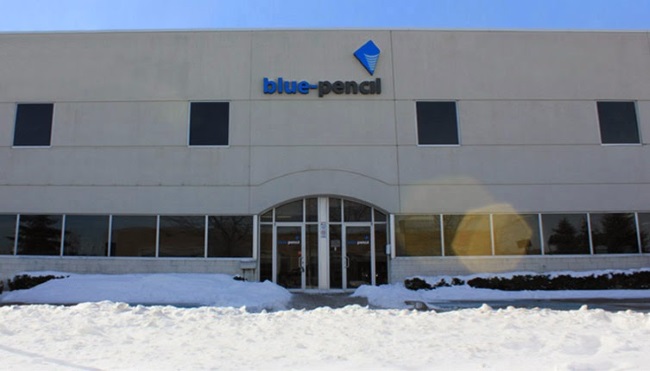 What Blue-Pencil Shredding Services Offer You – Peace of Mind
If you hire Blue-Pencil to look after your shredding services, you will enjoy peace of mind. Our professional team will make sure that all of your sensitive materials are securely disposed of on a regular basis to comply with privacy laws. We will provide this expert service to you at a fraction of the cost of doing your own shredding in-house. Contact us today for a free, no obligation quote.

If you are not sure about our shredding services, Blue-Pencil will give you a one month, no-obligation, free trial of our office shredding program. You'll be amazed at how convenient, safe, and reliable our service is. But don't just take our word for it – contact us today to set up your free trial and experience our awesome service for yourself!

At Blue-Pencil, we also offer additional services such as Documents Storage, Records Management, and Document Imaging and Scanning Solutions. These services allow us to offer full circle, comprehensive solutions for information security management. We service the GTA and surrounding cities – click here for a full list of our service areas. If you'd like to learn more about us and what we can do for you contact us today!
"Our company has utilized Blue-Pencil for the past 6 years for their secure shredding service. They are efficient, reliable and their teams from head office along with the service technicians are highly professional and a pleasure to communicate with. We would without hesitation, recommend their services: they will not disappoint."
 – Carolin