Today we are going to talk about the essential paper shredding services for 2020.
Blue-Pencil has served over 6,000 organizations with secure document shredding, scanning, and storage services. We're here to help you with all your document shredding needs.
Read on as we take a look at what types of paper shredding services are available to you and why they are important. Let's get started!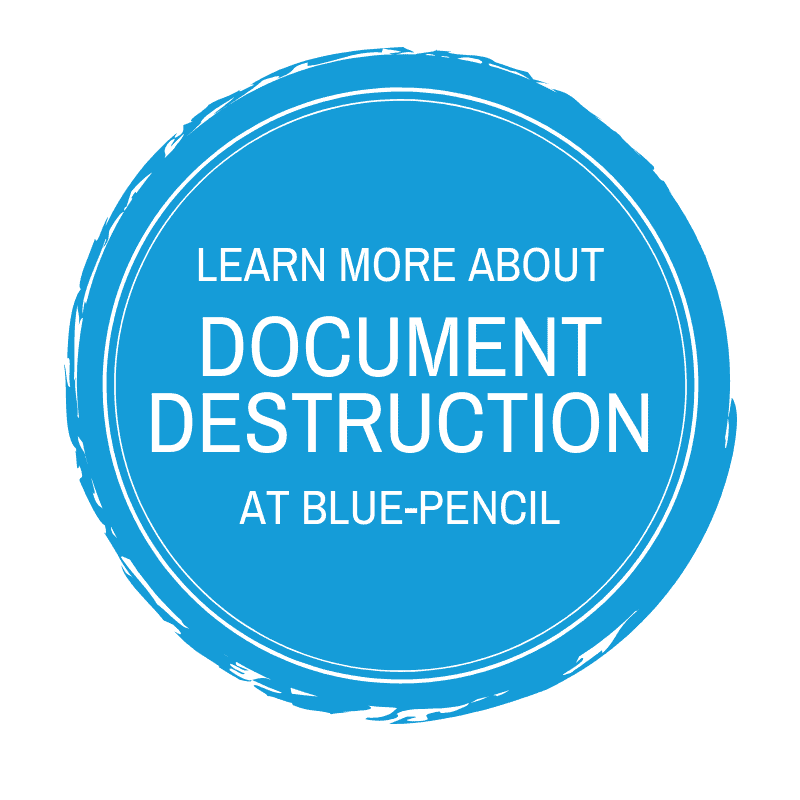 Essential Paper Shredding Services For 2020
Office Paper Shredding Services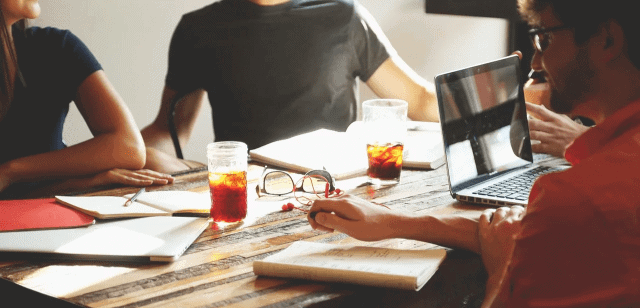 Give your staff more time to work on essential tasks
Making sure that all of your sensitive information is properly destroyed is very important for your business. However, this task can consume a lot of your staff's valuable time – time that they could use in other pursuits to help your business thrive.
Outsourcing your shredding needs to a professional company who knows how to properly dispose of the private information that you have collected from your customers and staff can free up your employees and take that stress from them. Blue-Pencil can take care of your document destruction process for you.
Our unique and efficient paper shredding services begins with a full assessment of your current policies and procedures for security, legal compliance, and cost-efficiency. Next, we will give you a complimentary assessment and will provide you with a report that includes recommended actions as well as our custom program proposal.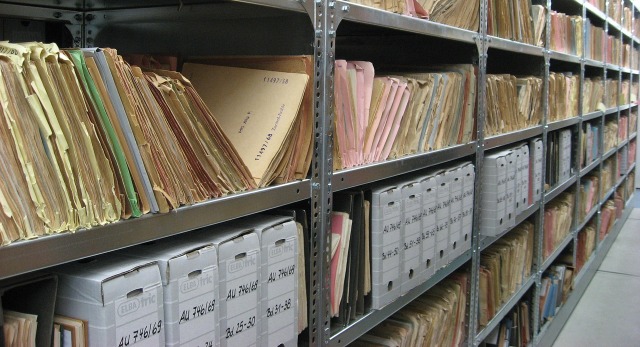 Blue-Pencil will properly destroy your sensitive documents for you
Here's  how our office paper shredding services work:
STEP 1: Place all of your confidential documents in the security consoles provided by Blue-Pencil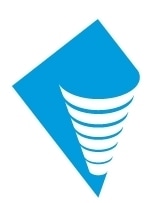 STEP 2: Blue-Pencil's Document Security Representative(s) will collect your materials from your security consoles on your scheduled service date.
STEP 3: We will securely move your documents to our mobile shredding unit where they're destroyed right in the truck parked on your premises by our industrial shredder.
STEP 4: We will present you with a Certificate of Destruction immediately after each service.
STEP 5: We will recycle all of your shredded material at the end of each day into reusable household goods.
Blue-Pencil's office paper shredding services fully comply with PIPEDA privacy laws that govern how companies collect, store, and dispose of confidential information. You can learn more about the office shredding program here!

Residential Paper Shredding Services
Need personal documents destroyed? Contact Blue-Pencil
When you need personal private documents destroyed, you can take advantage of Blue-Pencil's residential paper shredding services. It doesn't matter if you have one box of papers or numerous stacks, we can safely and securely shred your confidential materials for you.
Blue-Pencil offers residential shredding services that will give you peace of mind that your private information won't fall into the wrong hands – at a price you can afford. You can choose from either:
We offer our mobile shredding services where we come to you. This service is perfect if you have multiple boxes of documents that need to be destroyed safely.
If you prefer, you can also take advantage of our drop off service where you bring your documents and/or non-paper products like your old hard drives to us to properly dispose of.

One-Time Shredding Services

Our mobile shredding unit will securely shred all of your materials
Not every business requires consistent document shredding. That's why Blue-Pencil also offers One-Time Shredding services.
This option is perfect if your company has a limited amount of private documents that need shredding or if you only need our services from time to time. Blue-Pencil is happy to accommodate you, whatever the scope of shredding services you need.
We will come to your facility and shred your private documents inside our secure mobile shredding truck. Whether you have a large or small volume of files to destroy, we will do it properly and right on your premises.
Blue-Pencil's Document Security Representative will collect your materials on your scheduled service date
Here's how our One-Time Paper Shredding Services work.
STEP 1: Collect and select all of the confidential documents that you would like us to destroy.
STEP 2: Call Blue-Pencil at (905) 847-2583 or fill out our online quote form for pricing and to schedule your service.
STEP 3: Blue-Pencil's  Document Security Representative(s) will collect your materials on your scheduled service date.
STEP 4: We will securely move your documents to our mobile shredding unit where it's destroyed right in the truck parked on your premises by our industrial shredder.
STEP 5: We will present you with a Certificate of Destruction immediately after service.
STEP 6: We will recycle all of your shredded material at the end of each day into reusable household goods.
Contact Blue-Pencil today to discover whether One-Time Shredding is right for you!

Non-Paper Destruction
Did you know that other materials besides paper files and documents can be shredded? Blue-Pencil also offers non-paper shredding services for all of your hard drives, backup tapes, pharmaceutical waste, old computer equipment, optical media, and even apparel that you need properly destroyed.
We can also make sure that all of your e-waste is safely destroyed and doesn't end up in the wrong hands. Simply deleting files from your hard drives and throwing them away is not secure. Deleted data can still be retrieved from hard drives and other back-up devices.
With our non-paper shredding program, we ensure that hard-drives and other non-paper materials are properly destroyed.
See how Blue-Pencil's Hard Drive destruction works
Is Non-Paper Shredding Right for Your Business?
Hard drives can contain significant amounts of confidential company information. If you just throw them away, or even try to destroy them yourself, there is no guarantee that the information will be completely destroyed. You don't want your sensitive files falling into the wrong hands.
Blue-Pencil's hard drive destruction program is perfect for businesses that have a lot of private information on their hard drives such as:
Financial institutions
Government institutions
Legal firms
Both large and small commercial businesses
Health organizations
Educational organizations
Even if your business doesn't fall into one of the above categories, if you have sensitive information on your hard drives, you too can benefit from hard drive destruction. You can learn more about hard drive and non-paper destruction services with our Hard Drive Destruction Guide.
Benefits of Shredding Services
Paper Shredding Services Can Save You Time and Money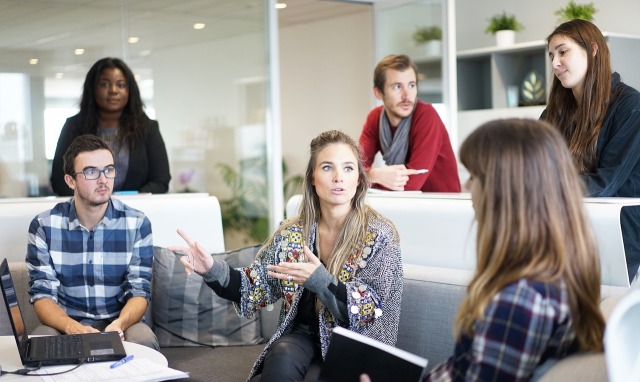 Your staff can focus on their more important tasks when they don't have to take the time to shred documents
Save Time: Blue-Pencil can help save you time – your employees' time! When your employees are responsible for shredding, that, unfortunately, means a lot of excess time and effort needs to be spent shredding documents instead of working on other tasks.
Depending on the number of documents and records that require shredding each week (or day), this can mean that your employees are spending hours each month simply shredding documents, which is not the best use of your time or resources.
Save Money: Office shredding machines are often costly – both initially to purchase and to maintain over time. A shredding service can be a more cost-effective way of solving your document destruction needs.
Working with a shredding service eliminates the need for multiple big, bulky shredders as well as the need to train all employees on how to use them safely.
Be Safe: Having your staff do their own shredding can also be a safety hazard. Shredding machines can be dangerous if used incorrectly. Working with a professionally trained shredding service like Blue Pencil ensures that your staff are kept safe.
Paper Shredding Increases Data Security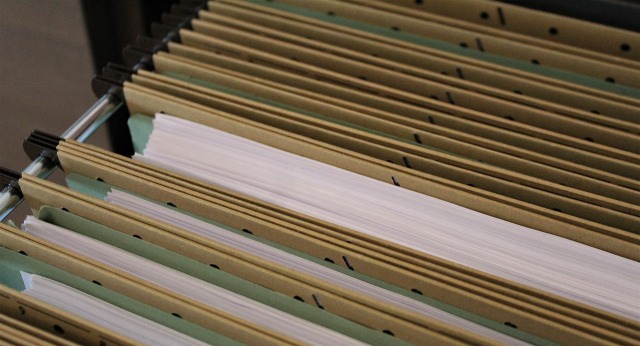 Protect your confidential information with proper shredding
It is more important than ever to protect confidential information, as breaches become more common. Secure paper shredding services will ensure all your personal records and documents are properly destroyed,  so that you, your clients, and your employees can all have peace of mind.
It is important to remember that many documents, such as tax records, must be kept on file for 7 years in compliance with Canadian tax laws. However, it is still important to stay on top of your documents so they do not pile up!
Keeping large amounts of confidential yet outdated information can put you or your employees at risk and raise your storage costs unnecessarily.
Paper Shredding Services Have Environmental Benefits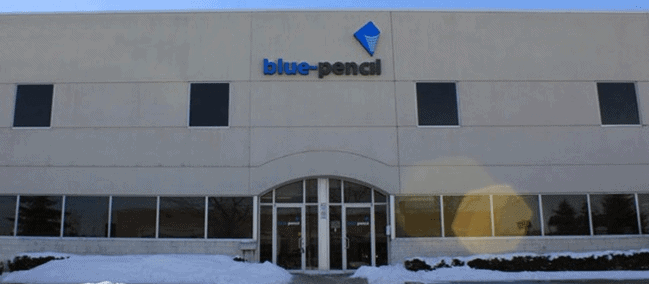 Blue-Pencil gives back to the environment with our paper shredding tree saving program!
Aside from increased security, properly shredding your documents or e-waste with a company that cares for the environment means added environmental benefits.
When you use Blue-Pencil shredding services you will be making a positive contribution to the environment. All shredded material we collect is recycled and processed into recycled paper products or energy.
When you shred on your own, it's unlikely that all material will be properly recycled. But when you shred with a facility like Blue-Pencil that has an environmental program in place, you can feel good that you are helping to make a difference!
Did you know that for every 200 pounds of paper shredded and recycled, you save one tree!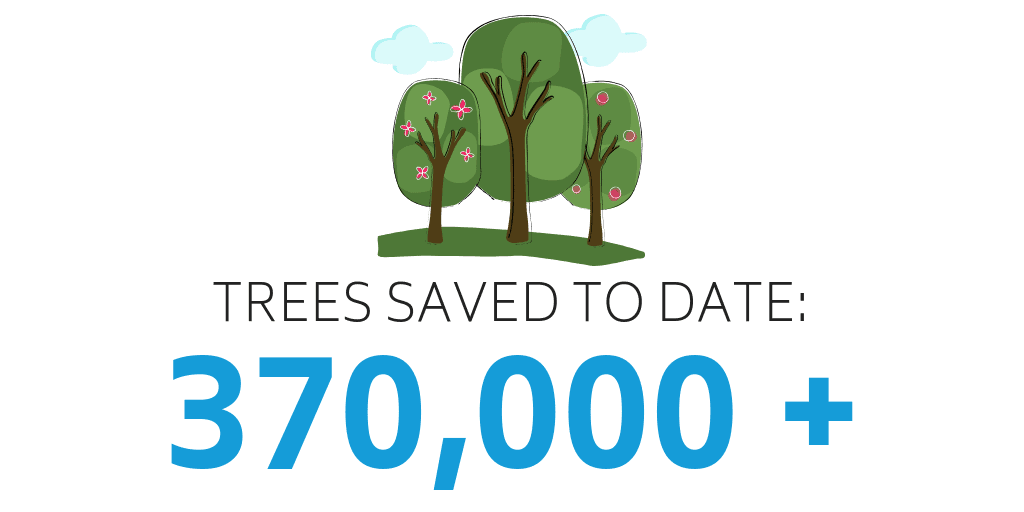 Blue-Pencil's E-Destruction Program:
It's not only paper that is properly destroyed and recycled with Blue-Pencil. We can also make sure that all of your e waste is properly destroyed and doesn't end up in the wrong hands. With our E-Waste recycling program, we ensure that non-paper materials are properly destroyed such as:
Hard drives
Backup tapes
Apparel
Pharmaceutical waste (incineration)
And more!
Trust Blue-Pencil for all Your Paper Shredding Services
The Blue-Pencil team is dedicated to keeping your data safe!
With Blue-Pencil, you can shred your important files worry-free at our secure facility, or we can come to you with our mobile shredding services.
Blue-Pencil helps empower Canadian organizations to reach new heights with friendly and efficient document management services. Customer service is not only a slogan but something we practice by investing in our strategic partners.
Located in Oakville, we have grown our document security business over the past 10 years, serving more than 6,000 organizations including small and medium-sized companies as well as Fortune 500 businesses.
"We highly recommend Blue-Pencil. The service is excellent and the guys that come out are so nice. It's a pleasure dealing with them."
– Mozelle, a Blue-Pencil Customer
Read More Testimonials Here
At Blue-Pencil, we offer services such as Documents Storage, Records Management, and Document Imaging and Scanning Solutions. These services allow us to offer full-circle, comprehensive solutions for information security management. We service the GTA and surrounding cities – click here for a full list of our service areas. If you'd like to learn more about us and what we can do for you contact us today!