Companies are learning to not just shred it, as it leaves them open to information leaks or creates a weak culture of information security. Find out the best tips for getting the most out of your shredding service below, including how to save money or augment the security profile of your organization.  Click here for a free information security audit and learn how you can improve your organization's security maturity today.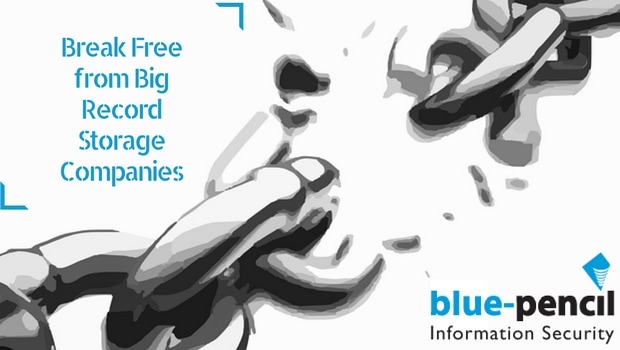 Here is the readers digest version of the top take away from each of the 15 articles reviewed:
Work with someone who has proven they know regulations in your industry
Don't just recycle hard drives but ensure data is securely destroyed
Make sure your all your people hone their information protection skills
Owning your own shredding machine is a fire hazard for your office
Work with local shredding services to ensure a fair and balanced pricing
Perform a due diligence review with your service provider
Document destruction is a non-negotiable for organizations today
Ensure your service provider is up to date with the latest NAID certifications
Organize a shredding event to help you and your community save and protect confidential information
Ensure expired confidential information is removed in a timely manner
Check what other companies or customers say  about your service provider before signing up
Make sure to shred internal communications or performance reviews
Shred things like luggage tags or academic transcripts that are less obvious but just as risky to leak
Make information protection and destruction part of the on-boarding process
Ask if there is a discount if your organization can guarantee payment to vendor within a certain time frame
Don't Just Shred It: Great Articles to Help Give you the Best Value for Your Shredding Investment
Like all services, there are a number of ways to get more value for your organization or company by learning more about the industries and getting expert direction on best practices. Here are 15 articles summarized for you along with a featured tip for those who don't have time to read them all in detail: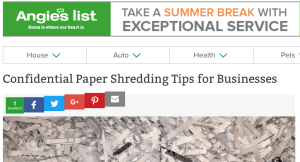 #1 – Confidential Paper Shredding Tips for Business
Summary: A collection of tips for businesses on choosing the right shredding service, including things like knowing what kind of shredding is required, local outsourcing of paper shredding, and regular shredding for a paperless office.
Featured Tip: Finding a company that knows the relevant government regulations is important. "You should choose a document shredding service that knows your local laws governing storage and destruction of documents. For example, are hard copies of documents required to be kept or can you just maintain electronic documents? How long must documents be kept before they can be legally disposed of?"
Length: Short
Source: https://www.angieslist.com/articles/confidential-paper-shredding-tips-businesses.htm

#2 – The Right Way to Destroy Sensitive Data
Summary: Bloomberg  paints a convicting scenario surrounding flimsy information disposal processes while identifying ways to securely dispose of information.
Featured Tip: Recycling hard drives isn't enough to protect information especially when there is residual data left on board. Bloomberg suggests a number of measures in making it difficult for hackers to get at your private company data like non-paper shredding and using a magnetic process called degaussing to remove the information. Readers take note of the following quote:"Data-destruction contractors make house calls to companies that are finicky about giving up control of their information. Using portable equipment, contractors can shred hard drives while the customer watches to verify the work.".
Length: Medium
Source: http://www.bloomberg.com/news/articles/2013-01-08/the-right-way-to-destroy-sensitive-data

#3 – Document Destruction
Summary: Writer Judson Knight of Encyclopedia.com provides an overview of the factors that brought paper shredding to the mainstream during the 1990's, while providing an industry overview.
Featured Tip: Security is about end-to-end protection of confidential information along with all the actors within the process. This article highlights the need for companies to ensure not only technology is secure but also the personnel has been vetted. Ensure you go with a shredding company that conducts regular security checks for their staff. "No matter how advanced the technology, however, it is only as reliable as the individual who operates it."
Length: Long
Source: http://www.bloomberg.com/news/articles/2013-01-08/the-right-way-to-destroy-sensitive-data

#4 – Dangers of In-House Shredding
Summary: This article features the different perils and hazards of operating your own shredding processes and equipment. Shredding machine hazards aren't common, however, part of an organization's safety profile should include the physical security of information and staff.
Featured Tip: Machines break down and sometimes they crash and burn. A shredding machine can catch fire due to malfunction, and this is a risk that companies are taking every day, one paper at a time. A fire could not only ruin your shredding machine but other adjacent office assets, meaning time and money spent on clean up and replacement. "Even small shredders can create a large amount of paper dust. The slightest spark could potentially ignite a cloud of airborne dust inside a confined space such as a shredder, creating a violent and dangerous explosion. Even though this occurrence, which is also known as deflagration, is fairly rare, the shredder is one of the most likely places for it to potentially happen.".
Length: Medium
Source: http://www.shredstation.co.uk/news/dangers-house-shredding/

#5 – Consolidation, Drop in Service Providers Predicted for Saturated Shred Industry
Summary: A great read on the present industry trend of consolidation of the shredding business. See source for  industry insider comments and perspectives of where things are headed.
Featured Tip: Local shredding services have a crucial role to play in ensuring a competitive market and uncompromising customer service, "because they [small businesses] are more nimble and responsive in their marketplaces, they often feel they do better against the large competitors…".
Length: Medium
Source: http://www.securityshreddingnews.com/in-the-news/articles/2016-articles/230-consolidation-drop-in-service-providers-predicted-for-saturated-shred-industry
http://www.securityshreddingnews.com/in-the-news/articles/2016-articles/230-consolidation-drop-in-service-providers-predicted-for-saturated-shred-industry
#6 – The Search for Skeletons in the Closet
Summary: This article highlights the practice of due diligence, that is, ensuring that each of your processes are legal and ethically sound, and also conducting a review of vendor practices.
Featured Tip: Take steps to ensure that your service vendor is credible and compliant to local laws. "Performing due diligence in electronics recycling requires looking at the past, present, and ongoing behavior of companies you do business with to ensure they're complying with applicable laws, regulations, or business agreements."
Length: Long
Source: http://www.securityshreddingnews.com/in-the-news/articles/2016-articles/230-consolidation-drop-in-service-providers-predicted-for-saturated-shred-industry
Residential and Commercial clients continue to make Blue-Pencil their go-to provider to help them protect against data theft. Here is what a recent customer has to say about Blue-Pencil.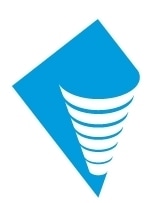 "Always efficient and the process is always so easy! They come by on schedule and when we have extra shredding that needs to be done it's never an issue! Highly recommended. The gentlemen Adam and Lenny are also super polite, friendly and professional!"
– Vanessa
Click here for more reviews.

#7 – Information Destruction Requirements and Techniques
Summary: IT Today offers a comprehensive listing of business information that needs to be safeguarded and where this information is created and sourced. The article then leads into how to make the most of information protection services available and relevant legislation for US companies.
Featured Tip: By not protecting your confidential information a business can save pocket change but it will ultimately be to the benefit of their competitors. It is clear that document destruction in today's world must be part of a good system of business processes. The bottom line is that if your organization is not careful about what they don't dispose of, it could become your competitors' good fortune and your worst corporate nightmare.
Length: Long
Source: http://www.ittoday.info/Articles/Destruction_Requirements.htm

#8 – NAID Certification – Keeping an Eye on the Ball
Summary: The National Association for Information Destruction (NAID) details its journey as a customer advocacy group ensuring consumers are protected against disreputable practices. It also shines light on the major focus of information protection and how the shredding industry or information protection industry will need to evolve.
Featured Tip: More often than not information now resides electronically, while being more compact and quickly accessible than ever before. NAID certification will signal a continued trend towards greater emphasis on electronic information disposal. "NAID is already working hard to modify the  current certification for sanitization operations to include the wiping of SSDs in smartphones, computers, and tablets. But when it comes to protecting the integrity of the NAID brand, the association doesn't take these issues lightly."
Length: Long
Source: http://www.naidonline.org/forms/whitepaper/371_Certification_Whitepaper.pdf

#9 – Organize a Shredding Event
Summary: For those of you who can't wait for the next community free shredding event this article details how you and your  friends can start one. Complete with templates and required team resources this is the quickest way to get to a free shredding event: create your own.
Featured Tip: Shredding companies are great at protecting information security but they be less enthusiastic about event planning. If you do your part and invite a qualified shredding service provider it means helping your community protect their personal privacy and guard against identity theft. For those who are interested, here is the elevator pitch: "You can help protect members of your community from financial fraud by organizing a shredding event where they can safely destroy and dispose of sensitive documents.".
Length: Medium
Source: http://createthegood.org/toolkit/organize-shredding-event

#10 – Canada Revenue Agency Rapped for Failing to Shred Mountain of Hard Copies
Summary: CBC features the Canadian Revenue Agency's improper handling of information by holding on to a vast amount of information and how they failed to dispose of confidential data between 2014-2015. See source link for the full scoop.
Featured Tip: The government is watchful in information destruction compliance and the CRA was made an example of the scrutiny that ensues when a company fails to destroy dated records.  Ensure expired confidential information  is removed in a timely fashion: "Canadians are repeatedly asked to abandon paper forms and send their income-tax files electronically, but it turns out the tax agency is stubbornly holding on to its own mountain of paper."
Length: Medium
Source: http://www.cbc.ca/news/politics/canada-revenue-agency-paper-files-1.3602071

#11 – SmallBusiness.com's Guide to Paper Shredder Machines and Services
Summary: A one-stop-shop for small businesses on what they need to know from what to shred to choosing a shredding machine or service.
Featured Tip: Check what others have to say about the product or service. Getting a sense of how customers or associations view your potential shredding service is a great way to manage the risks when going with a provider. This quote highlights how web search and personal networks can help you determine the quality of the service: "As drop off or pick up services require a high degree of trust in the provider, ask around among other small business for recommendations and references. A local or state consumer protection agency or the Better Business Bureau may be a good place to check to see if there have been complaints about a local shredding service you are considering.".
Length: Medium
Source: http://smallbusiness.com/getting-organized/paper-shredder-machines-guide/

#12 –  What to Shred at Work
Summary: This posting goes right to the point, giving readers an extensive list of things to shred at work some of which are industry or business specific, such as test scores of students in an educational institution or company.
Featured Tip: What–to-shred articles are good for getting ideas for what you should consider shredding aside from the usual suspects: employee manuals, disciplinary reports/promotions, and training information to name a few. Get the most of your shredding service by ensuring you have the most extensive and informed list of risk-prone documents.
Length: Short
Source: http://www.solusid.com/WhatToShredAtWork.aspx

#13 – What to Shred at Home
Summary: A follow-up to the previous article on what to shred at work, this article provides another great set of ideas that you wouldn't otherwise think of for items laying around home that could cause confidentiality leaks for you and your family members.
Featured Tip: For residential readers, things like luggage tags or academic transcripts may typically not come to mind but these documents unfortunately still divulge information that you may not want identity theft perpetrators to have.
Length: Short
Source: http://www.solusid.com/WhatToShredAtHome.aspx

#14 – A Five-Step Shredding Crash Course for Employees
Summary: For those interested in integrating a shredding service with a more comprehensive approach, look no further. This summary provides readers with a great foundation to build upon a culture of information security by enacting policies and training for team members at your organization.
Featured Tip: Integrate shredding and information destruction policy and practice as part of your onboard training. Employees create and use paper information continually, and having the best practices and training is crucial to shredding program success that doesn't just settle for recycling but aims for comprehensive business information security.
Length: Medium
Source: http://corodata.com/shredding-crash-course-for-employees/

#15 – 7 Archive Clearance Tips that will Save you Money
Summary: This article offers those who will be archiving information ways to save money with a records management provider. This is based on the vendor's experience and individual perspective and does not mean other vendors will honour the same agreements mentioned in the article. That being said, anything that can help a company save money and ensure value for the service is worth reviewing.
Featured Tip: Organizations may get a discount by committing to pay within a certain time frame (i.e. within 14 days) and also removing excess and non-recyclables when in the process of preparing documents for archiving/destruction. The article suggests ensuring you are "preparing data by removing plastic pockets, folders, and wallets if your shredded paper is going to be recycled. Do not waste your time removing staples, paperclips or card dividers."
Length: Medium
Source: http://www.citrussecurityshredding.co.uk/2015/08/26/7-archive-clearance-tips-that-will-save-you-money/
Blue-Pencil Helps Organization Utilize Best Practice and Strategy to Achieve Cost Savings and Business Value
Without a proven advisor, even having a pocket full of the top 15 tips won't provide sustainable operation and cost efficiencies. Our team focuses on helping companies ensure secure and effective records management across industries like government, healthcare, manufacturing, and small business. Customers choose Blue-Pencil because the team is always on the lookout for how optimizations can be made for each customer, ensuring your business isn't paying for second rate service.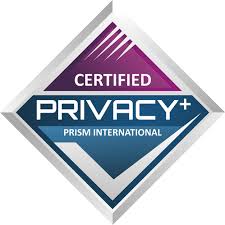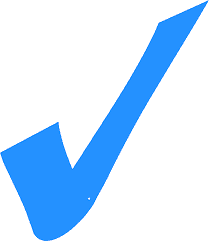 Trusted information disposal and security specialists since 2004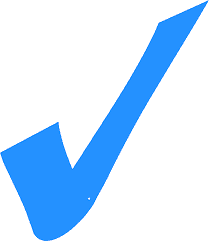 Ability to deliver compliance while managing organizational efficiency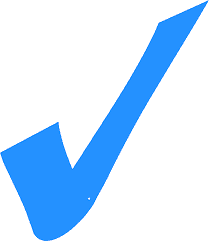 Proven systems and methodology for managing information retention schedules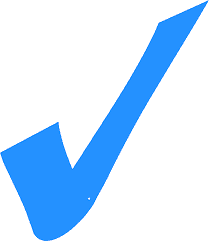 Training, resources, and support for your staff to become adept at information management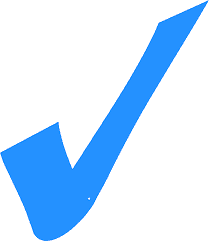 High standards in information destruction services with NAID AAA and Privacy+ certification
Blue-Pencil is an information security company that has been serving the needs of clients in Canada since 2004. We have grown our document security business over the past 10 years, serving more than 6,000 organizations, including small and medium-sized companies as well as Fortune 500 businesses. We have recently launched two new divisions: Documents Storage and Records Management division and Document Imaging and Scanning Solutions division. This allows us to offer full spectrum, comprehensive solutions for information security management. We service the GTA and surrounding cities –  click here for a full list of our service areas. If you'd like to learn more about us and what we can do for you, contact us today!
Sources:
https://securityintelligence.com/the-top-5-retail-breaches/