Document Management Solutions – Oakville Law Firm Infographic
Blue-Pencil conducted three case studies involving local law firms using "big box" records management vendors. During the study, Blue-Pencil took note of the client's concerns and challenges and sought ways to improve the situation and save the client money.
If you're interested in ways you can break free from a records management contract that is no longer working for you, contact Blue-Pencil now!
The infographic below outlines the approach Blue-Pencil took and the results the client experienced through a fictional courtroom scenario. Click the image to see it in full size.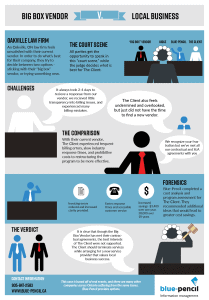 Click image for full size view.
"As a local law firm in the Halton region we were pleased to have Blue Pencil take on our storage needs after many years of using their shredding business.  Since moving our documents from a large international storage company we felt we regained control of our documents with live and responsive service people.  Whether it be a rush or a regular request we have never had an issue with the open communications that Blue pencil delivers.  We would not hesitate to recommend Blue Pencil for your storage or shredding needs."
Andrew – Read more testimonials
For more information on Blue-Pencil's document management solutions and storage services, click here!