A lot of our customer's main concern when it comes to document destruction is what exactly the process of document destruction looks like.
In this article, we'll discuss the 5 steps of our document destruction process which include:
Ensuring your documents are deposited into the security consoles
Having a document security representative collect the material from your safety consoles on your scheduled service date
Transporting your confidential information to the mobile shredding unit
Being issued a certificate of destruction once the service is complete
Preparing and transferring the shredded documents for recycling
We will also provide you with some easy-to-refer-to facts. This should help to give you peace of mind that here at Blue Pencil we take our shredding services very seriously and there's no reason to worry about proper document destruction.
Step 1: Your confidential documents should be deposited into security consoles provided by Blue Pencil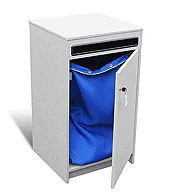 When you sign on with Blue Pencil we'll provide you with a number of security consoles where your confidential documents that are to be shredded can be stored. We will not shred any material that's been stored outside of these consoles, so if it's something that you want destroyed, make sure it's been placed into the console. Use this  great resource on what you should be shredding.
Step 2: A document security representative will collect the material from the security consoles on you scheduled service date
On your service date, which will be discussed between the company and Blue Pencil, one of our Security Representatives will collect all of your confidential documents and information from the security consoles. The bags inside of the security consoles will be removed and its contents will be placed into lockable mobile shredding security bins to ensure that they are transported securely to our mobile shredding unit. During this time, our representative's hands will never come into contact with your information, which ensures that no documents can be tampered with or removed.
Step 3: Your confidential information will then be securely transported to the mobile shredding unit where it will be destroyed right there on site
Once inside of the mobile shredding security bins your documents will be locked and transported to our state-of-the-art mobile shredding trucks. Inside each of our shredding trucks is an onboard industrial shredder which will be used to properly destroy your documents. The security bin will be placed underneath a hydraulic arm and will automatically be lifted inside of the truck where its contents will be deposited into the onboard industrial shredder. Your material will be cut into small cross cut pieces that are mixed with other shredded material and cannot be reconstructed. The neat part about our trucks is that there is a closed circuit monitor inside of the truck that will allow you to see your paper going through the shredding process. This way you can have peace of mind that your documents have been properly destroyed.
Step 4: You will be issued a certificate of destruction after the service is complete
Once all of your material has been properly destroyed you will be issued a certificate of destruction. This certificate will certify that all records and material were removed on your service date and confirm that all documents were properly handled and disposed of by one of our Security Representatives. This way the chain-of-custody is stopped right on-site with you, the customer.
Step 5: The shredded material will then be brought back to Blue Pencil's facility where it will be prepared for safe transfer to the recycler
Once you have received your certificate of destruction the shredded material will be safely transported back to the Blue Pencil facility where it will be properly handled and prepared for safe transfer to the recycler. At the recycler, this shredded paper can be used to make a number of different products such as paper plates, paper towels, and other paper products. For every 200 pounds of paper shredded and recycled, not only do you ensure security for you company and clients but you save 1 tree as well. For more information on our on-site mobile shredding, you can check out this article.
FAQ's
Q: Where does the shredding happen?
A: The shredding actually happens in the back of our shredding trucks. Each one contains an industrial sized shredder that will turn your documents into small pieces of unreadable paper confetti.
Q: What documents do you shred?
A: For security reasons we only shred those that have been placed in the security consoles. We will not handle any loose materials.
Q: When are the documents shredded?
We'll collect the materials on your scheduled service date and from there they'll be on site so that you have the opportunity to watch them be destroyed.
Q: Why are there so many security measures for paper shredding?
Security of information is incredibly important because any breach of information can be incredibly costly for a company. If any documents that contain incredibly important information (such as bank account numbers, credit card numbers, or personal information) are in any way tampered with or stolen, then both the client and the shredding services provider could find themselves in legal trouble. That's why we take so many security measures at every point in our services. We want to ensure our customers that from A to B to C there are no potential risks for a data security leak. We will provide the best service possible and that means taking the security of your information incredibly seriously.
About Blue-Pencil
Blue-Pencil is an information security company that has been serving the needs of clients in Canada since 2004. We have grown our document security business over the past 10 years, serving more than 6,000 organizations including small and medium-sized companies as well as Fortune 500 businesses. We have recently launched two new divisions; Documents Storage and Records Management division and Document Imaging and Scanning Solutions division. This allows us to offer full circle, comprehensive solutions for information security management. We service the GTA and surrounding cities, click here for a full list of our service areas. If you'd like to learn more about us and what we can do for you contact us today!