Document scanners are the modern-day filing cabinet. Instead of having papers stuffed in cabinet drawers you can have your documents safely stored – and organized – online.
With over 15 years of experience in document scanning and storage, Blue Pencil is able to recommend the best document scanners of 2019.
Let's jump right in and learn which document scanners are right for your business.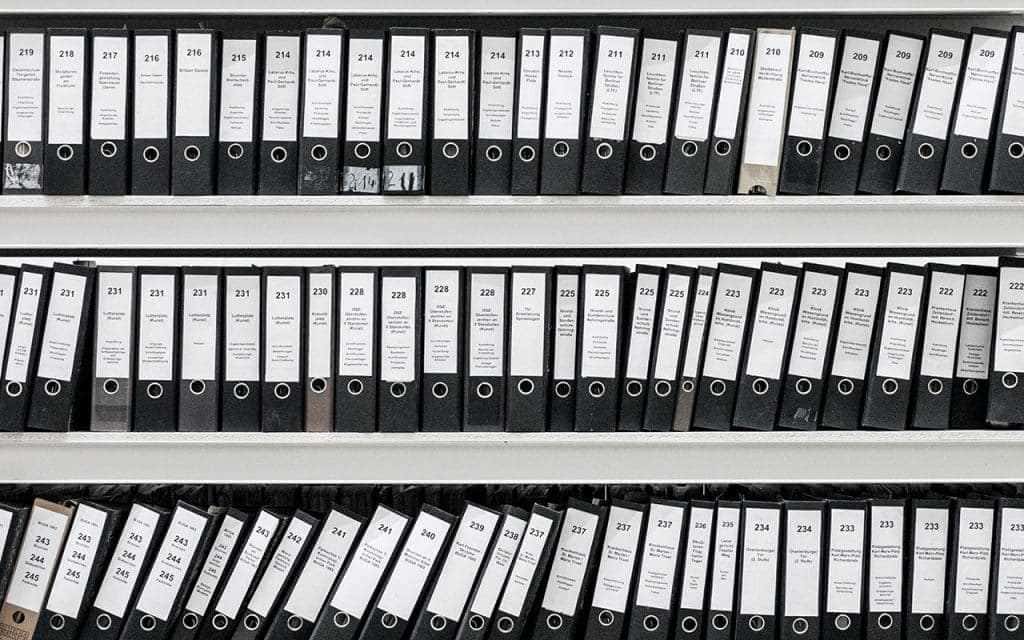 Turn Clutter into Agility
Blue Pencil's Best Document Scanners of 2019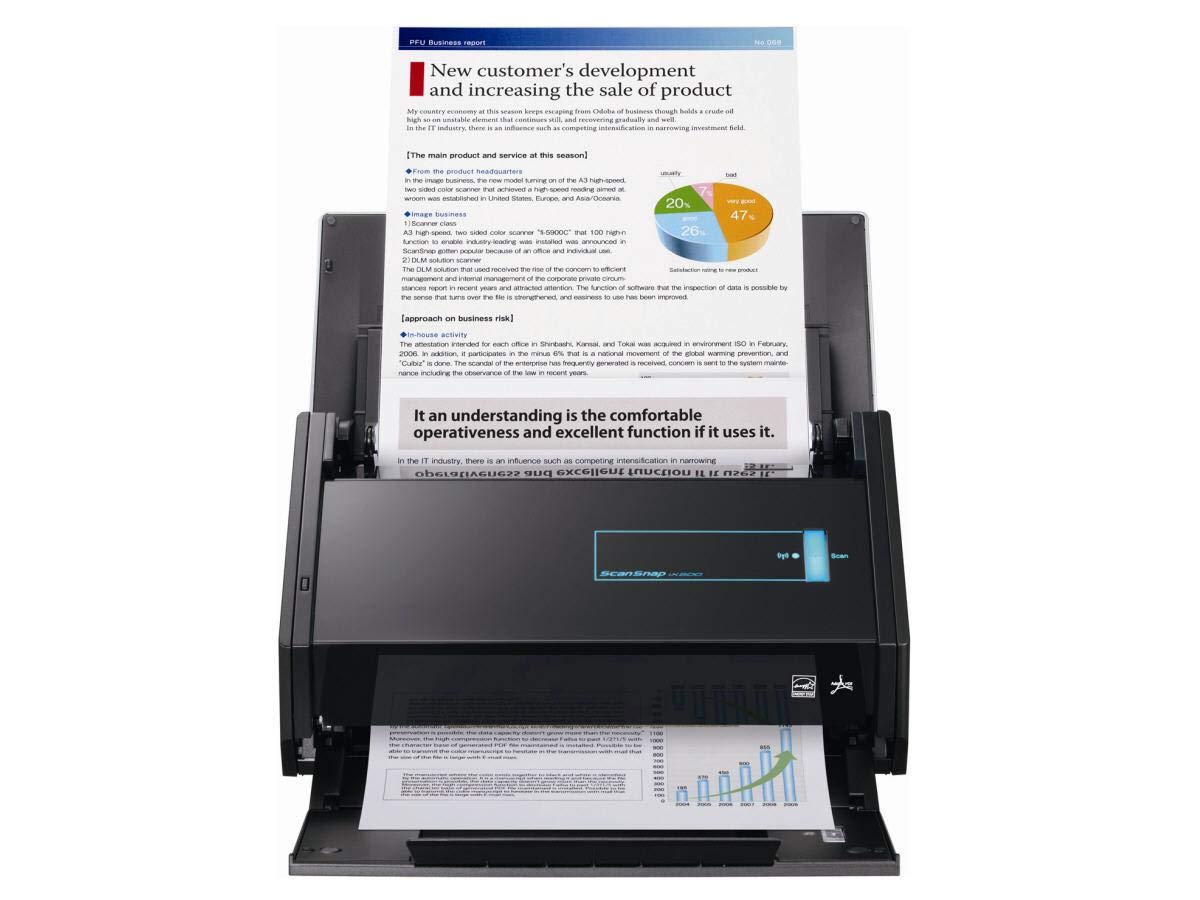 The ScanSnap iX1500 is one of the easiest document scanners to set up. The iX1500 is stationary and able to handle pretty much anything you need to scan. It can scan up to 30 pages in one minute and handle up to 2000 scans per day. You can feed documents of various sizes and quality and it will automatically adjust to your needs.
It's also a wireless scanner working with either Mac or Windows computers and uses Wi-Fi. It can be connected to cloud services or you can manage your files through their own software that comes with the scanner.
Overall it has great consumer reviews, like this one from Steve. 

"This is the machine I have been waiting for to go paperless. It is fast, never jams and can scan to your favourite services. This has allowed me to go completely paperless, making notes and scanning them directly into Evernote. The software that comes with the package is insanely easy to use and provide duplex scanning with ease.
Best of all it has wireless capabilities, it is quiet, and it can scan pesky items like business cards or flimsy receipts with ease. This puts all other Automatic Document Feeders to shame. Really, if this is in your budget, you will not regret it."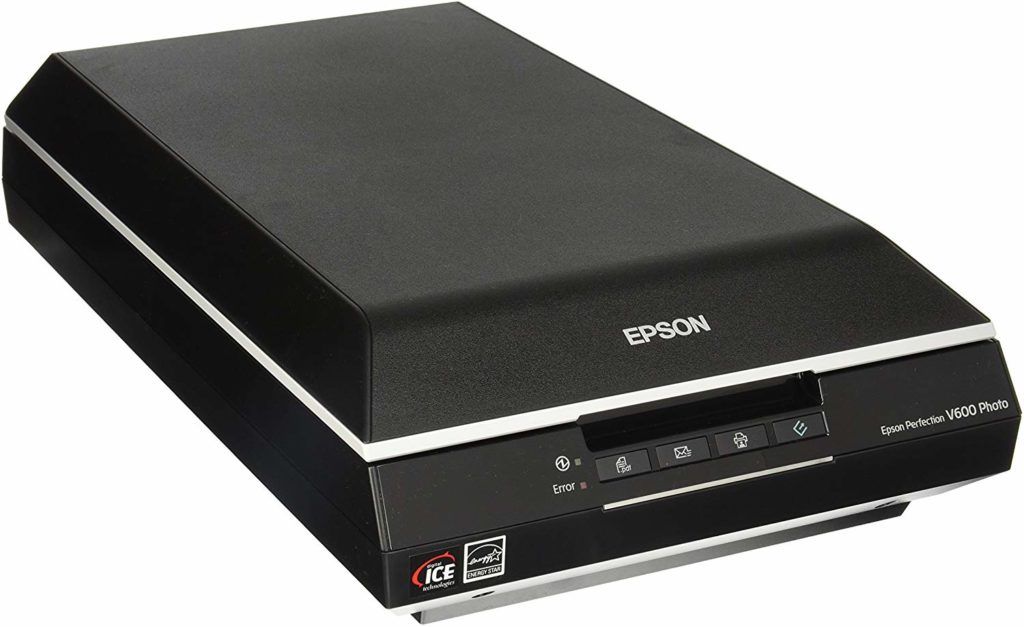 Epson continues to claim its place as the market leader for document scanners with the Perfection V550. The biggest advantage of this scanner is its ability to scan files, photos, films, and all types of documents that you may want to scan digitally. It also doesn't require a warm-up time so it is ready at the click of a button.  You can expect extremely high-quality photo scans. It can also remove scratches or dust on copies and photographs to ensure they are scanned perfectly. Again, once scanned your documents can be uploaded to your cloud service of choice.
It has great consumer reviews, like this one from Glenn.

"A scanner is a scanner, right? Well, I found out differently.
This Epson does an exceptional job scanning in photos. I had boxes and boxes of old photos from my parents that I wanted to scan. Some were scratched, some where yellowed, some just were in nasty shape. I left the included software on 'automatic' for 90% of the pictures and it did a bang up job of getting rid of all of those imperfections. When I did need to go that extra mile, the software was intuitive and the scanner produced very good results.
Have I mentioned how fast this is? For a while, I was scanning one print at a time, barely closing the lid and scanning before throwing the next picture on. Typical guy, I should have read the manual. You can throw multiple pictures on the scanner, and if there are gaps between them, the scanner is smart enough to see them as multiple pictures, and scan them separately. Awesome!"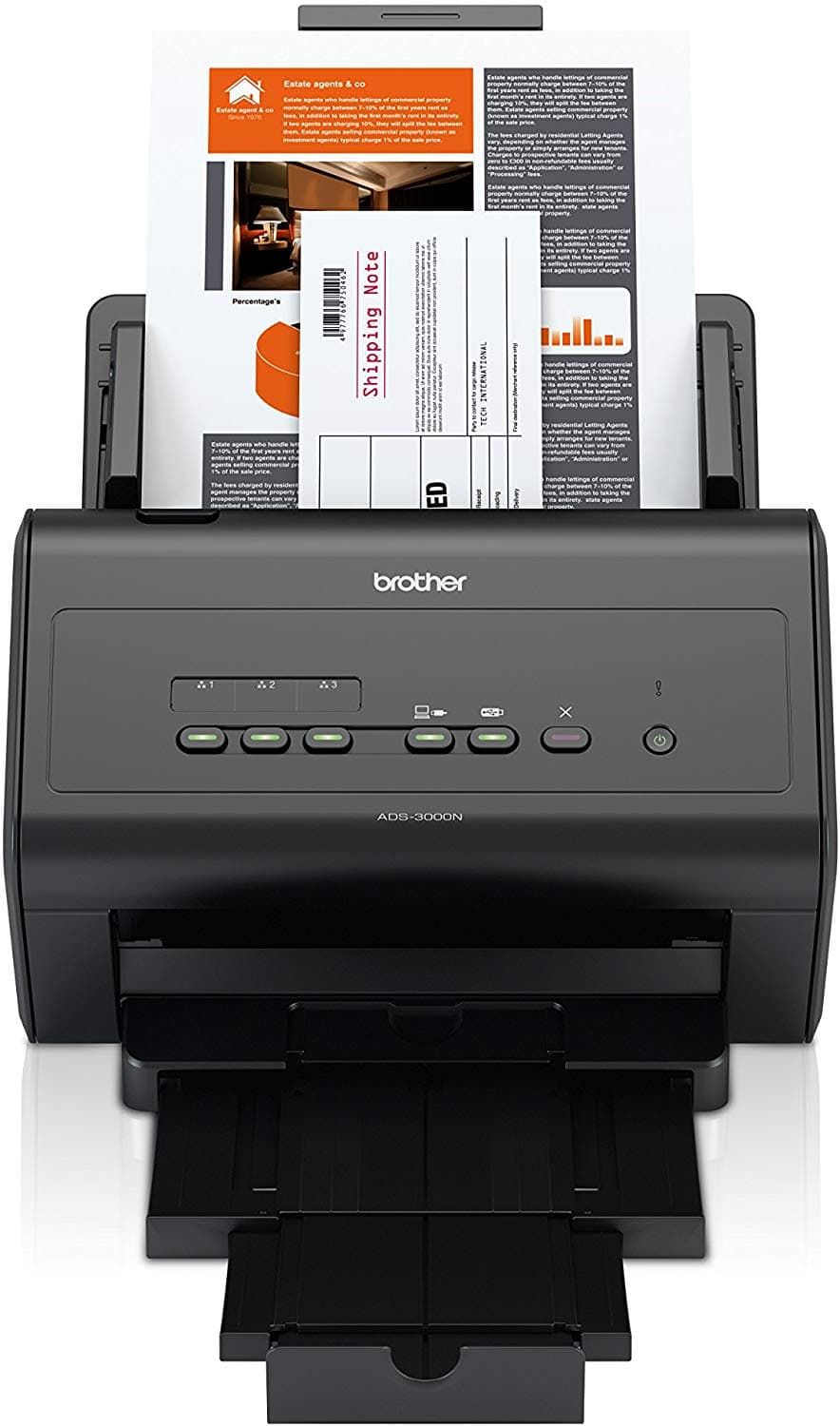 While this is physically a larger scanner it may be worthwhile if you have extensive scanning needs. It's a heavy-duty scanner that is perfect for companies with a large number of employees. With extensive connectivity options such as Wi-Fi and a number of ports for output, it's a versatile option to use with a variety of storage platforms. It can scan up to 30 pages per minute, easily scan both the front and back of two-sided documents, while skipping blank documents. Brother also includes free technical support as long as you own the scanner –  a big selling feature.
This scanner has great reviews, like this one from rdagger on amazon:

"This is a fantastic solution for small office scanning. We bought the Brother because we have a very expensive Xerox copier that we use for scanning, but it breaks down so much that we needed a back up. After a few weeks of using the Brother, nobody in the office uses the Xerox any more except for oversize scans. The Brother has become the primary scanner and everyone in the office has given it positive reviews.
It works great. I've only seen it jam once and that was because someone didn't remove the staple from a document. The document feeder is supposed to only hold 50 sheets, but that seems very conservative. People have been filling it up with much more and there have been no glitches. It's easily as fast as the giant Xerox and much faster than most multi-function scanning devices.
I thought the set up was incredibly easy and intuitive, but I do work with computers. Still, I find many similar products limited in terms of compatibility and terribly unintuitive in terms of set up and user interaction. The Xerox was a nightmare to set up for network scanning. We have another Brother MFC device in the office and it was very difficult to integrate into our network because it had very limited network capabilities and it requires the user to navigate through 6 screens before they can scan.
One of the best features of this device is that there are 3 programmable buttons on the front of the scanner. I set up the first button for color documents, the 2nd button for black and white documents and the third for reduced file size black and white scans. All a user needs to do to scan a document is insert the paper and press one of the buttons. That's it, 1 button and the document get scanned and uploaded to our server. Please note that you really do need a server or a NAS to get the benefits of this scanner. If you're not going use the networking then you are probably better off buying a cheaper Fujitsu without networking. I use a Fujitsu ScanSnap at home and it's great, but only for a single user.
The only draw back some offices might have is if they need more than 3 presets. Many offices like to have a button for each employee which goes to a private server folder. That wasn't a requirement for us. We only have a dozen people in the office so a single network share with the 3 presets works great."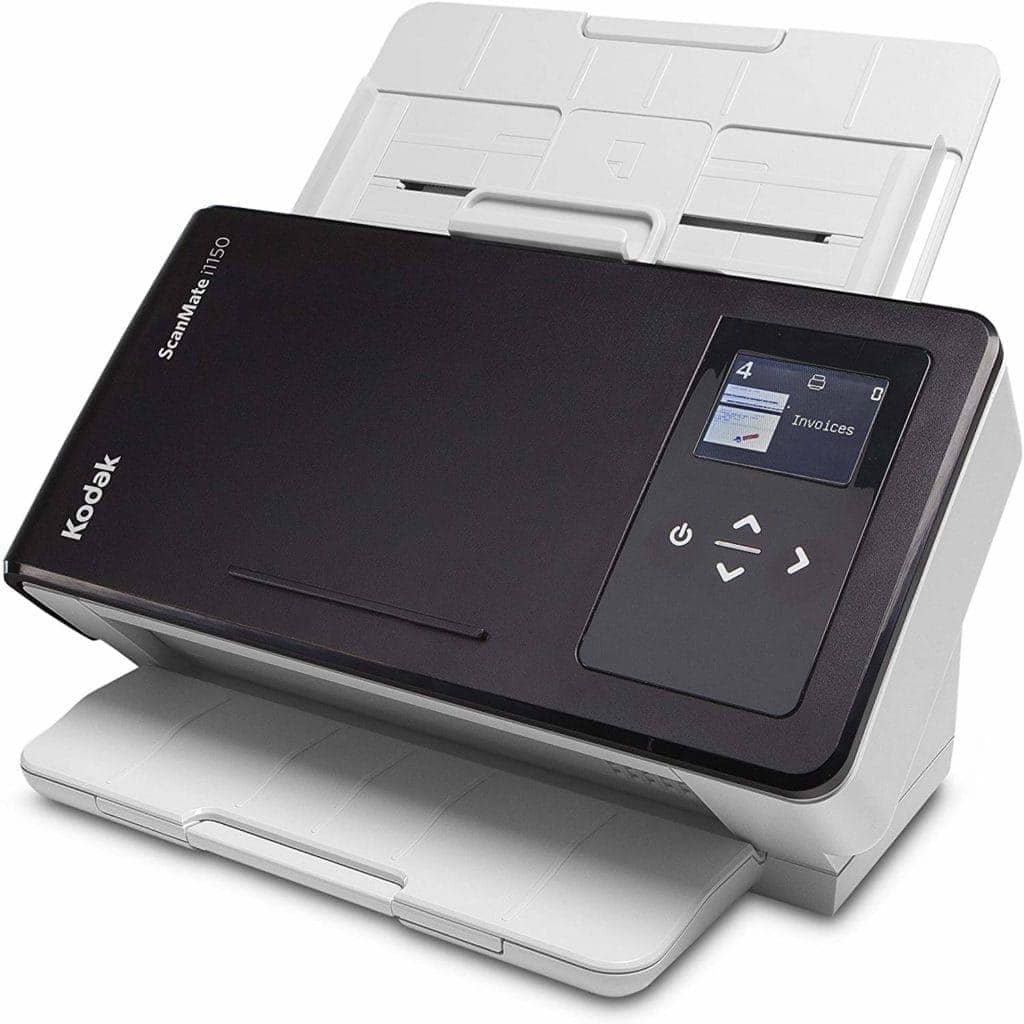 This compact scanner supports businesses by offering a small, sleek, and fast scanner. It's ideal for small professional offices in many industries. From IDs to documents, this scanner can scan just about anything in day to day operations. It also scans 30 pages per minute, cleaning up documents in the process by straightening pages or removing blank pages. Documents can be converted into PDFs, TIFFs, JPEGs, RPFs, and BMPs.
It has great reviews, like this one from Wayne:

"This scanner is great. Scans both sides of the document. It is very fast. It takes up very little room on your "real desk top". Very easy to install and operate. Perfect for a customer service business environment. My entire office of 12 people is paperless thanks to this device. Everybody has one on their desk."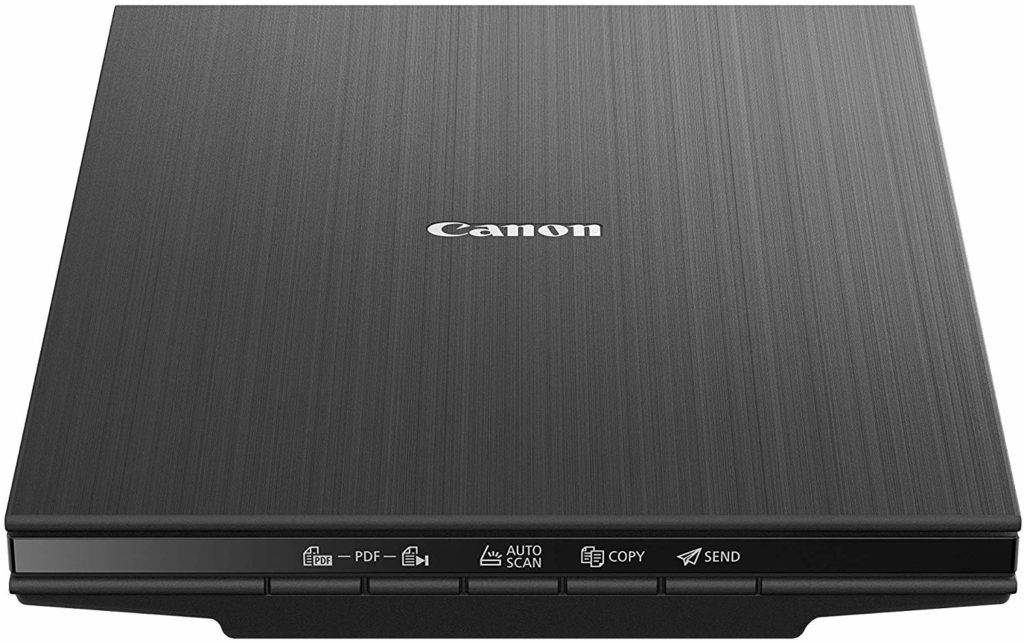 The CanoScan LiDE400 is a great scanner that organizes and searches scanned PDF files and photos. It also can remove dust and colour correct while working with some cloud services for online document storage.
It has a convenient online scan mode that will adjust features based on what you're asking it to do. While it is compact it also expands to accommodate different shapes and sizes of documents.
It has great reviews, like this one from amazon:

"I wanted a low priced reliable and easy to use scanner to scan one page at a time that I could save to my computer. The Canon CanoScan LiDE300 Document Scanner, Black does the job very well. It shows me a pre-print image that allows me to copy pages in either picture or landscape format that are 8 1/2″ by 11″ size only. There are other features that I have not needed and have therefore not yet explored. Because it is powered by and otherwise operates from a USB port, I do not have to fuss with a separate power cord. It sits quietly nearby until I need it."
Blue Pencil: Your Document Scanning Experts
If you're looking for digital document services to save you time and money while you go paperless, check out more information here.
Backfile document imaging – for bulk conversion of existing documents into digital format
Day forward imaging – regular imaging of newly created documents
Custom scanning services – on-demand scan requests and ad hoc batch scanning

Blue-Pencil can provide your business with safe, secure, and professional document scanning solutions – as well as full information management services.
We also offer secure storage, file shredding services, consulting and audits, and more. We service businesses all across Toronto, the GTA, and Ontario.
"Exceeded expectations. Met all our needs fast, courteous,
efficient, inexpensive. Sweet!"
– Judy Davies
Read More Google Reviews!
At Blue-Pencil, we serve business and residential needs across the province of Ontario, including Toronto and the GTA, Hamilton, Kitchener, Waterloo, Ajax, Pickering, Aurora, Newmarket, and more. As your local business partner, we offer value, consistency, and efficiency in our services.