If you have a large company and are on the lookout for office space saving ideas, Blue-Pencil Information Security is here to help. In this article, we will explore some office space saving ideas that you can begin implementing right away! Blue-Pencil is experienced in helping large organizations manage their costs. Choose the service that helps your organization reach new heights in efficiency and productivity and contact us today!

Office Space Saving Ideas For Large Companies
1. Store paper documents off-site
Poor use of office space is a big money waster for a large company, especially in the Greater Toronto Area, where real estate costs are sky high. As such, more and more businesses are reaping the benefits of outsourcing records storage. Long term, off-site document storage is now a widely used service and is one of our top office space saving ideas.
With Blue-Pencil, for example, documents can be efficiently stored and managed off-site. We store your records in purpose-built facilities where they are expertly handled, kept on lockdown, and easily retrievable. You can organize and pack, label, and index your documents yourself or have our professional archiving team help so you can quickly get back to focus on your day-to-day tasks.

By storing records off-site, you free up valuable space and finances, and can dedicate these resources to other areas of the business.
2. Go digital with office space saving ideas
Another one of our office space saving ideas is to go digital with your record keeping.
Scanning documents can be a very time-consuming project for a large company. Every company has different record access requirements, retention period schedules and policies when it comes to document & information management.
When outsourced, however, you can take advantage of the expertise, resources and technology. This helps reduce your costs, and more importantly, reduce the time spent on these tasks as well as increase productivity and space.
Never lose another file with an expert document scanning service!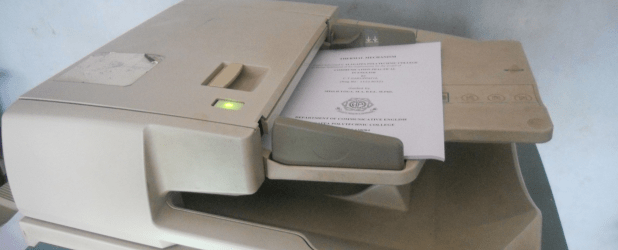 Blue-Pencil will help you identify the best strategy for converting your physical documents into digital files.
3. Outsource your paper shredding
Paper shredders used by large companies are big and cumbersome. They also require someone to operate them, as well as the necessary space to store the records pre- and post-shred until they can be properly tossed.
A paper shredding service can help you save time and space by having a trained professional come to your office and dispose of your records on-site. This allows your employees to spend more time on customers or building your team, and frees up your shredding room for another more valuable workspace.
Use our cost calculator to determine whether a shredding service is a more cost efficient and time efficient alternative. Compare the total cost with ours by filling out our online quote.
A paper shredding service can save you some serious time and space.
4. Adopt a "Bring Your Own Device" strategy
Long gone are the days when you need to be locked in at a workstation with a clunky personal computer.
Large companies can reduce costs by significant margins by subsidizing employees to purchase their own laptops or cell phones to use for company purposes. Network World says costs can be lowered by as much as 64% by affording employees a stipend towards a BYOD program, and it provides your employees with a preferred device of their choice.
Not only that, you can do away with assigned office spaces while allowing employees to function in a more open yet compact environment. They can even work at home or off-site if need be. Though there are challenges to this, organizations can maximize space utilization and promote a more flexible and collaborative culture.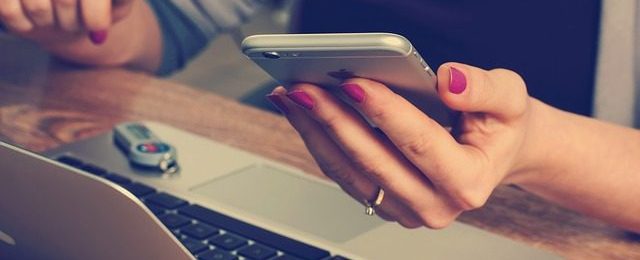 Allow for flexibility and mobility by helping your employees buy their own mobile devices.
5. Invest in storage solutions
If you need to keep your records on site, you might as well get the best possible boxes to store them in. Blue-Pencil has researched and chosen our file storage boxes carefully to ensure you get the best possible products at the lowest possible price.
Our file storage boxes are:
• Letter size – 10" x 12" x 15"
• Easy to assemble
• Made of durable, heavy duty cardboard for maximum strength and stacking stability
• Smooth rolled edges and tear resistant, reinforced hand holes protect hands from paper cuts during loading and transport
• Triple layer ends offer greater strength and stability than economy boxes
• Lift off locking lid stays in place to secure box contents
• Large labelling area
• Strong construction withstands frequent handling
• Can be used with or without shelving – whatever saves the most space!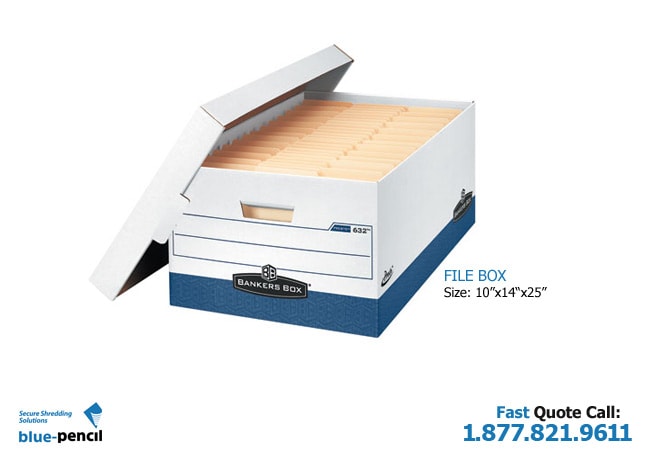 Blue-Pencil always maintains a large inventory of file boxes so orders can be filled and shipped immediately. Boxes can also be picked up at our Oakville location.
Need more office space saving ideas and solutions? Trust Blue-Pencil!
Blue-Pencil empowers Canadian organizations to reach new heights with friendly and efficient document management services. Customer service is not only a slogan but something we practice by investing in our strategic partners.
Located in Oakville, we have grown our document security business over the past 10 years, serving more than 6,000 organizations including small and medium-sized companies as well as Fortune 500 businesses.
What Blue-Pencil customers are saying:
"Yesterday, Blue-Pencil Shredding, Storage and Scanning came to Roger's Security Systems Inc., the office where I work, to shred 23 boxes worth of paper. The technicians, Adam H. and Dan, were very professional and were done in just over 10 minutes. We were very pleased at how quickly and efficiently the 23 boxes worth of paper were shredded. I would definitely recommend using this company for your shredding needs! Thank you for the excellent service Blue-Pencil."
– Brittany Barnes
At Blue-Pencil, we offer services such as Documents Storage, Records Management, and Document Imaging and Scanning Solutions. These services allow us to offer full circle, comprehensive solutions for information security management. We service the GTA and surrounding cities – click here for a full list of our service areas. If you'd like to learn more about us and what we can do for you contact us today!